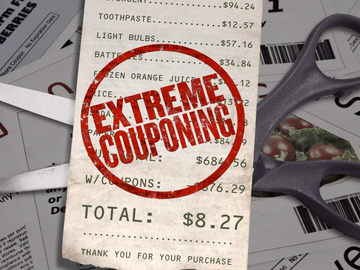 If you haven't heard, Season 2 of Extreme Couponing will premiere on TLC on September 28, 2011 at 10:00pm.
I have to say – I have very mixed feelings about this show returning. While I am glad that it causes people to become interested in using coupons to cut their grocery bills, this show has often shown the very worst side of coupon usage: shelf-clearing, barcode decoding and coupon fraud, stockpiles that were so large that they could NEVER use that much stuff, and more. Just as bad, people watch that show and think that they can (or should) start saving 75 to 95% on grocery bills the first week.  It creates unreasonable expectations!
But there were some good moments….the couples who went shopping for the sole purpose of donating their haul to the needy and/or our men & women in uniform, the few times that they showed couponers helping other shoppers in the store, etc.
Since Extreme Couponing started on TLC, we have seen stories on the news of people getting kicked out of stores, being arrested for stealing newspapers, and stores changing their coupon policies. I don't really want to watch it, but as the owner of a Deal Blog, I almost feel as if I HAVE to watch it.
But if the preview for Season 2 of Extreme Couponing is any indication, things are only going to get worse for couponers (in terms of public perception). This woman is clearing shelves and outright rude to the other shoppers and personifies every stereotype people have about people who use coupons. If Season 1 made the stores hate us, Season 2 just might make the other customers hate us even more.
Will you be watching Season 2 of Extreme Couponing? What are your thoughts on the preview video?
Looking for more Extreme Couponing tips? Make sure that you check out all the posts in my Coupon 101 and Coupon Ethics sections!