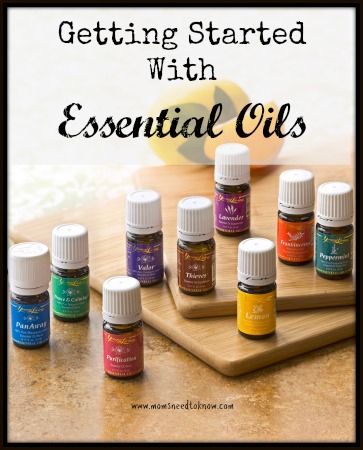 If you haven't noticed, I have been posting a lot more DIY projects lately, including making your own homemade stain removers, cheap ant repellents and I even have a post coming up about making your own lavender body butter (coming this week!) and many of them include the use of essential oils.
I started getting interested in essential oils back when I did my juice fast. I was trying to detox my body and the first few days I was getting headaches. It was suggested to me that I rub some peppermint oil on my temples for the headache and it worked! From then I was hooked and started looking in to them more. I knew that a few of my friends made their own household cleaners using essential oils and that we have been using a shampoo that contains tea tree oil for almost 3 years (ever since all 3 of my kids caught lice at school - tea tree oil repels lice and we haven't had an issue with lice since then!).
In my continuing effort to make our home healthier, I was looking for a way to dive deeper in to using essential oils and natural remedies and was looking for a good starter kit that would have all the basics that I needed to get started. I knew a few of my friends had switched over to Young Living Essential Oils so I did some research on them and I was immediately impressed!  I bought the Premium Starter kit because it was a great deal and for the past 6 weeks I have been weaving the Young Living oils in to our everyday lives and I am already noticing the differences.
I will be sharing how I am using each of the oils in the starter kit (as well as a few extra that I have purchased along the way) over the next few weeks but I wanted to give you a few reasons why I chose Young Living over other brands and let you know about a great deal on the starter kit that you can get along with a FREE gift from me!
I chose Young Living for my journey in to essential oils because, after doing my research, I realized that they set the standard for purity and authenticity when it comes to essential oils. Every step of the essential oil production is monitored from beginning to end, through a unique seed to seal process, guaranteeing the highest possible therapeutic value for every essential oil. This commitment to quality means Young Living essential oils are both pure and unadulterated.
My loyalty to Young Living was solidified when I decided to try to use up some of my other brands of oils. After about 2 weeks of using nothing but Young Living oils in my diffuser, I decided to start using my "old stuff" just because I didn't want to throw it out.  Let me tell you - that is when I realized how potent the Young Living oils are...as I had to use at least twice as much oil (and sometimes 3 or 4 times, depending on the oil) to get the same effect!

As I said - I will be sharing more in the upcoming weeks, but for now, let me tell you how I am using some of my favorite oils in the Premium Starter Kit:
Stress Away oil blend: stress, anxiety, calming (this oil should be considered the "Gateway Oil" because it is the one that will get you hooked.  It comes with a roller ball in the starter kit that you can attach to the bottle and I roll this oil on me at LEAST 2 times per day!)

Lavender essential oil

: minor burns, stress relief, insomnia

Peace & Calming essential oil

: insomnia, relaxation (I have horrible insomnia and when I rub this oil on my temples about 30 minutes before I am ready to go to bed, not only do I not have trouble falling asleep, I actually STAY asleep!)
Peppermint essential oil: congestion, headaches, nausea
Purification oil blend:  cuts, scrapes, removed odors from the air when diffused
Pan Away oil blend: sore muscles, can help reduce snoring
Stay tuned for more uses of these and other oils!
How you can get started and get a FREE gift from me!
There are a couple options for you to get started with essential oils. You can buy your oils at the retail price ("customer"), or you can sign up as a wholesale member and save 24% on your purchases. There is absolutely no obligation to sell or turn this into a business with the wholesale member option.
To keep your wholesale membership, you just have to spend $50 a year – and you will be doing that with the starter kit (read below for more information on the starter kit).  You can choose from 3 starter kits: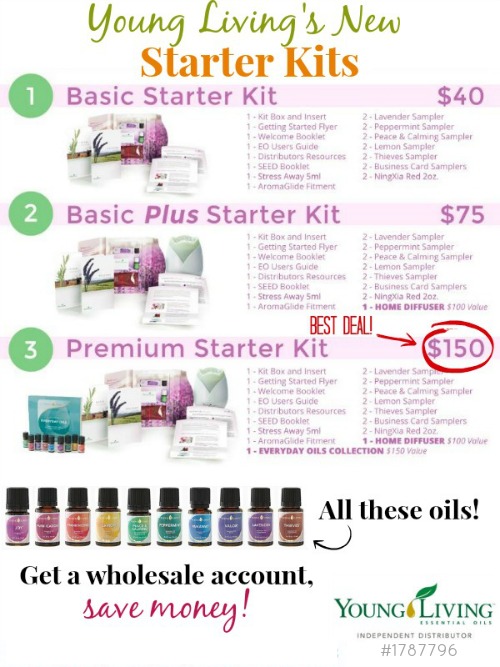 I recommend the Premium Starter Kit because it comes with a Home Diffuser and the Everyday Oils Kit (which includes Ten 5 mL bottles of essential oils including: Lavender, Peppermint, Lemon, Frankincense, PanAway, Peace & Calming, Thieves, Purification, Valor and Joy) as well as a bottle of StressAway with an Aroma Glide fitment (to turn your oil in to a roll-on. You'll be able to start using your oils immediately for so many different things around the house and for your family.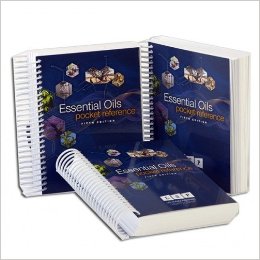 BONUS: I want you to be able to hit the ground running with essential oils so when you enroll as a wholesale member and purchase the premium starter kit, I will send you the Essential Oils Pocket Reference. In the "oily" communities, this is known as the Young Living essential oil bible. It is a must have to learn all about using your essential oils. This reference is nearly 400 pages in length yet it is still portable and compact enough to carry with you wherever you go.
Head over to the Young Living page here and fill out your information.
Be sure the "Wholesale Member" option is checked so that you don't end up paying retail prices.
Be sure the "sponsor ID" and "enroller id" say 1787796 (so that I can send you your free book!)
If you do not feel comfortable putting in your social security number (this is only for tax purposes if you decide to turn this into a business) then you can get an EIN from the IRS in just a few seconds here and use that number instead (the IRS just needs to be able to connect some number with you for tax purposes).
Select which starter kit you want to get. My recommendation would be the Premium Starter Kit. Those are the oils you will most likely be using every day! But if you order any of the starter kits that are $150 then I'll send you the free essential oil reference guide book.
Skip the Step 3 (Optional) part of the sign-up process. You can always do that later and you want to get started with your oils before you overload yourself!
Look for an email from me with more information about how to join the great Facebook groups available for learning more about essential oils!
Please let me know if you have any questions (or great tips to share) and be sure to come back and see all the great ways that I have been using each individual oil in my Premium Starter Kit!
Disclaimer: These statements have not been evaluated by the Food and Drug Administration. The information on this site is not intended or implied to be a substitute for professional medical advice, diagnosis or treatment. Please confirm any information obtained from or through this web site with other sources, and review all information regarding any medical condition or treatment with your physician. Never disregard professional medical advice or delay seeking medical treatment because of something you have read on this website. This information is not intended to diagnose, treat, or cure any disease.