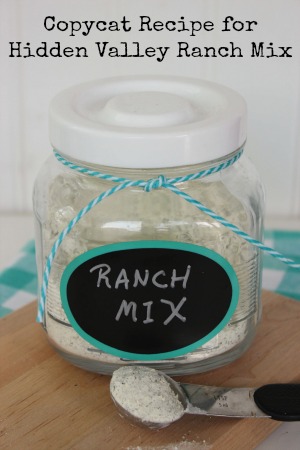 As you know, I have become a big fan of making copycat versions of my favorite recipes and I decided that it was finally time to make some homemade Hidden Valley Ranch Dressing Mix!
It is just so stinkin' easy to make and pretty inexpensive as well. Best of all, you know exactly what is in it and that there are no hidden artificial preservatives or ingredients!
Ingredients:
1/2 cup Dry Buttermilk (found in the baking section of the supermarket)
1 tbsp Dried Parsley Flakes
1 tsp Dried Minced Onions
1 tsp Dill Weed
1 tsp Garlic Salt
1 tsp Onion Powder
1 tsp Garlic Powder
1/2 tsp Salt
1/2 tsp Sugar
1/4 tsp Pepper
Directions:
Combine all ingredients in a blender or food processor and pulse to mix
Store in an air-tight container for up to 6 months.
To use:
When you have a recipe that calls for 1 packet of the dressing mix, simply substitute 2 Tbsp of your mix
To make dressing, combine 2 Tbsp dressing mix with 1/4 mayonnaise and 1/2 cup milk and stir to combine
You might also like these copycat recipes: