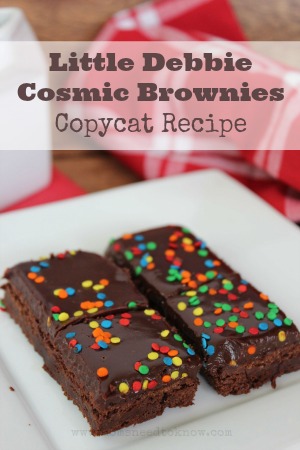 There are a few things that just take me right back to my school days. Twinkies are one of them and Little Debbie Cosmic Brownies (as well as the ones with walnuts) are another. I remember getting them at lunch at school almost every day. They just seemed to much better then the brownies that my mom made. They were extra fudgy, extra chewy and they had a most awesome chocolate frosting on the top.
Of course, one thing that I didn't know at the time is that the reason that they always seemed to taste so fresh and were so soft is because they were chock-full of preservatives. Still, they tasted GOOD!
I've since mastered making homemade twinkies, so I figured it was time to try making copycat cosmic brownies!
I would have preferred to make the ones with walnuts, but I am the only one in my family who likes nuts. If you want to make the "walnut version", all you need to do is make this recipe the same way, but add some walnut pieces to the brownie batter right before you pour it in to the pan!
Ingredients
For the Brownies:
3/4 cup melted Butter
2 Eggs
1 cup Sugar
2/3 cup Brown Sugar
2 tbsp Water
2 tsp Vanilla
3/4 cup Unsweetened Cocoa Powder
3/4 cup Flour
For the Icing:
1 1/2 cup Semi-Sweet Chips
1/2 cup Heavy Cream
Candy Sprinkle decorations
Directions:
To make the brownies:
Preheat oven to 350.
Line a 9×13 pan with parchment paper and spray with non stick spray.
Combine melted butter, eggs, sugar, brown sugar and vanilla in a large bowl and whisk to combine.
Whisk in the cocoa powder just until combined.
Add the flour and stir until all ingredients are  incorporated. Do not overmix!
Pour batter into prepared pan and use a knife or spatula to level off the top
Bake 25 30 minutes or until toothpick inserted in the center comes out clean.
Remove brownies from oven and allow to completely cool (while still in the pan)
To ice the brownies:
Microwave chocolate chips and cream in a medium bowl for 1 minute
Whisk until smooth (you may need to microwave for an additional 20 seconds).
Pour icing over cooled brownies (that are still in the pan) and use a spatula to smooth the icing.
Refrigerate for 15 – 20 minutes until the icing is slightly set.
Add sprinkles to the top of the brownies and return to the refrigerator to allow the icing to completely firm up.
Slice, serve and enjoy!.
Do you have any recipes that just take you back to your childhood? Have you figured out how to make them yourself?
You might want to try these other copycat recipes: