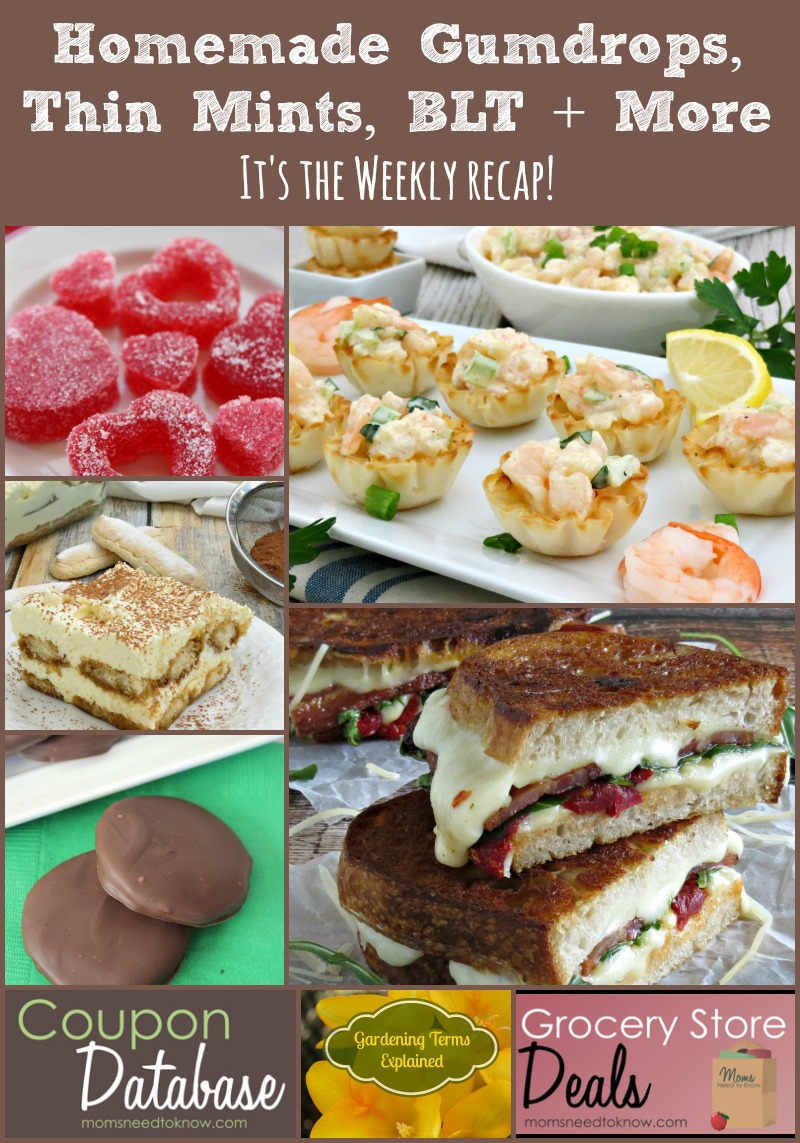 Well - we made it through a week with no snow, so I consider that a win! It was a busy week in the Cherry house - lots of recipes coming your way, a few school meetings and of course, my job as Cookie Mom for my daughter's Girl Scout Troop.
My nephew is leaving for the Navy next week, so the family will all be getting together for the Super Bowl for a little going-away party for him....and then we get to spend the next 6 years worrying about him! He will be the first member of my immediate family to have signed up for the military and we are all so proud of him!
Anyway....
Welcome to our weekly recap of everything that you may have missed on our little corner of the Internets! If you would like to get this weekly recap each Sunday - just subscribe to our weekly email list!
Weekly Recap for January 31 - February 6, 2016!
Latest Recipes:
How To Make Homemade Gumdrops -  These homemade gumdrops and so easy to make and you can easily change up the flavor. Your children will have fun making them with you!
BLT Recipe with Sundried Tomatoes, Mozzarella, Parmesan, and Arugula -  Sun dried tomatoes, arugula, mozzarella and Parmesan cheese make this BLT recipe so much more than the ones that you grab at your local sandwich shop!
How To Make Homemade Thin Mints | Copycat Girl Scout Cookies -  Girl Scout Cookie season will be winding down soon in many areas. Here is how to have their most popular cookie all year long!
Authentic Tiramisu Recipe - This tiramisu recipe is my absolute favorite and is so decadent! If you are looking for an authentic tiramisu recipe - then this is it!
Cold Shrimp Dip in Phyllo Cups -  This cold shrimp dip comes together quickly and is sure to be a hit at your next party! A homemade dressing provides just the right amount of tanginess!
Featured Posts
Gardening Terms Explained | Gardening 101 -  It's hard to believe that it is almost time to start thinking about planting your gardens. If you are determined to make this the year that you finally start a garden, this is a good place to start!
Saving Money
Coupon Insert Preview for February 7, 2016 - Find out what coupons will be in the newspaper this Sunday so that you can decide if you will want to purchase additional copies of the paper!
Grocery Matchups and Coupon Deals Updated - find all the best deals for the upcoming week at CVS, Rite Aid, Walgreens, Kroger, Wegmans, Giant of PA and more!
Did you know that you can get the weekly recap by email? This will be great for you current subscribers who get the daily emails because they don't want to miss anything, but would prefer to receive fewer emails. It's really simple! Just head to my subscribe page and complete the form. You will have to confirm your subscription but, once you do, you can expect to get an email with everything you missed every Sunday morning!