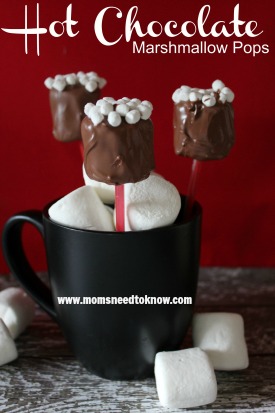 Hot Chocolate Marshmallow Pops
Marshmallow pops seem to getting more and more popular these days.  They seem to be popping up (no pun intended) everywhere.  I was in the teachers lounge of my daughters school last week (for her Brownie meeting) and they had had a baby shower for one of the teachers and had left behind the extra pops!  They were so cute (she is obviously having a boy, because they were coated in blue chocolate and clear sanding sugar)
They are cute (or pretty, depending on how you decorate them), the perfect size when you just want a little something sweet and look like they took WAY more time to make than they actually do!
These Hot Chocolate Marshmallow Pops can be a fun project to make with the kids and a nice treat to send in to school for any Holiday parties that your children might be having at school (assuming their school still allows sweets to be brought in for parties).
To make them, you will need:
INGREDIENTS
6 Regular Marshmallows
1/2 cup Milk Chocolate Morsels
1/4 cup Marshmallow Bits (you can usually find these in the grocery store either near the hot chocolate or with the ice cream toppings)
6 Straws/Sticks
DIRECTIONS
Heat Chocolate Morsels by microwaving for 30 seconds stirring and repeating until melted. Allow to cool for 2-3 minutes.
Insert straw/stick in each marshmallow.
Dip marshmallow in melted chocolate and roll to coat completely. 
Sprinkle Marshmallow Bits over top of candy coated marshmallow and lay on wax paper.
Immediately place in refrigerator for 10 minutes to set candy mix.
I would love to know if you make these and how they turned out for you!  If you need another Marshmallow Pop Idea, check out my S'mores Marshmallow Pops!