** Note - I was not asked to write this post by Aldi or anyone else and am not being compensated for this post.  This is just something that I have been meaning to write for a long time! **
I still remember the first time I stepped in to an Aldi.  It was about 7 years ago, shortly after I started this website.  Longtime readers will remember that Moms Need To Know used to focus primarily on grocery and drug store deals and coupons (and although that is no longer my focus, I DO still provide you with weekly coupon insert previews as well as the best grocery deal lists).
Anyway, a bunch of people were telling me that they were able to save lots of money with no coupons needed by shopping at Aldi.  I decided to check it for myself.  I found my closest Aldi, made sure that I had a quarter for the cart and my own bags (you will need both) and headed to Aldi.
My first visit did not go well....but looking back on it, the main reason was because I didn't walk in to the store with an open mind.
You see, I grew up going to supermarkets with seemingly infinite choices of brands, roaming employees just itching to wait on you hand and foot, taste-testing areas, etc.  To walk in to Aldi and see their no-frills aisles was a little bit of a shock to me.  The store was small, the selection wasn't infinite - what was WRONG with these people?
Fast-forward a year and I decided to give Aldi another try (at the urging of those same friends).  This time, I knew what to expect and vowed to just focus on the quality of the products and nothing else.  Because at the end of the day, isn't that what matters the most?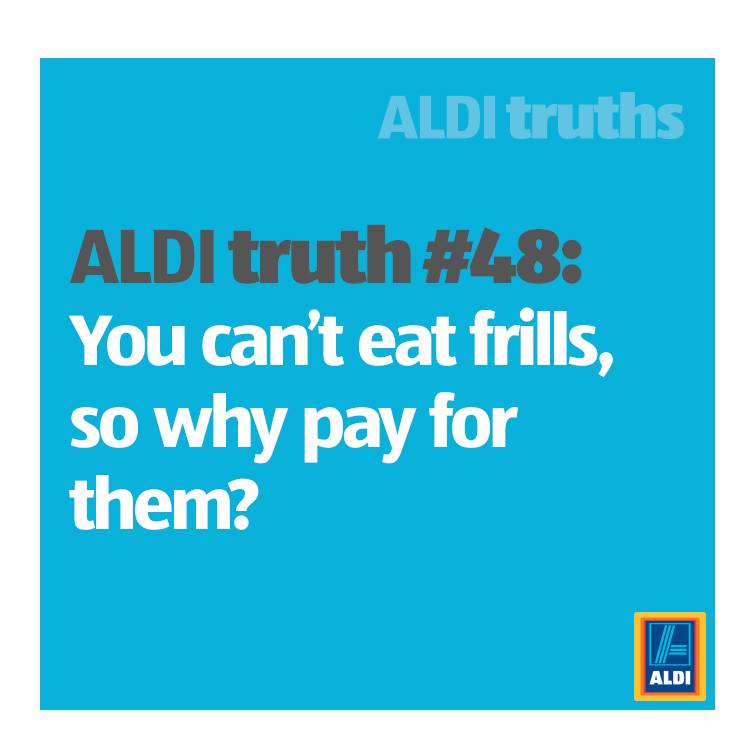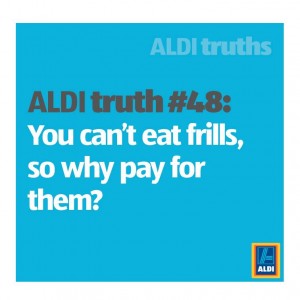 Once I did that, I learned to appreciate and even LOVE Aldi and have been saving money at Aldi ever since!  And in the last few years, Aldi has undergone an almost complete makeover with brighter stores, more selection (gluten-free, organic, low-fat lines, etc) and it just keeps getting better and better!
So how do I save money at Aldi?  By focusing on stocking up on those items for which they always seem to have the best prices!  Those items include:
Peanut butter - prices at $1.69 every day at my local stores.  We go through an insane amount of peanut butter in my house and although I like to make my own homemade peanut butter, my children prefer the taste of the Aldi brand.  I often have a hard time getting those prices at the regular grocery store, even WITH a coupon!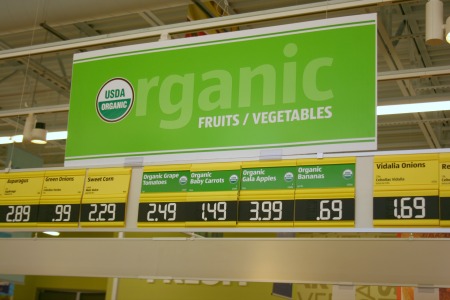 Produce - Aldi produce prices are consistently good.  Most stores have also added a limited selection of organic produce and their prices just kill the other grocery store prices!  Now - I will admit that the selection can be somewhat limited - you aren't likely to find Belgian Endive or Starfruit at Aldi - but if you are looking to save on lettuce, apples, cucumbers and more of the most "common" fruits and vegetables, Aldi has great prices (although I still think it is better to grow your own fruits and vegetables as much as possible)
Spices - Aldi carries a wide variety of the most popular kitchen spices (cinnamon, garlic powder, onion powder, etc) for just $0.99 each (and the bottles are larger than the "regular" size) at most grocery stores.
Snacks  - crackers, chips, pretzels, cookies, etc.  All of these can be found at Aldi for a fraction of a prices at the supermarket.  With very few exceptions (I am not a huge fan of their tortilla chips), the quality is the exact same as the name brands.
"Staple Pantry Items" - flour, sugar, rice, beans, pastas, canned vegetables, etc.  You will find insanely-low prices on these items at Aldi and I have NEVER had an issue with the quality!
Juices - as my children get older, we don't buy as much juice as we used to (trying to get them to drink mostly water), but it was not  uncommon for me to put 8 bottles of their 100% pure Apple Juice in my cart every time I went to Aldi.  The price was just THAT good and I wasn't taking a chance on running out of it!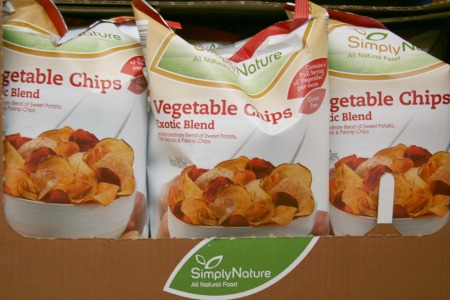 Organics - Simply put, the Simply Nature brand (their name for their organic packaged goods) is just awesome.  Organic K-cups for $5.49, organic honey for $3.19?  Free Range Chicken Broth for just $1.79?  If buying organic is important to you, you should be shopping and saving at Aldi! (and make sure to try the vegetable chips - they are amazing!)
Weekly Special Buys - every week, Aldi has a "theme week" where they bring in new products that they don't normally stock and sell them for extra low prices.  One week might be "Italian cooking", another might be gardening supplies - they have even had "camping" and "pool party" weeks!
Milk prices - for my readers who do not live where the dairy prices are regulated by the state, Aldi milk prices are usually cheaper than any milk you can get in the supermarkets!
These are just a few of my go-to items that really help me save money at Aldi.  What are yours?