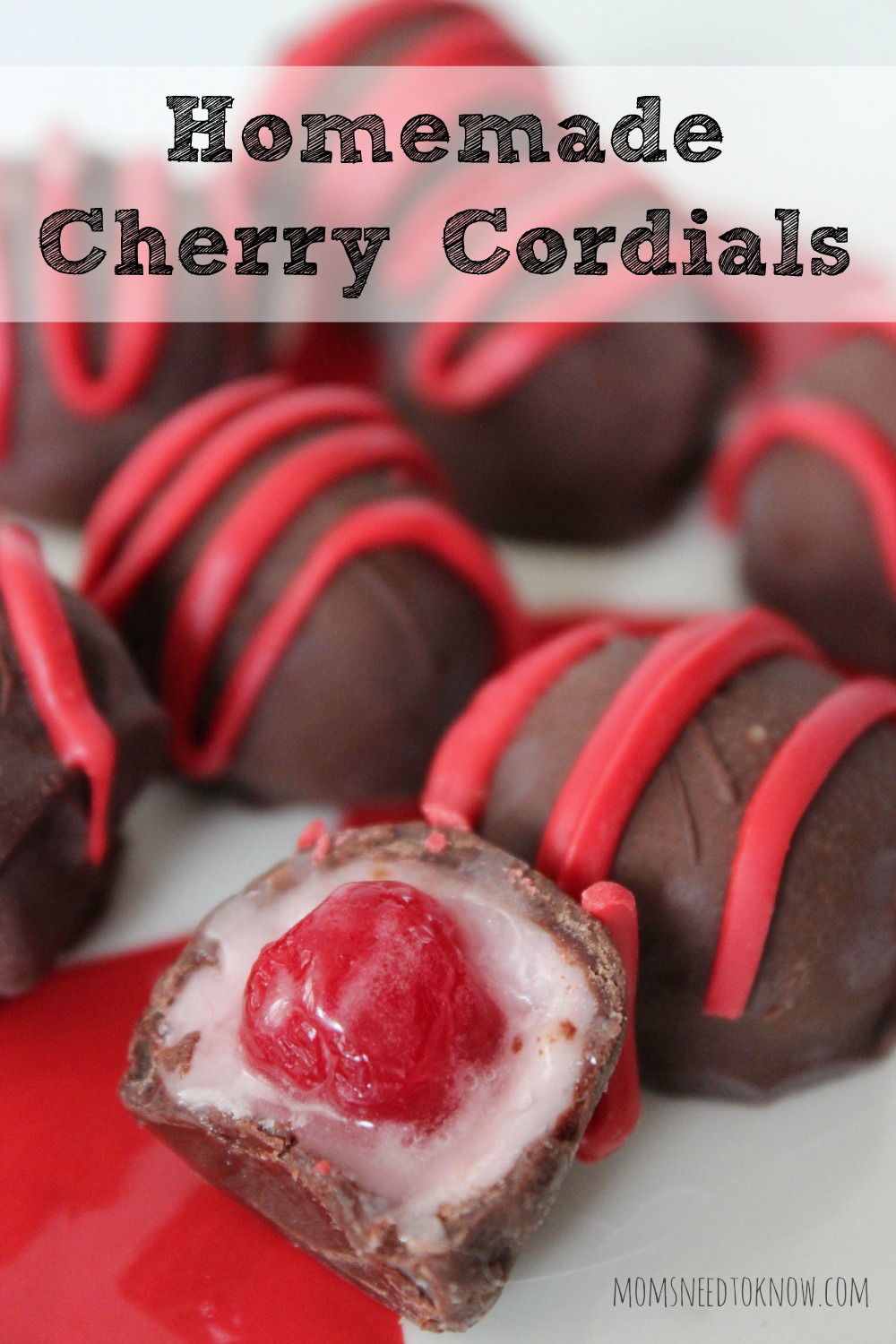 If there is one thing that my husband goes nuts for, it's chocolate covered cherries. he loves everything cherry, really. I am not sure if he started loving them because it is our last name (although my daughter insists that us eating cherries is "cannibalism"), or it just worked out that way.
I made these chocolate covered cherry mice a while ago and he did enjoy them, but they weren't the ones he loves. He likes the ones that, when you bit in to them, the sugary syrup just oozes out of them.
I always assumed that they were made using a ton of chemicals (and some of the commercially-made ones probably are made that way), but I learned that it is through the addition of an enzyme called Invertase. Invertase makes sucralose (table sugar) break down and liquify. Don't worry - it won't happen while you are assembling the homemade cherry cordials - it takes about a week for the process to happen. You can find it at many craft stores (in the cake decorating section) or you can find Invertase on Amazon.
If you don't want to wait a week, you can still eat these earlier. I would give them a few days at least, but the longer you wait, the more liquid you will have.
To make these homemade cherry cordials, you will need: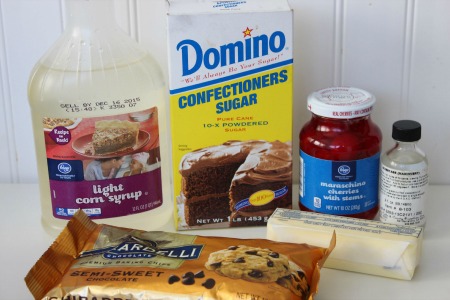 10 oz Maraschino Cherries
2 tbsp softened Butter
1 tsp Corn Syrup
1 tbsp liquid from Mariaschino Cherry bottle
1/2 tsp Invertase
1 1/2 cup Powdered Sugar
12 oz Chocolate Melting Chips
Making them is much easier than you think!
Simply drain your jar of cherries, reserving 1 Tbsp of the liquid from the cherries. Lay them out on paper towels until they are dry.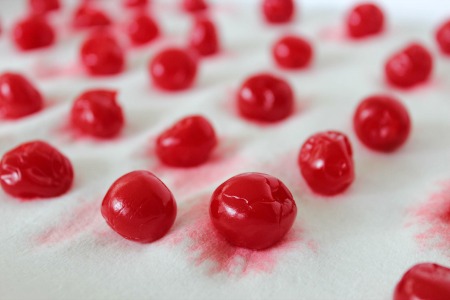 Mix together all the other ingredients (except the chocolate). It will come together as a ball of dough (you are basically making fondant, with the addition of the Invertase). Roll the dough in to 1/2" balls and flatten the balls until they are large enough to wrap around your cherries and get to wrapping them up!
Place the balls in the freezer until firm and then coat them with chocolate! Once the chocolate has set, place them in covered container in the refrigerator for about a week to let the Invertase "do it's stuff"!
Scroll down for the complete directions!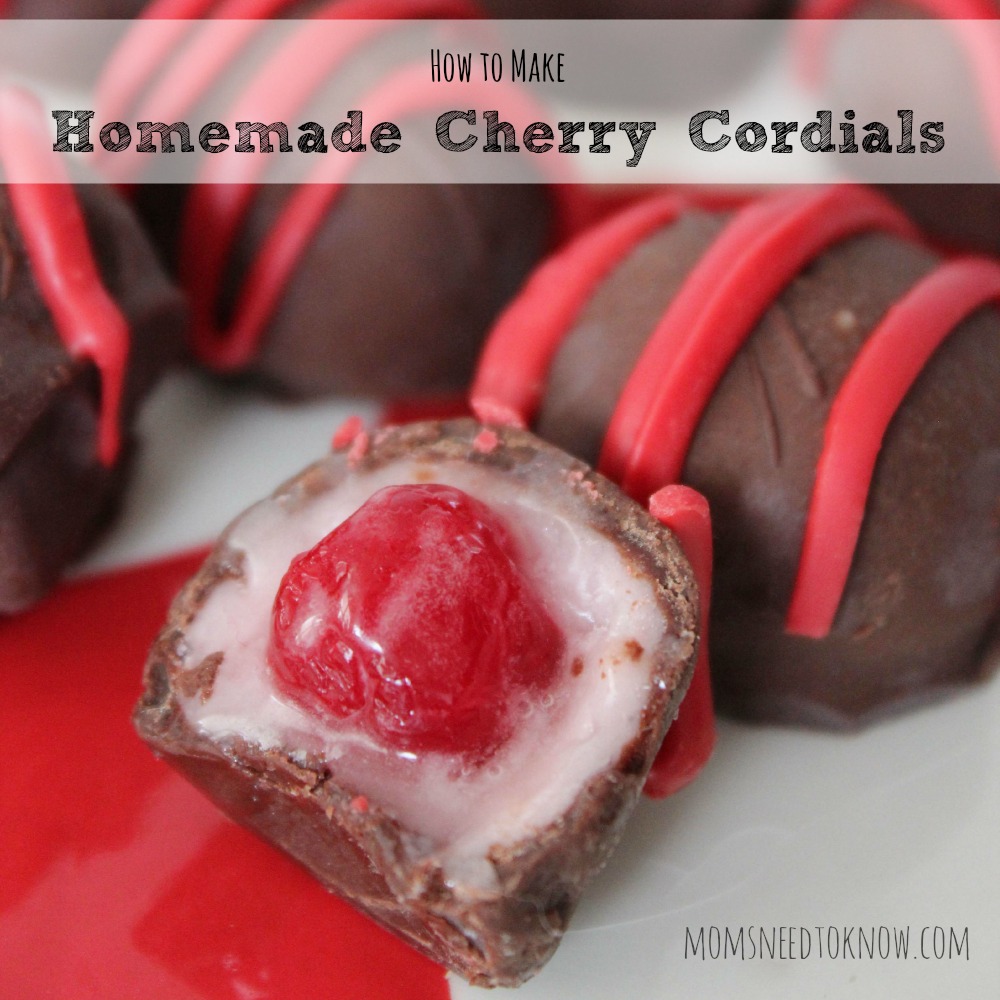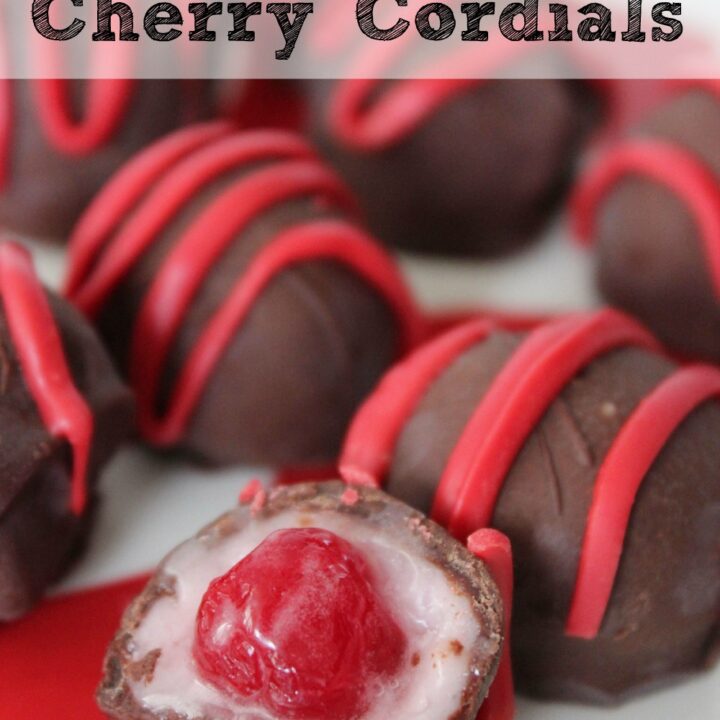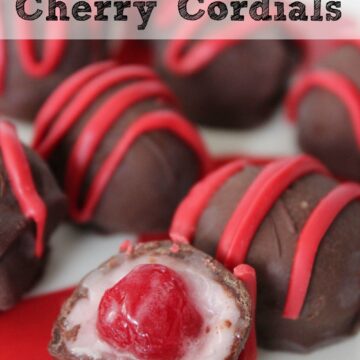 How To Make Homemade Cherry Cordials
My husband loves cherry cordials and I am always up for a challenge to recreate his favorite store-bought treats. These homemade cherry cordials are so easy to make and taste delicious!
Print
Pin
Ingredients
10

oz

bottle of Maraschino Cherries

2

tbsp

softened Butter

1

tsp

Corn Syrup

1

tbsp

liquid from the Maraschino Cherry jar

1/2

tsp

Invertase

1 1/2

cup

Powdered Sugar

12

oz

Chocolate Melting Chips
Instructions
Remove cherries from liquid and place on a paper-towel lined cookie sheet to drain.

Line a cookie sheet with parchment paper.

Combine butter, corn syrup, 1 tablespoon of liquid from cherries and invertase.

Stir until blended.

Gradually add powdered sugar. Mixture should come together and not be too sticky.

Form into 1/2″ balls and flatten. Place a drained cherry in the middle and wrap to completely cover cherry. Roll to round out ball. Return to prepared sheet.

Place in freezer for at least 30 minutes.

Melt chocolate by microwaving fo 45 seconds, stirring and repeating until smooth and melted.

Dip balls in chocolate with a fork, shaking off excess and return to prepared sheet.

Refrigerate for 15 minutes to set chocolate.

Use a knife to carefully trim excess chocolate from candies.

Place in sealed container and allow to sit for a week or so for invertase to liquify sugar.