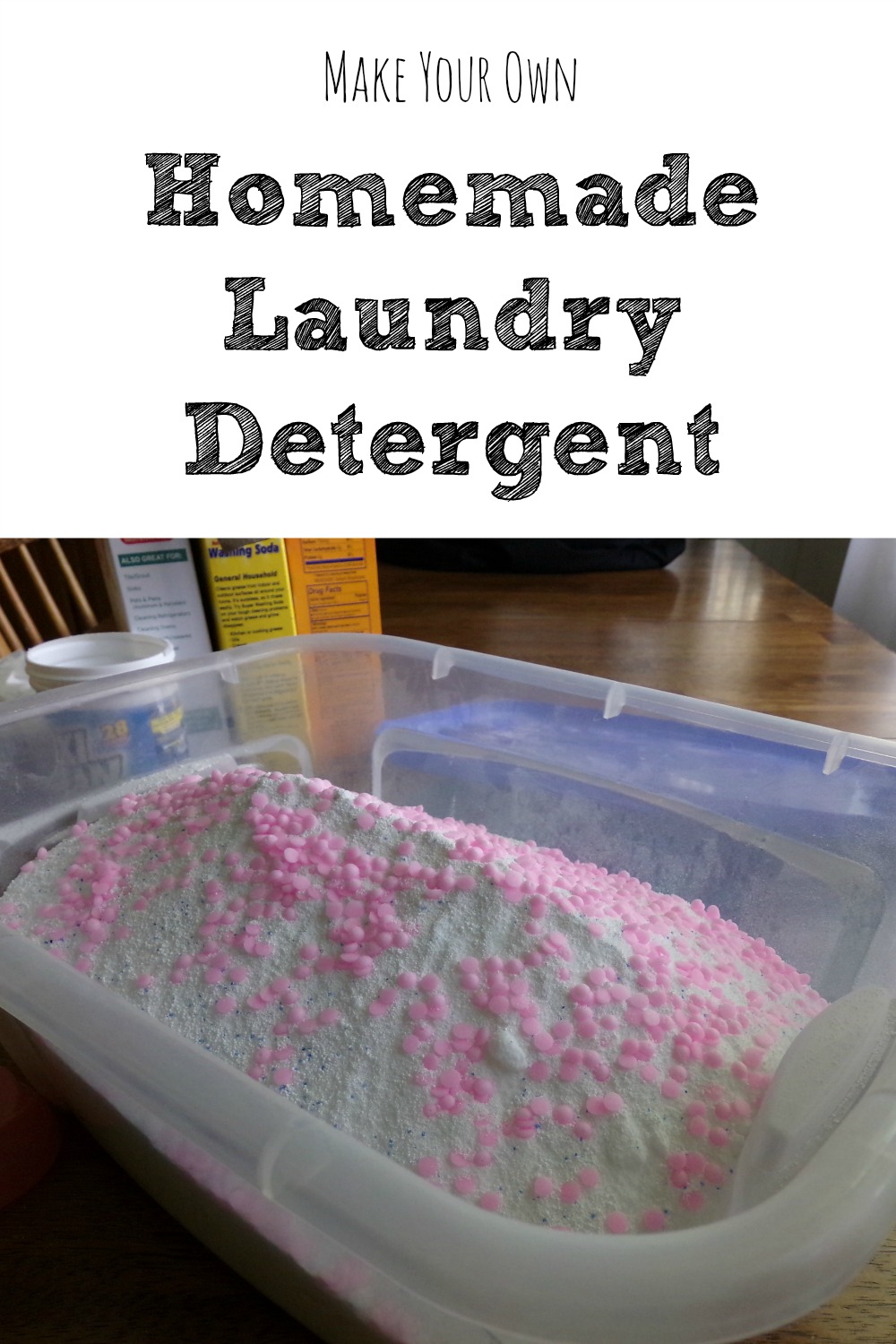 In my continuing effort to make more of our cleaning products from scratch, I figured that it was time to try making my own homemade laundry detergent.  I don't know why I waited so long to try making it.....it was just so easy to make!
This laundry detergent, when used correctly for each load, should last for about 400 loads of laundry.
Here are the ingredients as well as the price I paid (at Wegmans) for this homemade laundry detergent.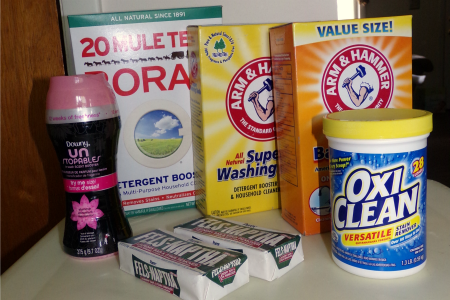 1 box (3 lb 7 oz) of Super Washing Soda ($2.49)
1 box (4 lb 12 oz) of Borax ($3.89)
1 box (4 lb) Pure Baking Soda ($2.29)
3 bars of Fels-Naptha (3 at $1.29 each)
1 3 lb container of Oxi-Clean ($7.29)
OPTIONAL (for scent): 1 20 oz container Purex Crystals or Downy Unstopables ($5.00)
As you can see, it cost me just under $25 to make a WHOLE lot of detergent.  At 400 loads per batch, that works out to just $0.06 per load.  Compare that to the average of $0.15 - $0.20 per load cost of most commercial detergents and the savings really are significant!  You can usually find coupons for the Purex, Downy and Oxi Clean, so be sure to check my coupon database for any coupons before you head to the store!
Some of these products may seem unfamiliar to you but I assure you - you can find most or all of them at your  grocery store or Walmart.  Everything but the baking soda should be found in the laundry aisle (the baking soda will be in the baking aisle).
You will need a large container to hold your finished laundry detergent - a 2-gallon tote should work really well. If you can, try to do all the mixing outside, just so you don't end up with a cloud of dust in your house!
To make your homemade laundry detergent:
Prepare the Fels-Naptha:  you need to convert your Fels-Naptha in to a powder. The easiest way to do it is to place a bar of (unwrapped) Fels-Naptha on a paper plate and heat it on high in your microwave for about 90 seconds. It will puff up and bubble - so don't worry (see picture below)! Allow the soap to completely cool and it will just crumble in to pieces. You can then place those pieces in your food processor or blender and pulse until it is a fine powder. If you don't want to use the microwave, you can just take a cheese grater to the soap and then put the shavings in the food processor.

Note: you can also skip the blending stage and just mix the shavings/crumbles in with the rest of your ingredients, but the finer you get the Fels-Naptha, the better it will dissolve (and clean) in your washing machine!

Once you have your fine powder, simply grab your container and mix all of your ingredients together in it really well.
To use your homemade laundry detergent: Use 1 1/2 - 2 tablespoons of your laundry detergent per load. This laundry detergent can be used for both traditional washing machines as well as front-loaders.
I have a front-loading washing machine and I just put the powder right in the dispenser, but you can also mix the 2 tablespoons of detergent with some hot water until it is dissolved and add it to the liquid dispenser on your front-loading washer! (source)
Have you ever made your own homemade laundry detergent?