This Mexican lasagna is a spicy twist on a family favorite. Packed full of flavor and so easy to make - it can also easily be frozen!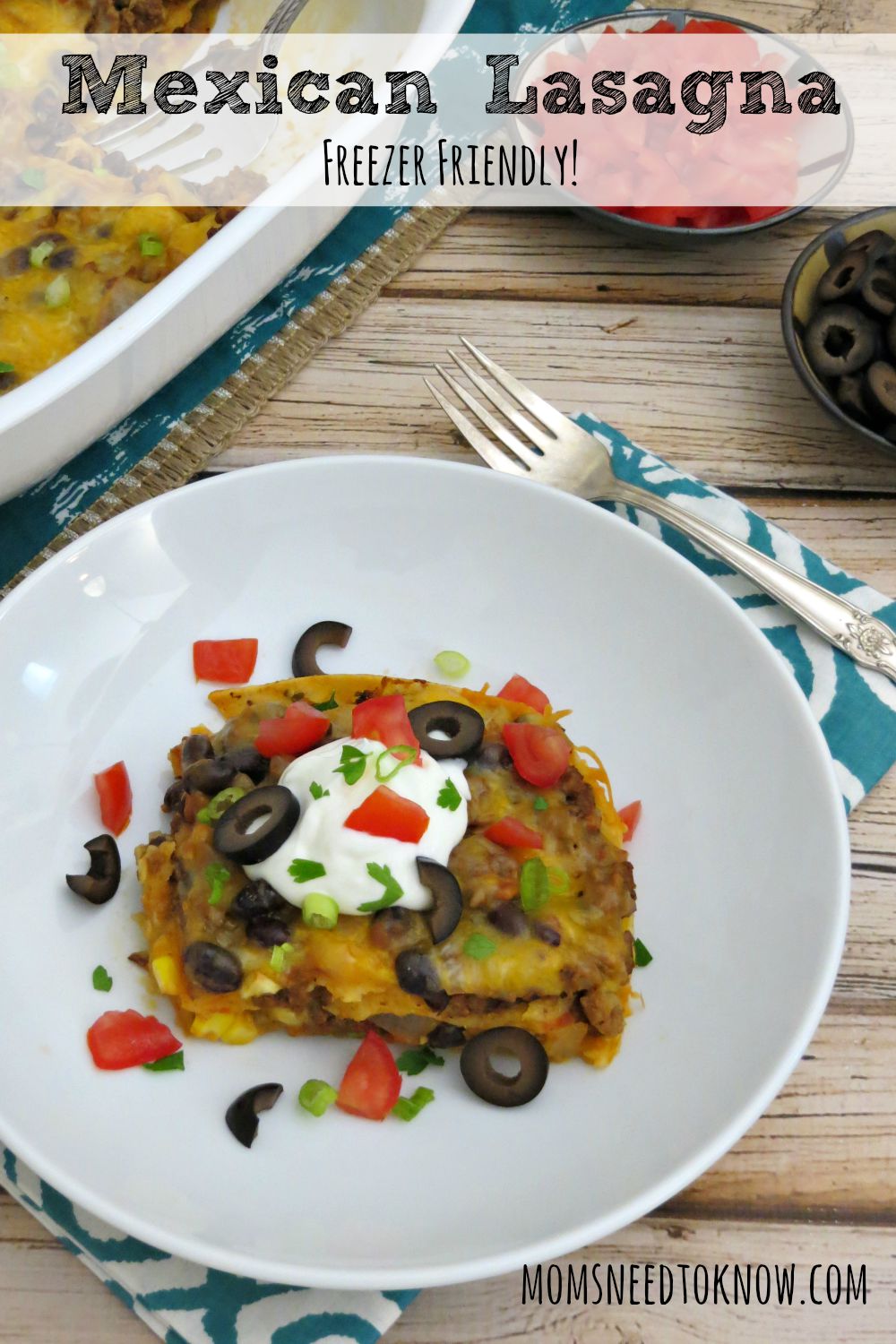 Lasagna is kind of a "thing" in our house.  It is one of the few things that my 3 picky-eater children can agree on and it is probably my husband's all-time favorite (although my chicken Caprese recipe is a close second).  Whenever I make it, I usually make a triple or quadruple batch and freeze them in casserole dishes (I have a large supply of glass ones but I also try to stock up on the foil casserole dishes whenever I can find them on sale).
So we usually have at least 2 "regular" Italian-style lasagnas in the freezer at all times.  As soon as I am down to one I start looking for sales at the grocery store on the pasta, cheeses (all of which can be frozen), etc and start to plan my next (as I call them) "Mama Leoni Day".
There is only 1 problem...I get bored with "regular" lasagna REALLY quick and I decided I needed to start adding something different in to the mix!
My kids do love my Crockpot Chicken Tacos and they especially like my green chili chicken enchilada recipe (as long as I don't put too many black beans in it) so I figured that I would try to spice up their favorite lasagna - and they really loved it.
Like my regular lasagna recipe (which I will be posting soon!), this Mexican lasagna recipe is very freezer-friendly.  If you like it, you might want to block out some time the next time you make it to make a double or triple batch and have another for the freezer!
A few notes:
I prefer to use lean, grass-fed ground beef, which is not only healthier but has better flavor. If you use regular ground beef, you'll need to drain the grease off, so wait to add the spices until after you drain it.
My family doesn't love black beans, so I only use a cup, but you could use the whole can without messing up the recipe.
We also prefer to go light on the cheese, as far as casseroles go. If you like things extra cheesy, feel free to add more or change up the cheese to whatever you like!
Green enchilada sauce is quite tangy. If you don't love that, you could use red enchilada sauce, which has more savory flavor.
Scroll down for the recipe!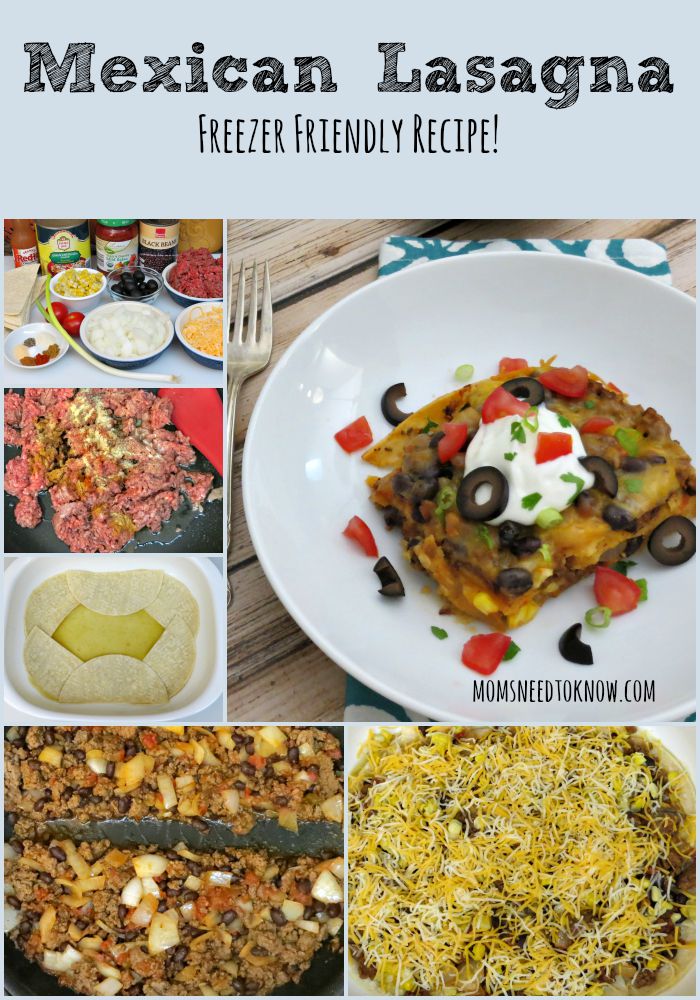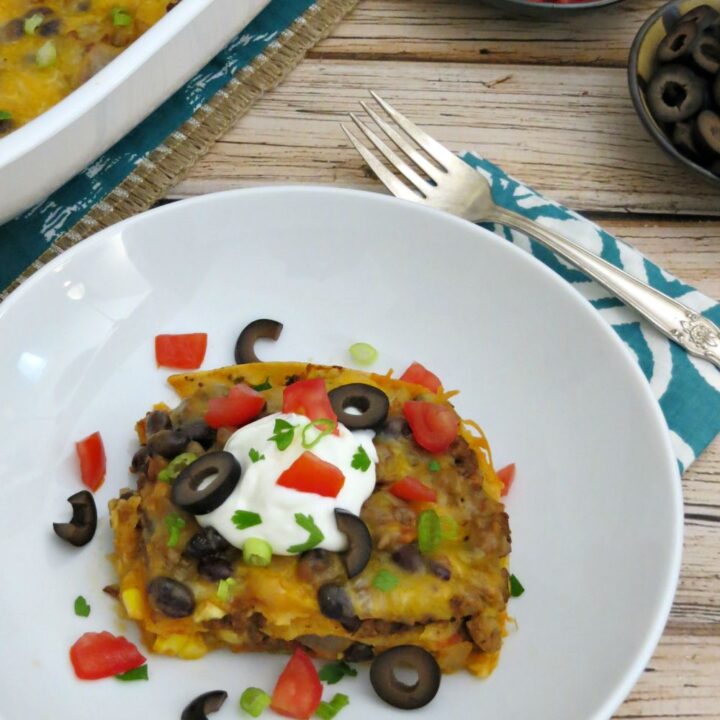 Mexican Lasagna | Freezer Friendly and Absolutely Delicious
This Mexican lasagna is a spicy twist on a family favorite. Packed full of flavor and so easy to make - it can also easily be frozen!
Print
Pin
Ingredients
10

white corn tortillas

cut in half

1

pound

lean ground beef

1

medium onion

diced

1

cup

corn

1

cup

black beans

1 1/2

cups

Mexican cheese blend

3/4

cup

green enchilada sauce

1

cup

salsa

1/2

teaspoon

cumin

1/2

teaspoon

paprika

1/2

teaspoon

chili powder

1/2

teaspoon

garlic powder

1/2

teaspoon

onion powder

1/4

teaspoon

salt

1/2

teaspoon

pepper

Chopped tomatoes for garnish

Sliced green onions for garnish

Sliced black olives for garnish

Hot sauce to taste
Instructions
In a large pan, heat two tablespoons of olive oil and brown the ground beef with all of the spices.

Drain any excess grease from the beef and return the beef tot he pan

When the beef is cooked through, add the black beans and onions and cook for 3-4 minutes.

Add the salsa and stir to combine. Turn the heat down to low, cover and let this hang out while you prep the casserole.

Spray a 7x11" oven-safe casserole dish with non-stick cooking spray and drizzle 1/4 cup of the enchilada sauce all over the bottom.

To layer the tortillas, place one half in each corner with the rounded side out. Then lay another half along the side with the flat side out. Then lay four halves down the center to completely cover the bottom.

To assemble the casserole, use a spatula to divide the beef mixture in half. This ensures you'll get an even amount in each layer.

Spoon half of the mixture over the tortillas, followed by 1/2 of the corn. Drizzle with 1/4 cup of enchilada sauce and sprinkle with 3/4 cup of the cheese.

Now add another layer of tortillas just like before and repeat the steps above. The top layer should be the remaining cheese.

Cover tightly with foil and bake for 40-45 minutes.

Serve with green onions, black olives, chopped tomatoes and hot sauce.
Mexican Lasagna Recipe