This sausage, gnocchi and kale soup is full of flavor, comforting& perfect for the cooler weather! Serve it with crusty bread and a salad for a hearty meal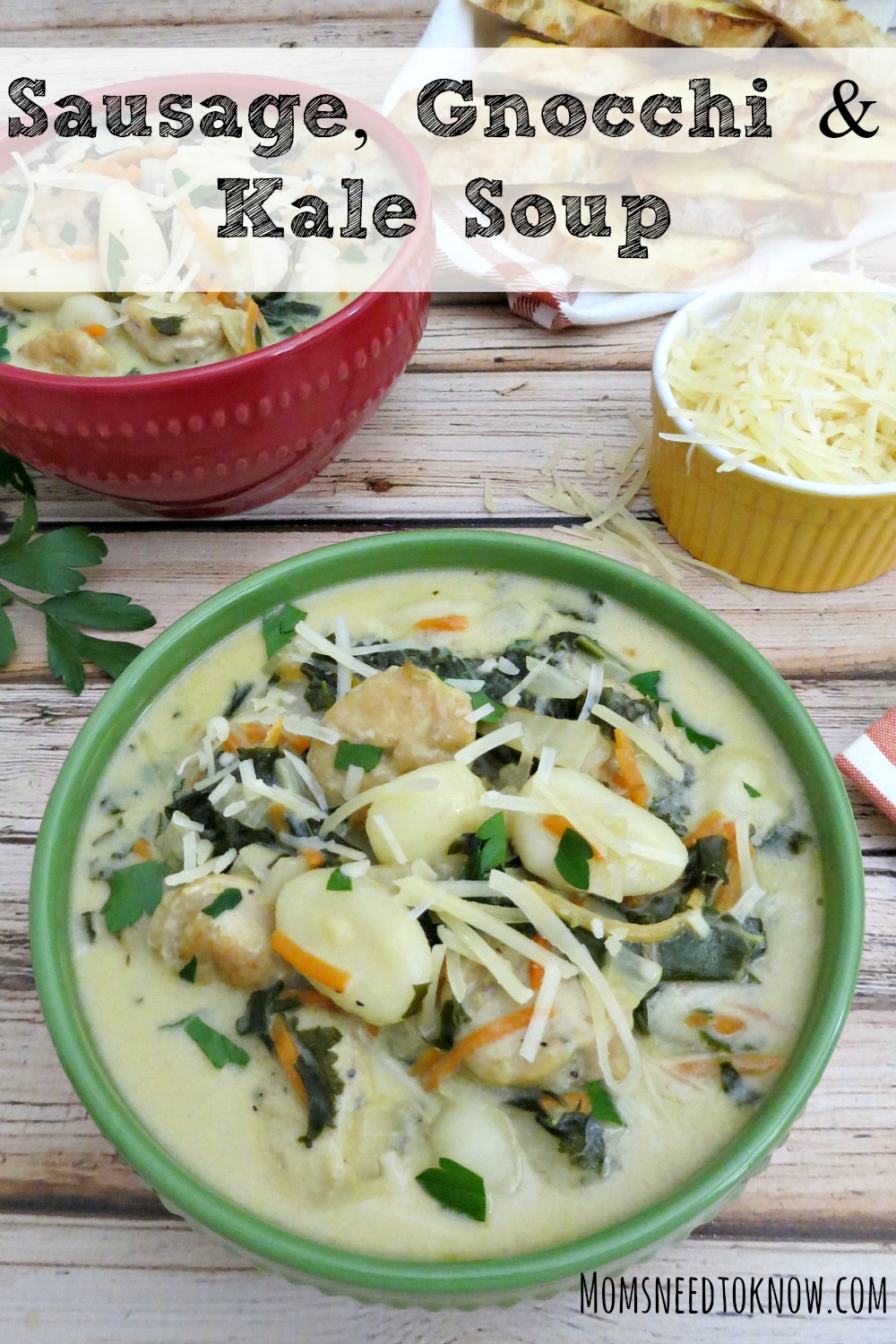 When the weather gets cooler, there are few things that I enjoy more than a bowl of soup and a nice crusty bread (although if it is cold and rainy, it has to be my crockpot tomato soup recipe and a grilled cheese). Soup can just be so comforting and warm you up from the inside!
I have been making my copycat Olive Garden Chicken and Gnocchi soup for a while, but I wanted to switch it up a bit and try something new. My husband (and boys) love sausage, so that was an easy swap...and then I made a few other tweaks and this sausage, gnocchi & kale soup was a big hit with them!

This soup is full of flavor, comforting and perfect for the cooler weather! Serve it alongside crusty bread for dipping and a green salad for a hearty, healthy meal!
The amount of broth you'll use will depend on how much broth you like. Our family likes a lot of broth, so I used all seven cups.
We're once again using chicken Italian sausage to keep the fat and calorie count low without sacrificing flavor. There are tons of different flavors of chicken sausage these days (and it is awesome in my Fettuccine with Chicken Italian Sausage recipe). Feel free to use any flavor you'd like or just regular Italian sausage.
If you don't have fresh herbs, you can always substitute dried. Just keep in mind that they have a stronger flavor, so start with less and add more to suit your taste.  Better yet, you can grow an herb container garden in your kitchen (or the sunniest spot in your home) and always have fresh herbs at the ready!
We love using kale in our soups because it holds up well and is a nutritional powerhouse! That said, you could use spinach or Swiss chard, and they would be very good as well. I always have a bag of chopped, frozen spinach in my freezer for recipes like this. Sometimes you can't get fresh, and that's OK.
Anytime I make a recipe with a lot of broth, I suggest using low-sodium broth. Some brands are very salty and you can easily ruin a pot of soup. You can always add more salt if you need it, but you can't take it out once it's there!
Scroll down for the recipe!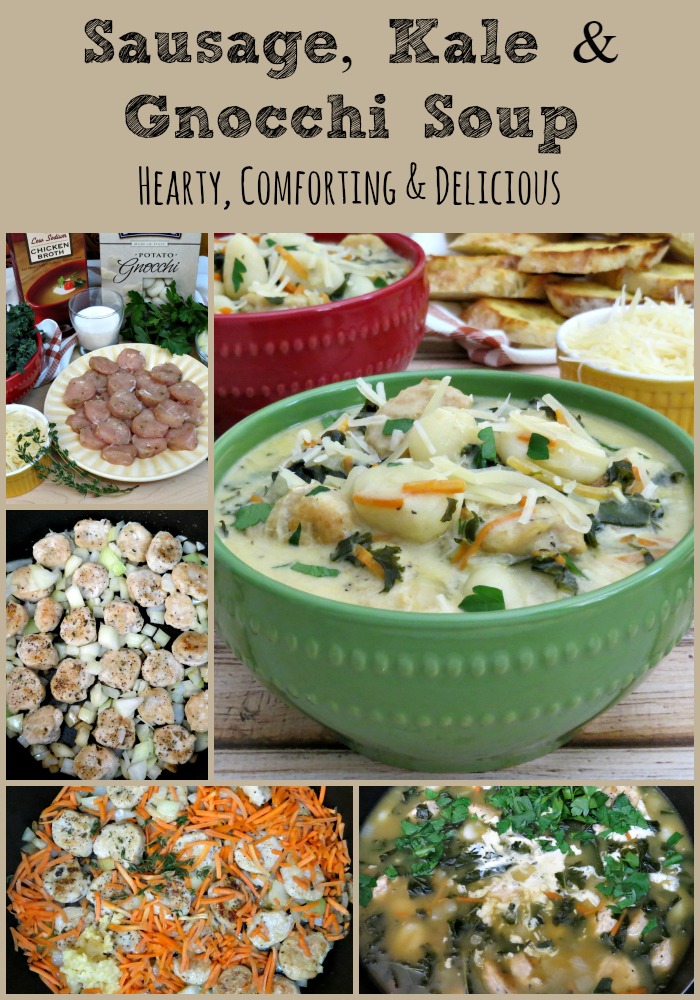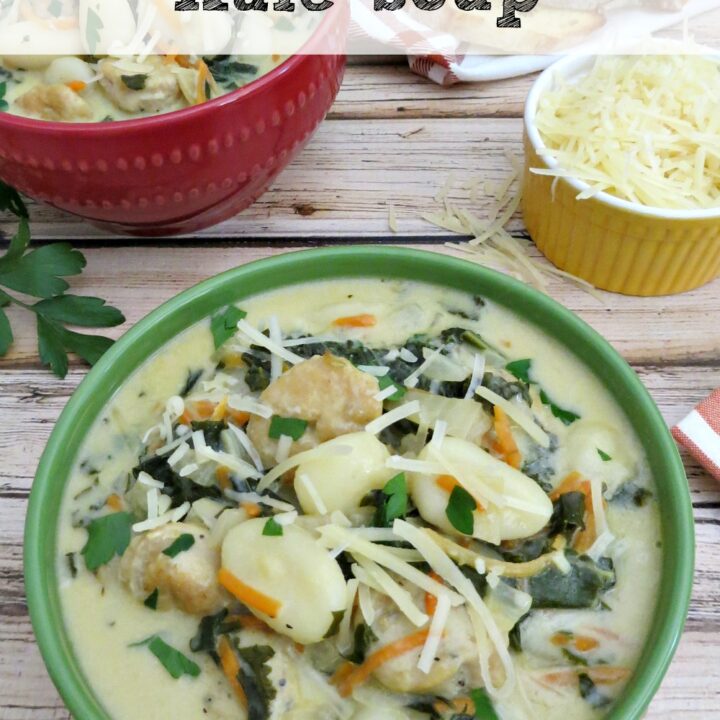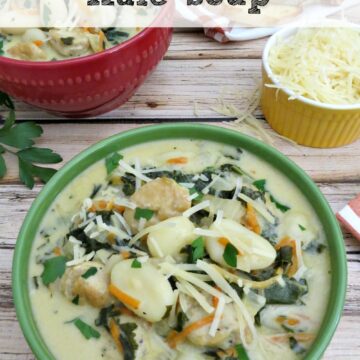 Sausage, Gnocchi and Kale Soup Recipe
This sausage, gnocchi and kale soup is full of flavor, comforting and perfect for the cooler weather! Serve it with a crusty bread and a salad for a hearty meal!
Print
Pin
Ingredients
2

links fresh chicken sausage

sliced

3

cups

chopped kale

packed

6 to 7

cups

low sodium chicken broth

1 16

oz

pkg potato gnocchi

1

small onion

diced

1/2

cup

carrots

chopped

1/4

cup

fresh Italian parsley

chopped

1

teaspoon

fresh thyme leaves

3

garlic cloves

minced

1/2

cup

half-and-half

2

tablespoons

olive oil

Salt and pepper to taste

Freshly grated Parmesan cheese for serving
Instructions
Add the olive oil to a large pot over medium-high heat. When the oil is hot, add the chicken sausage and brown on both sides for about two minutes.

Add the onion and cook for two to three minutes or until lightly browned.

Turn the heat down to medium and add the garlic, carrots and thyme. Cook for two minutes, stirring frequently so the garlic doesn't burn.

Add the kale and 1/4 cup of water. Cover and cook for one minute. Uncover, stir and cook for two more minutes or until the kale is wilted down.

Add the broth and bring the soup to a simmer. Cover and cook for ten to fifteen minutes to allow the flavors to combine.

Add the gnocchi and cook for four to six minutes or until it's tender. Be sure the soup stays at a simmer while the gnocchi is cooking - and stir often!

Turn the heat down to low and add the parsley and half-and-half. Stir to combine and heat through for about 60 seconds. Do not boil.

Taste and adjust the salt and pepper to your liking.

Serve with additional parsley and Parmesan cheese sprinkled on top.