This ham and bean soup recipe gets an extra paunch of flavor with the addition of some curly endive . Pair it with a crusty bread for a complete meal!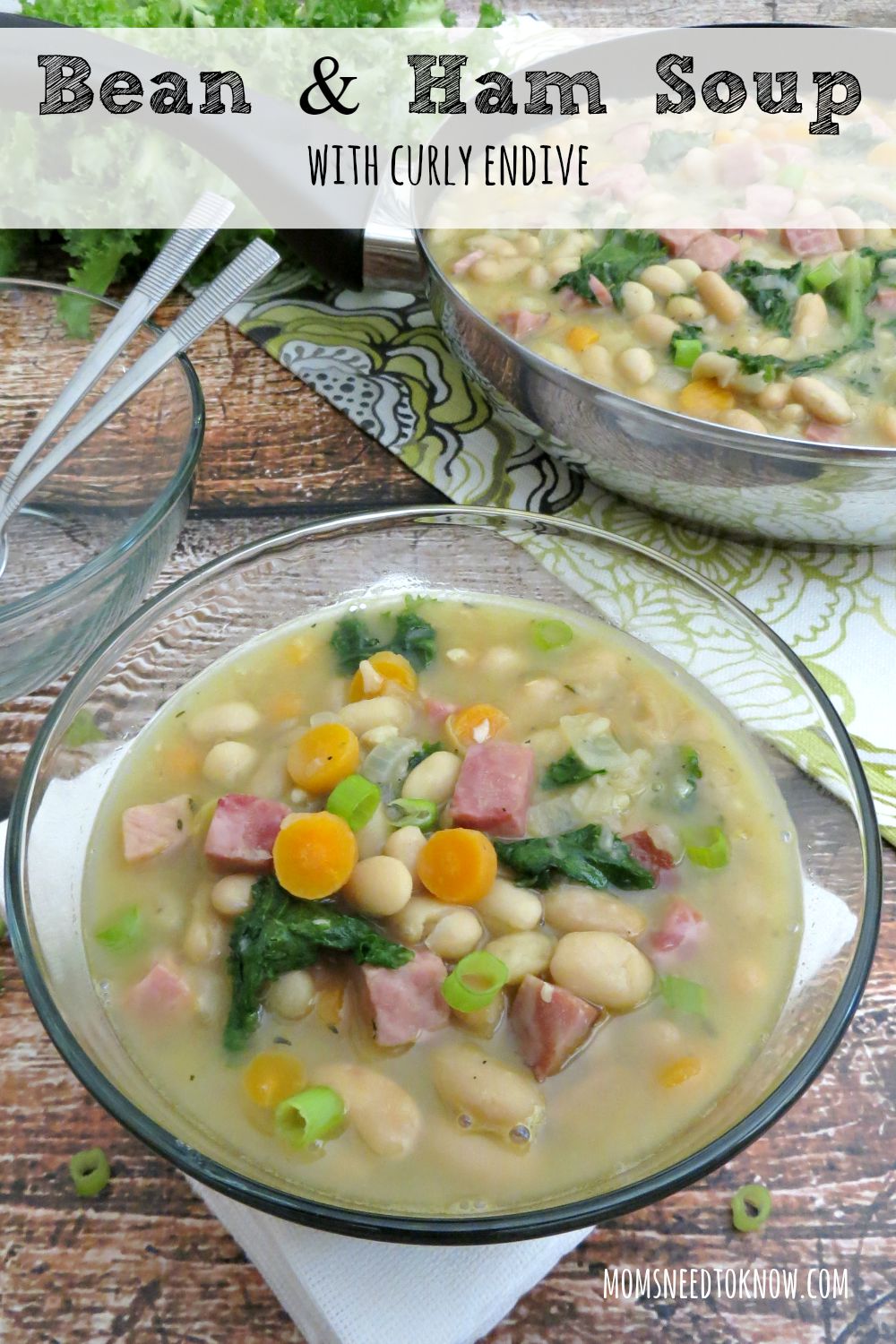 Oh - I just love Fall!  I love that I am no longer sweating to death, I love the crisp air, the leaves starting to turn, how all of a sudden we have so many different apples to choose from....and I love the seeing the return of "soup season"
I really am a soup "addict".  I consider it one of the the most versatile foods out there.  It is perfect for lunch.  Paired with my homemade beer bread (and maybe a salad), it can be a complete dinner.  Soups are so easy to make and completely adaptable....as long as you have a flavorful base, you can really make them any way that you want!

My husband and kids would much prefer it if I made my cheeseburger soup recipe (fewer veggies), but I am just a sucker for a good bean soup!
For this bean and ham soup, I used curly endive.  If you can't find curly endive, you can use any kind of green. Kale, Swiss chard or even spinach would work just fine.  Just make sure you get a good amount of greens in your soup because it will wilt down so much in the hot soup that you can easily get a full serving per person in the soup and not even notice it (I am not a fan of swiss chard, but when I let it wilt in a soup it takes on the flavor of the soup and I am able to tolerate it. I used about three cups of packed greens, which wilted down significantly. Feel free to use more if you have extra (and you probably will).
Both the broth and the ham will have a significant amount of salt, so I suggest waiting until the soup is almost done to adjust the seasoning.
Mashing up some of the beans will slightly thicken the soup without the addition of a roux (flour + butter). The soup will get very thick after you do this. If it gets too thick, just add some more broth. You can go as heavy handed as you want in this step. I like to leave about half whole and mash up the rest.
If you wanted to make this even creamier and richer, you could finish it with 1/2 cup heavy cream at the end. Just stir it in and warm it through before serving, but don't boil it.
You can also use any kind of herbs you like. I LOVE thyme in my bean soup, but parsley and/or oregano would be delicious as well!
Scroll down for the recipe!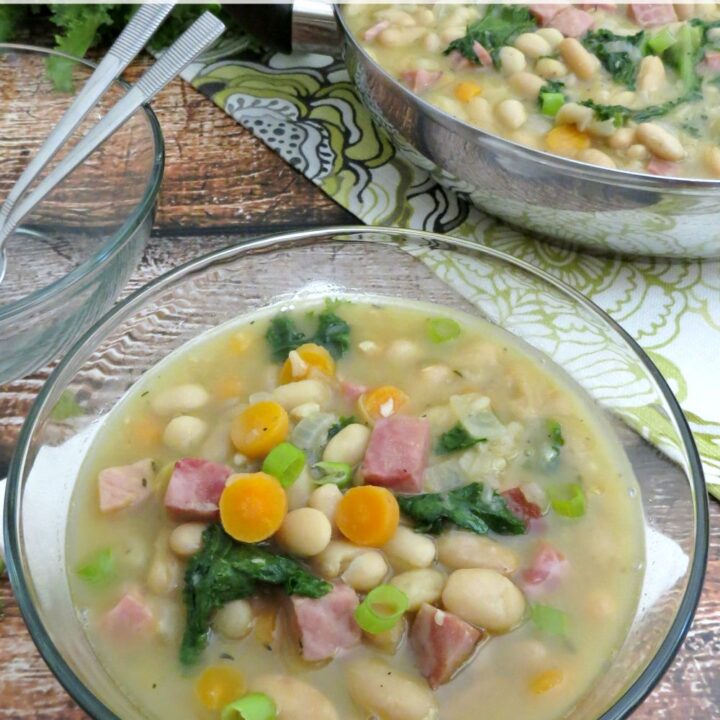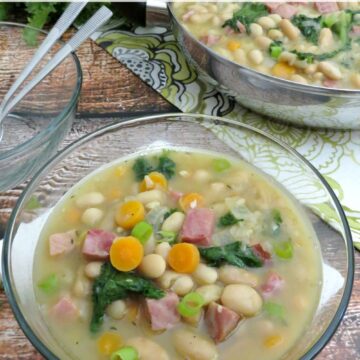 Bean and Ham Soup With Curly Endive
This ham and bean soup recipe gets an extra paunch of flavor (and nutrients) with the addition of some curly endive . Pair it with a crusty bread for a complete meal!
Print
Pin
Ingredients
2 15-

ounce

cans cannellini or white kidney beans

2-3

cups

chicken broth

1

medium onion

chopped (appx. 1 cup)

1/2

cup

sliced carrots

I used baby carrots

1 1/2

cups

lean ham

diced

2

garlic cloves

crushed

3

tablespoons

olive oil

1/2

teaspoon

dried thyme

3

cups

curly endive leaves

packed

1

green onion

finely sliced for serving

1/4 - 1/2

teaspoon

black pepper

Salt to taste
Instructions
Wash the greens, remove the stems and tear into bite site pieces. Set aside.

In a large, deep pan (or pot), heat the olive oil over medium-high heat.

When the oil is hot, add the onion and carrots and sauté for 3-4 minutes.

Add the ham and garlic and cook for 2-3 minutes longer. Stir frequently so the garlic doesn't burn.

Add the beans, thyme and black pepper and stir to combine.

Add the broth and bring to a simmer. Turn down to medium-low and cook for 5 minutes or until the carrot is cooked through.

Use a potato masher to mash up some of the beans, if desired. * see note

Add the endive and stir to combine. Cook for 3-4 minutes or until the endive is wilted down and tender to your liking.

Taste and adjust salt and pepper before serving. Garnish with sliced green onion, if desired.
Bean and Ham Soup With Curly Endive