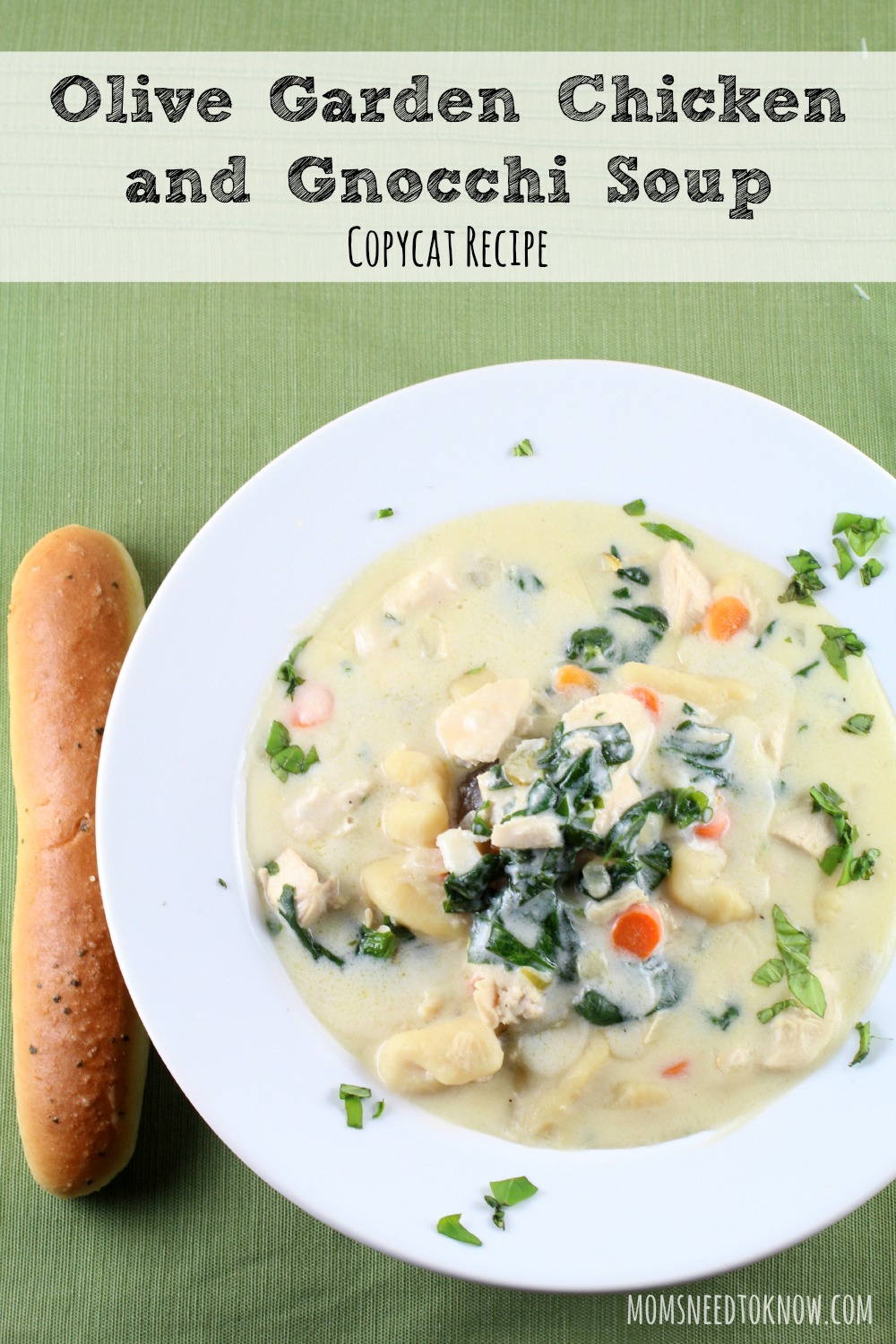 My children just love going to Olive Garden (although not so much since the took pizza off the menu), but let's just say that it is not a favorite of mine. As I get older, I seem to be less tolerant of the "chain restaurants" and prefer going to locally-owned restaurants.  I do still have quite a few favorite dishes from those chain restaurants....I guess that is why I like to make so many copycat recipes!
Anyway -  one thing that I always enjoyed when my children would drag me to Olive Garden is their soups, especially the Chicken & Gnocchi soup. It is just so rich and creamy and, when paired with a salad, can be a delicious meal all on its own!  This copycat Olive Garden Chicken & Gnocchi soup is about as close as I have ever tasted to the soup at the restaurant!
While I love soup, my children are generally NOT fans of it (I don't know why - although they do like my Cheeseburger Soup recipe!), but this is one soup that they absolutely adore and I make often. Perhaps it because the thickness of the soup and the richness of the broth? I don't know why, but this is one soup recipe that they will gladly eat!
For the chicken, I just poach about a half-pound of boneless skinless chicken breasts and then chop or shred them (depending on my mood). I also tend to add more spinach than I list in this recipe, but that is because I have a ton of spinach growing in my garden (and I just love spinach).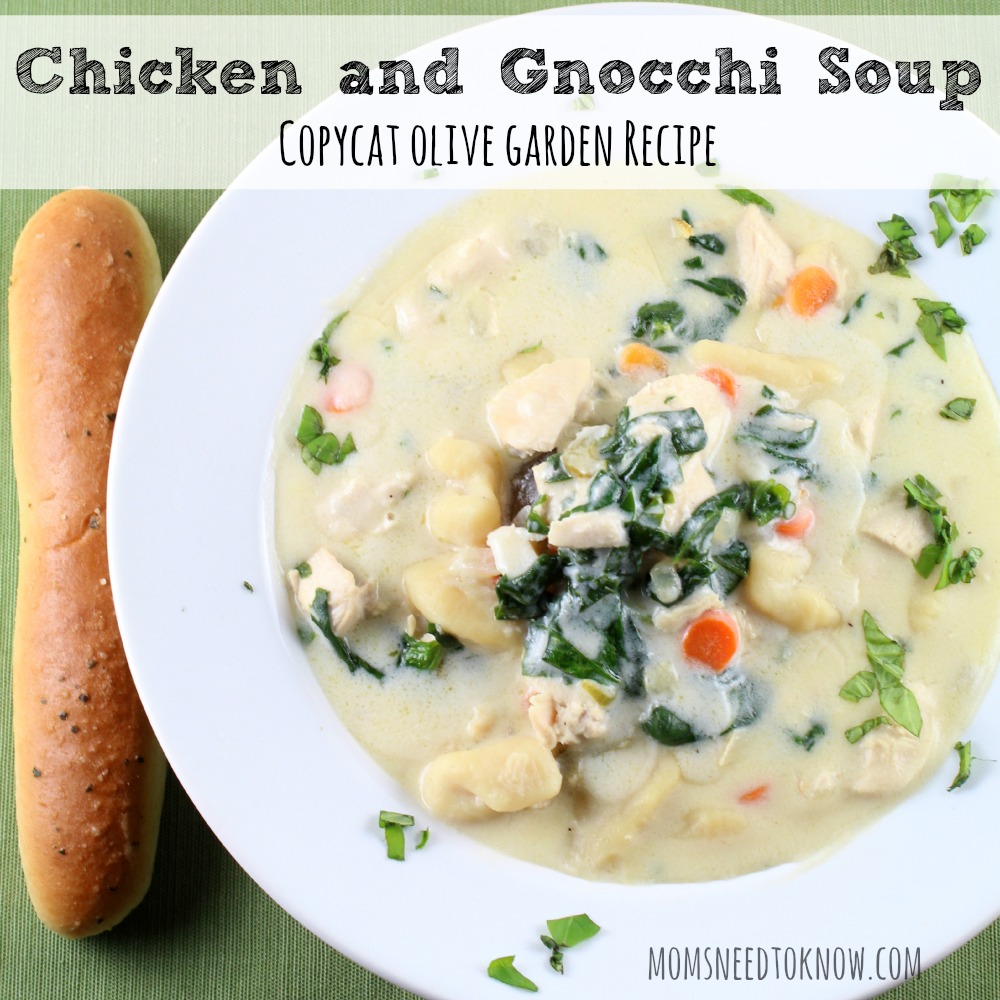 Copycat Olive Garden Chicken and Gnocchi Soup Recipe
By Mindi
If you are a fan of the Chicken and Gnocchi soup at Olive Garden, you have to try this copycat version! It is so creamy and comforting - serve it with a salad for a complete meal!
Yield - 6 servings
Preparation Time - 15 minutes
Cooking Time - 45 minutes
Ingredients
4 Tbsp butter

2 Tbsp olive oil

3/4 cups diced onion

3/4 cup diced carrots

1/2 cup celery, diced

6 garlic cloves, minced or run through the garlic press

1/3 cup flour

3 cups chicken stock

1 cup milk

1 cup heavy cream

2 cups cooked chicken breast meat, shredded or cubed

1 lb bag potato gnocchi

4 cups fresh baby spinach leaves (remove the stems)

2 Tbsp fresh basil, minced

salt and pepper, to taste

Grated Parmesan cheese (optional)
Directions
In a large Dutch Oven (or pot large enough to hold the completed recipe), heat 3 Tbsp of the butter and all of oil. Add the carrots, onion and celery and saute for about 5 minutes. Add the garlic and cook for another few minutes, or until the carrots begin to soften.
Add the last Tbsp of butter to the pan and stir in the vegetables until it melts.
Sprinkle your flour over the vegetables and stir to blend with the vegetables and remove all lumps. Cook for about 5 minutes, stirring often.
Add 1 cup of the chicken broth and stir until the flour mixture and broth are blended. Repeat with remaining chicken broth followed by the milk and cream, stirring completly after each addition.
Add the cooked chicken and bring the mixture just to the boiling point.
Reduce heat and simmer for 20 minutes.
Season with salt & pepper (to taste)
While the soup is simmering, cook the gnocchi according to package directions.
Add the cooked gnocchi and the spinach to your soup and allow soup to simmer until the spinach has wilted.
To serve, garnish with the fresh basil and grated Parmesan cheese