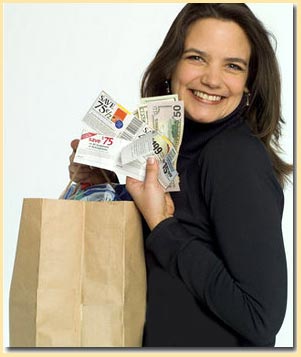 Where Can I Find Coupons?
If you want to maximize your savings, you are going to need multiple copies of the coupons. In order to save the most amount of money at the grocery store, you need to start a stockpile...and your weekly subscription to the Sunday newspaper just isn't going to cut it...but it's a start!
:: The Sunday Paper
The first place to find coupons is the most obvious: the Sunday newspaper. Look for deals on your local Sunday paper. The Philadelphia Inquirer (my local "major paper") often runs deals where you can get the Sunday paper for $1. I have 3 subscriptions. Yep - that's right - each Sunday I have 3 copies of the paper delivered on my driveway! I am always looking for when they have that deal to extend my subscription!
Please note that the Redplum insert is no longer in many major newspapers.  To find out if the Redplum insert is in your local paper (or find another local paper that does carry it, check out the Redplum website)
:: Internet Printable Coupons (IPs):
there are tons of coupons to be found all over the internet. Make sure that you check out Coupons.com, SmartSource, Redplum and Coupon Network for the newest IPs.
:: Facebook
More and more manufacturers are releasing great coupons on their Facebook Fan pages. Make sure that you Like your favorite brands on Facebook to see when they are releasing new coupons (and of course, I will always tell you on this site when the good ones are released!) Like Moms Need To Know on Facebook and you will also stay updated whenever I find coupons to share with you!
:: Manufacturers websites
In many cases, they may have coupons available right on their site. If they don't have coupons? Use the Contact form (or get the phone number and call) and let them know your honest opinion of their products. Very often they will respond by mailing you coupons. Simply Google your favorite products and start contacting them! (note: this also works great for smaller companies who do have coupons, but not the ability to get their coupons in the national inserts!)
:: Friends and family
Hit up all the non-couponing people that you know and ask them for their circulars. Do they use coupons? Then ask them for their leftovers! Do you have a cat? Offer to trade cat food coupons with your friend who has a dog!
:: Coupon Clipping services
these are available, but are constantly coming under fire (as are eBay sellers). There are several reputable companies out there if you do some homework
Don't forget to use my Coupon Matchups page to find your store and match those coupons up with the best deals!
Looking for more Extreme Couponing tips? Make sure that you check out all the posts in my Coupon 101 and Coupon Ethics sections!