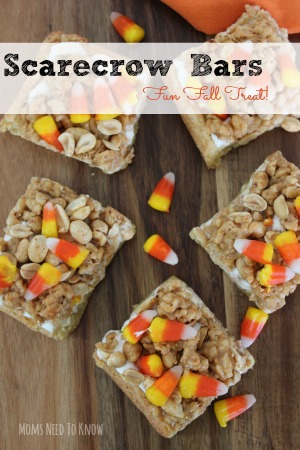 It always seems like we go to more events and parties for the kids in the Fall than around Christmas and while I have a few crowd-pleasers in my standard lineup of food to take to parties or church (everyone always goes nuts for my Oreo Truffles as well as my pumpkin chocolate chip cookies and even my white chocolate cheesecake bars (although those are a little messy), I am always looking for something new!
A friend of mine made these scarecrow bars recently and I admit that, when I first saw them, I thought that they were just rice krispie treats with some candy corn and peanuts on them....but they are just so much more! A crust made from cake mix & butter topped with ooey-gooey marshmallows and THEN topped with a sweet and peanut buttery version of rice krispie treats. Everyone (except those with a nut allergy) will love them!
If your kids won't eat peanuts (mine won't, although the love the flavor of them...they just won't eat them whole) you can leave out the peanuts, but you will need to add some more crisped rice cereal to make up for them.
These are best served the same day that you make them. While I like nothing more than an easy recipe that you can make in advance, like traditional rice krispie desserts, they tend to get harder as time passes.
Scroll down for the complete directions!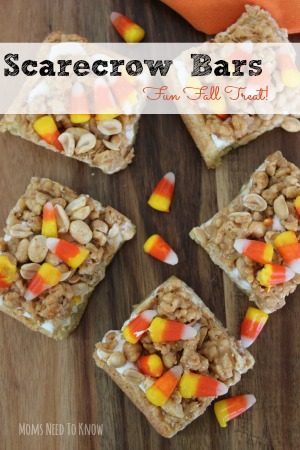 Ingredients
1

box Yellow Cake Mix

1/2

cup

butter

softened

2

eggs

3

cups

mini marshmallows

1/2

cup

corn syrup

1/4

cup

sugar

1/4

cup

brown sugar

1/2

cup

creamy peanut butter

1

tsp

vanilla

2

cups

crisp rice cereal

2

cup

salted peanuts

1

cup

candy corn
Instructions
Preheat oven to 350.

Combine cake mix and butter completely mixed

Add eggs and beat until incorporated

Press mixture into the bottom of ungreased 13x9 baking pan.

Bake until it sets and the edges are lightly browned (about 15 minutes).

Remove from oven and immediately sprinkle marshmallows over hot crust.

Return the pan to the oven and bake for another few minutes until marshmallows puff up.

Remove from oven.

While the crust is baking, combine corn syrup, sugar and brown sugar in a saucepan (use one large enough to also hold the cereal and peanuts).

Bring to a boil over medium heat, stirring constantly.

Remove from heat and add in the peanut butter and vanilla and stir until smooth.

Stir in cereal and peanuts.

Spoon the mixture over the marshmallow topped base and spread to cover (use wax paper to help you cover the crust evenly).

Sprinkle candy corn over mixture evenly and gently press them in to the topping.

Let cool before cutting in the bars or squares