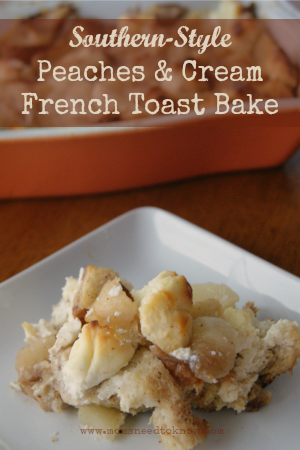 This Southern-Style Peaches & Cream French Toast Bake is a perfectly delicious way to use up the end of season peaches picked up from your local farmers market. You can substitute canned or frozen peaches to make this dish year round.
We tend to be pretty boring around here with breakfasts during the school year but when summer hits and we don't have to be up and out of the house so early, I do like to make more of these breakfasts that the rest of the year would be considered a "weekend recipe". My children love the change-up from cereal and it makes it easy for me because, like my "regular" Crock Pot French Toast Recipe as well as my Crockpot Breakfast Casserole Recipe, I can just throw everything together and wake up in the morning to serve breakfast with minimal effort (in the case of this french toast bake recipe, I just have to throw it in the oven!)
Rich and creamy, this French toast bake is best prepared the night before, allowing the bread to soak up all the cream and cinnamon flavors. Just pop it into the oven in the morning and delight your family. Serve as-is or with syrup drizzled over the top.
Ingredients:
1 cup packed brown sugar
8 eggs
1 8 oz. package of cream cheese
2 tsps. Vanilla
4 or 5 ripe or slightly over ripe peaches
1 ½ cups half and half
1 ½ tsp. cinnamon
8 to 10 slices of day-old bread
Butter for pan
Directions:
Butter a 9x13" baking pan.
Dice the bread .
Cube cream cheese.
Whisk together eggs, cinnamon, half and half, vanilla, and brown sugar until thoroughly combined.
Place your bread in your buttered baking dish.
Pour egg mixture all over top, try to wet as much as possible.
Scatter peaches and cream cheese over the top of bread.
Allow to sit in refrigerator, covered, overnight.
Preheat oven to 350°
Bake for 45-50 minutes.
Serve and enjoy!