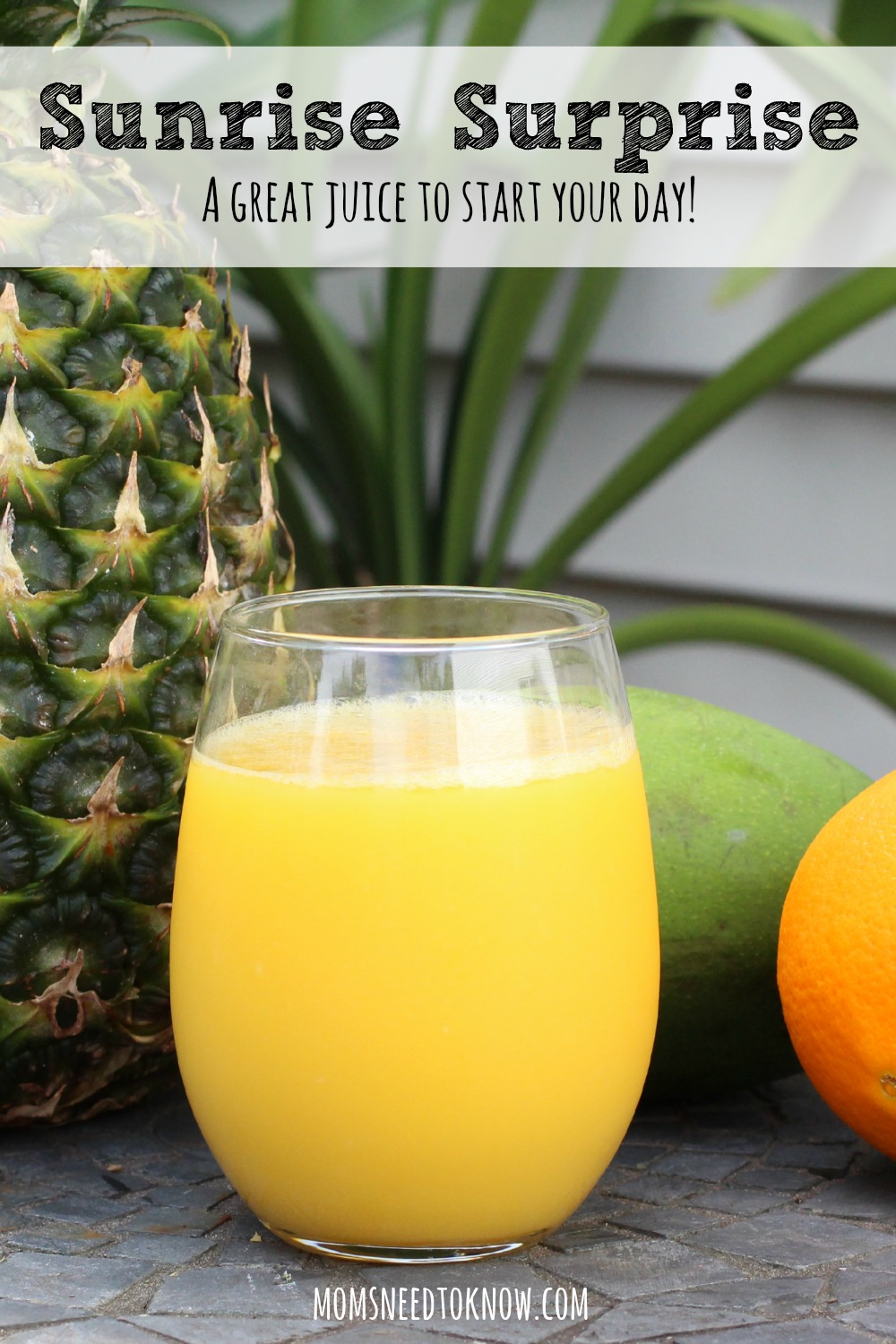 Juicing is a part of my daily life and while I try to stay away from the sweet juices, my children still aren't ready for recipes like my liver-cleansing beet juice or even my spinach lemonade recipe.  They like things sweet and I like to indulge them.
This Sunrise Surprise Juice is a delicious mixture of pineapple, orange and mango.  It is quite satisfying and delicious and you really don't need much of it for it to perk you up and get you ready for the day (I usually drink about 4 to 5 ounces per day).

But my children AND my husband really like to "guzzle" their juices, so I usually will pour off enough for me for a few days (it makes about 24 - 32 ounces, depending on how powerful your juicer is - I use a Breville Juice Fountain) and then add some water to the rest of it for my family.
If you aren't going to water your juice down a bit, you are going to want to make sure to limit yourself to just a few ounces (no more than 6) per day, because while this juice is very healthy, it is also high in (natural) sugars.
Of course, the benefits of each of the ingredients should be pretty basic and are probably well-known, but just in case.....
Pineapple juice - in addition to the large amounts of the antioxident Vitamin C, pineapple has been used for centuries to treat digestion problems and inflammation.  It also contains a nice amount of beta-carotene, which can reduce your risks of developing asthma. Pineapple is also high in potassium, which can help to lower your blood pressure. (source)
Oranges - it is one of the most popular juices for a reason - it is just so full of healthy benefits!  Like pineapple, they are full of Vitamin C to support your immune system and reduce inflammation. Oranges also contain Vitamin A, which helps with healthy eye function.  Orange juice can also help to improve your blood circulation and in the creation of red blood cells (source)
Mango - while sweet, mango has a low-glycemic index so it is a great way to add some extra flavor AND sweetness to your juice.  Like pineapple and oranges, mangoes are rich in Vitamin C, Beta Carotene and potassium.  Mangoes also contain a decent amount of Iron, which helps in the creation of red blood cells. (source)
So as you can see, my Sunrise Surprise Juice is not just about a sweet juice to start your day. It is really a way to keep your body healthy.
Scroll down for the recipe!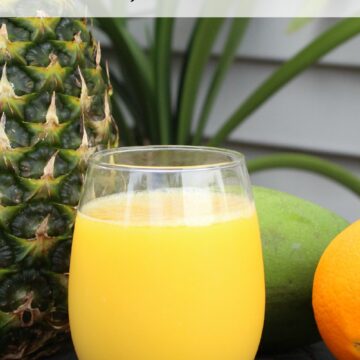 Sunrise Surprise Juice | Pineapple, Mango and Orange Juice!
This Sunrise Surprise Juice is a delicious mixture of pineapple, orange and mango. You don't need much of it to perk you up and get you ready for the day
Print
Pin
Ingredients
1

pineapple

top removed and peeled (you don't need to worry about getting every "prickly" off - your juicer will do the work!)

2

oranges

peeled

1

mango

peeled and pitted