Knowing what the best things to buy in November are can save you a bunch of money. Stock up when these items are at their least expensive!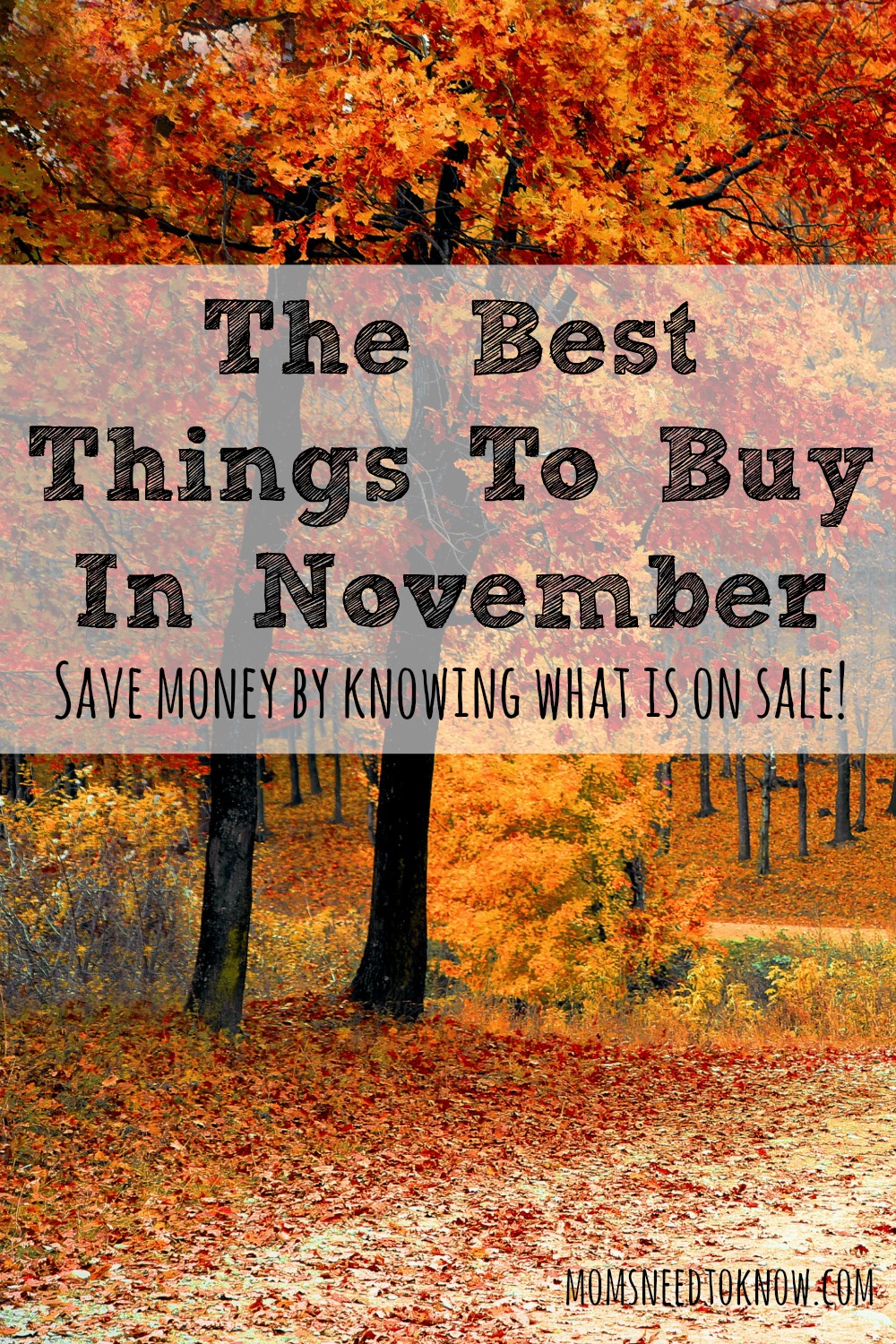 Each month has amazing deals that you need to need to scoop up. November is no different. In fact, November is one of the best times to shop. Not only can you score deals on Halloween candy and decorations, but there's also Black Friday deals.
Here are the best things to buy in November.
1. Halloween Decorations and Candy
Love Halloween? The week after Halloween is the best time to shop for decorations. You can find some awesome deals on awesome decorations. That's not all though. You can also score some great deals on Halloween candy. Stock up and you'll be good on candy until the after Christmas sales start.
2. In-Season Produce
While these days, you can pretty much get any produce item you want all hear long, November is typically considered "peak season" for these fruits and vegetables (it's also when they are typically at their lowest price of the year): avocadoes, cabbages, celery, cranberries, carrots, dill, huckleberries, lemons, tangerines, pineapple, pears, pumpkins, sweet potatoes, squash, turnips, yams.
Once you have stocked up on these, make sure to do everything you can to make produce last longer!
3. Cars
In November, dealerships are desperate to get rid of this year's models. This means that you can get an amazing deal on a brand new car. Don't be afraid to haggle to get a better price than what's offered. Also, don't mention your trade in until you've got the deal down to where you want it.
(While you are at it, don't forget to check on my posts on how to save on car insurance as well as how to save money on gas!)
4. Electronics
Black Friday is the best time to purchase everything from laptops to TVs to gaming systems. You can get some of the most wanted electronics and save hundreds. For the best deals, you need to make sure that you're in line when the store opens.
Don't forget to check out my online coupon codes page to save more money on your online purchases!
5. Kitchen Tools
You'll also find a number of awesome deals on kitchen tools and appliances during Black Friday. If you're looking for a new coffeemaker, slow cooker, or even a turkey roaster, Black Friday is the best time to shop for these items. Compare prices with a number of stores both local and online to get the best price.
6. Bath Towels
Another Black Friday deal you won't want to miss is bath towels. It's not uncommon to find bath towels for as little as $2 each. This is one of those items that literally flies off the shelves. If you want bath towels, you're going to need to stand in line for them.
7. Smoking Cessation
The third Thursday of each November is the Great American Smokeout. This means that you will usually some great deals at the drug stores in things like nicotine gums, patches & lozenges!
8. Baking Supplies
November is also a great time to stock up on everything from butter to baking mixes. There are so many great deals to be found in the weeks leading up to Thanksgiving. If you love to bake, make sure you stock up (especially on parchment paper!). Remember, you can freeze butter and you can often find it for 50% off.
9. Turkey
Almost every store has a special on turkeys throughout the month of November. It's not unheard of to find frozen turkeys for as little as $0.19 per pound. If your family loves turkey sandwiches and other turkey dishes, make sure to stock your freezer.
10. Movies
Last, but not least, also be on the lookout for movie deals during Black Friday. You can often find this year's hottest movies for unbelievable prices. You can also find DVDs for as low a $1 each. If you love to watch movies or need great Christmas gifts, make sure to hit the sales.
November is a great month to shop for everything from baking supplies to a new car. Make sure you don't miss these great deals.
Do you have any more to add?
The Best Things To Buy In November