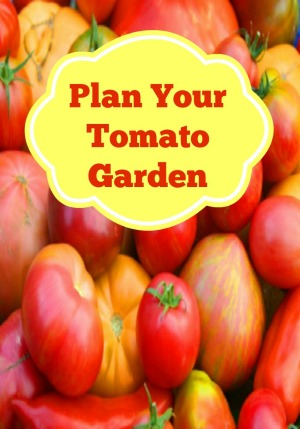 Are you thinking about growing tomatoes this year?  Plan your tomato garden around what you love to eat and you cannot go wrong!
Tomatoes are the number one vegetable planted every year and for good reason. There are countless companies that only specialize in tomato seeds and there are thousands of varieties to choose from. Do you like the sweet taste of a Roma tomato or prefer a more tart Better Boy? When thinking about planning your tomato garden decide if you want organic Heirloom tomatoes or Hybrids that have been bred to set fruit earlier and more often are disease resistant.
When planning your tomato garden think about what you will use each kind of tomato for. If it is for your amazing homemade tomato sauce – then you will need to plant a few Roma tomatoes? Grape and cherry tomatoes slice up very easily for a salad or toss them in whole. Beefsteak tomatoes are perfect to fit on your burger or to make your famous caprese salad of mozzarella, basil, and tomatoes that are drizzled with reduced balsamic vinaigrette.
You can pluck your tomatoes early for fried green tomatoes or plant Green Zebra as these golf-ball sized tomatoes are tart and hold up perfectly battered and fried to a golden perfection. In Heirloom tomatoes you could decide to choose the sweet purple variety Brandywine or go for the rainbow variety as each tomato on that plant is a different color. For great tasting salsa you will need Romas, a good medium sized tomato like an Early Girl or Better Boy plus grape tomatoes that have been quartered.
If you want this much variety, go ahead and order a few different tomato seed catalogs. Warning though, make yourself a budget or you will order a ton of seed packets and that is literally thousands of seeds! Buying seeds gives you the opportunity to have a diverse amount of tomato varieties in your garden. Seeds take work though! If you are late to the gardening season or a newbie and want to start with transplants first, you can for sure. Each nursery carries at least six different tomato varieties. The trick is to go to a few different nurseries as they each are supplied by different growers. You might only have one kind of Heirloom or grape tomato to choose from, but by going to a few different stores, you are open to a wider selection.
Another way to get your hands on seeds or transplants is to talk to your friends and neighbors. They might not want to plant that 6-pack of Brandywine tomatoes and might trade you three of those for three of your yellow pear tomatoes. Planning your tomato garden should be done with a lot of consideration into what you like to eat. Once you know what you will use the tomatoes for look at the different varieties for your zone. If you are in an area with a short growing season, don't buy a plant that takes 120 days to grow! Thinking ahead and planning is one of the best parts to growing an amazing tomato garden.
What tomatoes will you be planting this year?
You might want to check out these other gardening tips: