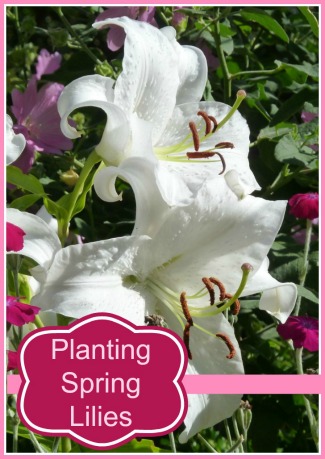 Lilies have been around for thousands of years and are one of the oldest plants to grace gardens throughout the world. Lilies are part of the bulb family and can be grown both indoors and outdoors. Often times around Easter and Mother's Day you will see a lot of lilies in the store with their beautiful big blooms and enticing fragrance. Once you have enjoyed these lilies inside you can plant them right in your garden and they will continue blooming for you.
The one thing about lilies is that they prefer well drained soil and won't produce new blooms if they are in wet soils. Amend your garden soil with organic material like compost or peat moss to improve the drainage. Plant the lilies 6-7 inches deep and 6 inches apart. Plant the bulbs with the flat side down and the pointed tip facing upwards. After planting, water them in well and in a few weeks you will see the bulbs start to sprout. Warm temperature makes the lilies grow faster as they are not fond of the cold.
As the lilies put on its show of flowers, clip a few for your bouquet, but leave at least a third of the stem. The bulb needs these stems and foliage to feed the bulb for next year's growth. Always allow the foliage and blooms to die back naturally before you clip them off.
One of the best ways to garden with lilies is to plant different varieties in the same area so that they bloom at different times throughout the spring and summer. Asiatic lilies flower early in the summer, whereas Trumpet and Oriental lilies will bloom a little bit later. Trumpet lilies include Easter lilies that are forced to bloom in March and April, but when you put them into your garden they will go back to their natural blooming cycle. With Oriental lilies, you can find the perfect white lilies or the many different shades of pink found in the Stargazer varieties.
Daylilies are a great plant to have in the landscape as they will put on a show all summer long. You can plant these near your mailbox or in your flower bed. Either buy a six inch pot at the nursery center or order the bulbs online and watch these beautiful yellowy orange blooms do their magic in your garden.
Lilies never slip into full dormancy like many other type of bulbs do. If you are in an area with mild temperatures your lilies might send up sprouts at odd times. Handle with care so the sprouts don't snap off and you just might be rewarded to a second blooming season.
Oriental and Stargazer lilies are known in the flower world for having the most incredible fragrance followed closely by Trumpet lilies. Asiatic lilies have a very light soft scent and some varieties are bred to have no scent. Go into a flower shop and smell the lilies to see which ones you like more and then plant those!
Do you plant lillies in your garden?  I just love being able to bring them in the house all spring and summer!
You might want to check out these other gardening tips:
Top 10 Gardening Rules That You Should Never Break!
Grow the Best Flowers For a Cutting Garden!