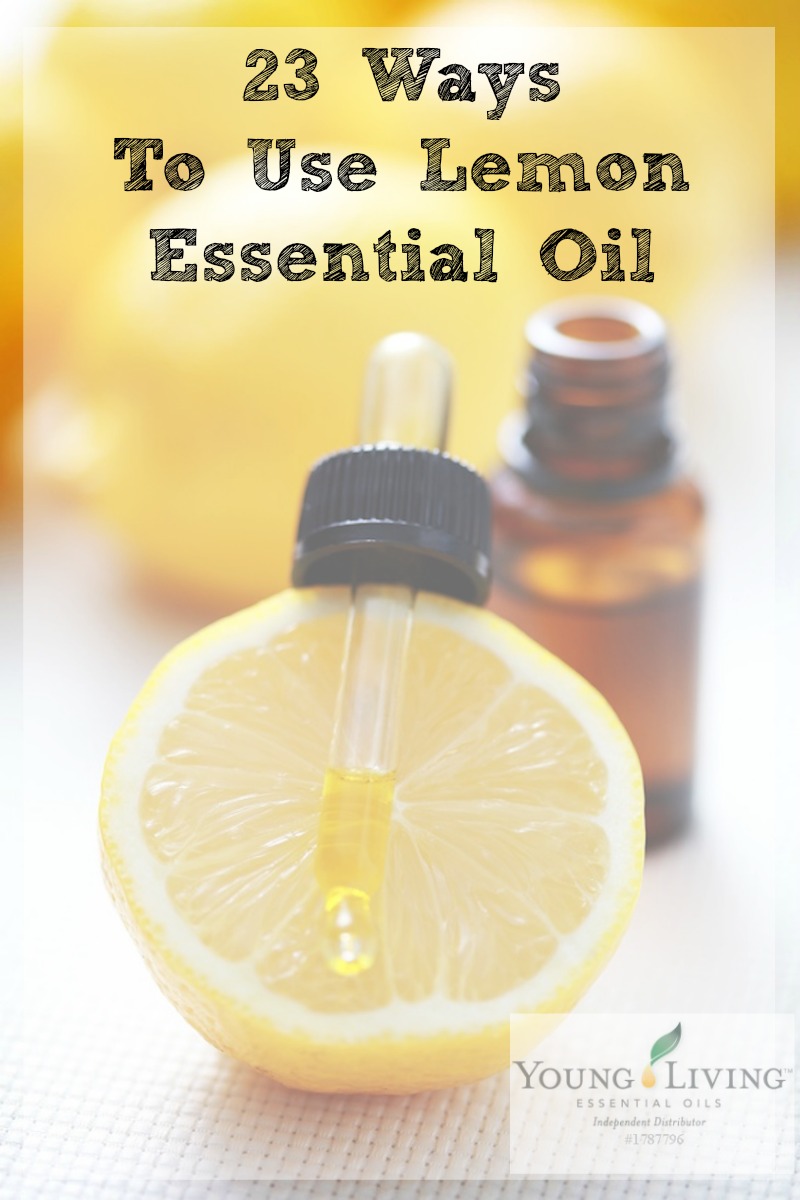 When you begin to use essential oils, one of the first ones that you are introduced to is lemon. Not because it's basic and boring, but because it does SO much! Essential oils are amazing and have so many amazing uses and lemon essential oil is no exception! Whether you are just looking into using essential oils (be sure to check out this great deal on a starter kit that includes a FREE gift from me!) or you have been using them for a while, here are 23 ways for you to fully benefit from lemon essential oil!
Ways to Use Lemon Essential Oil In Your Home
Diffuse them! A Japanese study showed that errors were reduced by 54% while diffusing lemon oil! Keep this scent around while you are working or while your kids are doing homework for an extra boost!
Lemon is a great way to sanitize (and you thought that cleaning companies added that lemon scent just because it smelled good!) Add 2-3 drops to water to help clean and sanitize in your home.
It's also great for getting out stains. Lots of stains! Just 1-2 drops can help remove things like gum, oil, grease, glue and even crayons!
Add 10-15 drops to a gallon of carpet cleaner. This will help to pull out stains, brighten your carpet and of course, make it smell lemony-good!
Use lemon to help preserve your leather! This essential oil will keep your leather from splitting!
Avoid getting tarnish on your silver by using lemon essential oil to help polish your silver.
Stainless steel? No problem! Lemon essential oil can help! Just a few drops rubbed in to your stainless steel should take care of those marks!
Add a drop or two to your dishwasher soap for spot free, sparkling dishes.
Put a few drops on a cotton ball and place inside your refrigerator. No more yucky smell!
Speaking of yucky smells in the kitchen! Put a drop or two in your garbage disposal to keep it smelling fresh.
Cutting boards are so important to disinfect! The knives we use on them can make grooves for bacteria to hide in. Use lemon essential oil to clean your cutting boards and kill bacteria that can make your family sick!
Add a drop to your laundry for the best smelling laundry around!
Lemon essential oil can really help your garden! Mix with water in a water bottle and spray plants to keep aphids away!
Ways to Use Lemon Essential Oil For Personal Care
Rough skin on your feet? Soothe corns, calluses, bunions, and even blisters by rubbing infected areas in the morning and evening.
Have a blemish? One drop on your blemish can help minimize oil production and eliminate acne!
Spike your water!  If you are using an essential oil that it safe to take internally (like Young Living Certified Therapeutic Grade Lemon Oil), add a few drops to your water bottle for a refreshing lift in taste!
If you or your husband have been out working on the car and have oily hands, add a drop of lemon essential oil to your soap to get rid of the grease!
Do you suffer from anxiety? Just a little bit behind your ears and on your wrists can help calm and eliminate anxiety.
Lemon Essential oils have been known to have antidepressant effects! Simply having the scent around to smell can make you feel better.
Add a drop to your toothbrush once a week. Not only will it clean your toothbrush, but it will also help kill germs and bacteria (and bad breath!) in your mouth!
Remember back when you would lay out in the sun with lemon juice in your hair? Add a few drops of lemon essential oil and get natural highlights. (A little goes a LONG way!)
If you have a cold sore a few drops of lemon can help eliminate them!
Add a few drops to your humidifier to slow wheezing, coughing, colds and even upper respiratory infections. Awesome right?
You can also add a couple drops to warm water and honey. This will help fight coughs, sore throats, and fevers. Lemon fights bacteria and viruses! It's powerful stuff!
Just because lemon essential oil is included in many starter kits doesn't mean it is ordinary! Once you start using lemon essential oil you will be hooked!
Find out more about Essential Oils on my Getting Started With Essential Oils post and be sure to check back as I share more awesome uses for the Essential Oils that are included in the Young Living Premium Starter Kit! Don't forget that you can get a free Essential Oils Reference Book when you purchase a Premium Starter Kit!
Disclaimer: These statements have not been evaluated by the Food and Drug Administration. The information on this site is not intended or implied to be a substitute for professional medical advice, diagnosis or treatment. Please confirm any information obtained from or through this web site with other sources, and review all information regarding any medical condition or treatment with your physician. Never disregard professional medical advice or delay seeking medical treatment because of something you have read on this website. This information is not intended to diagnose, treat, or cure any disease.