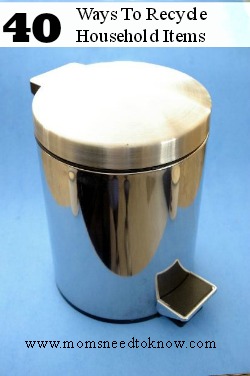 Frugal living and re-using items goes hand in hand. One way to make sure you get the most bang for your buck is to recycle household items in ways they may have not been designed for, but will work well
Here, you will find the first 10 of 40 ways to reuse  items that are commonly thrown (or given) away with ideas on how to re-use them in practical, thrifty and earth smart ways!
1. Serrated Edges from wax paper containers: Cut them up, hot glue them onto frames and use them to hang pictures on the wall. Alternatively, you could also use them for scraping off candle wax when it drips.
2. Old Shower Curtains: If you have any sewing skills, you could easily turn these into baby bibs. Another use for them is to lay them down for your kid's art projects to keep the mess at bay. Tie them down onto outdoor furniture you do not have room for in the garage to keep them from the weather.
3. Film Canisters: While these are almost obsolete anymore with digital cameras now being the norm, if you have any laying around the house, try using them for art projects as glitter shakers. Simply poke holes in the lid and place glitter inside. You could use them in a similar fashion for camping salt and pepper shakers.
4. Junk Mail: Let your young child pretend to play mail-carrier. Make a "mailbox" from an old shoebox and let them "send" you mail. You could use them for collages and home school projects as well.
5. Crib sheets: Use them in the car to contain backseat spills, animal hair and other seat threats.
6. A "Turkey net". Use the netting that comes on your Thanksgiving turkey to contain tub toys. Be careful when you cut it off your bird, wash it out well and run an old shoelace through it at the top to form a pouch. Put tub toys in it after bath time to drain.
7. Pantyhose/stockings: If you have a fisherman in your family, they will appreciate this one; Use stockings to create small pouches for fish bait such as poultry liver. It keeps the bait better on the hook so fish don't steal it.
8. Apple or orange peels: Make a delicious and inviting potpori for your home. Simmer some water with cinnamon, cloves and the peels. It will leave your home smelling absolutely wonderful. You could also put it in a small crock pot as well for the same effect. Another use for citrus peels is to freeze them and use in recipes that call for zest.
9. An old but still usable laundry basket: Use as a baby bath tub "playpen". If your child can sit up, but not really well, place your infant in a clean laundry basket and fill the tub with water. Place toys in that area for them to grasp and be in their reach.
10. Ends of bread loaves: Make croutons with just a bit of olive oil and seasoning in the oven. Also, place one in brown sugar that has gone hard and in a day or two, it will be soft again.
Be sure to come back next week for 10 more ways to recycle household items!
Check out all the posts in this series