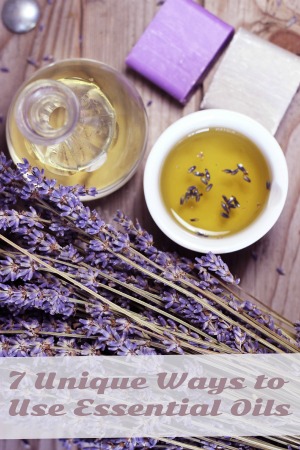 If you haven't started using essential oils yet, now's the time! Use essential oils in your vaporizer to improve air quality, use a few drops in your shower for a fragrant pick-me-up in the morning, or even use it to alcohol to make perfumes. There are many other ways to use essential oils, but these are my favorites:
Shampoos and conditioners – Making your own shampoo is fun, especially when you mix it up with essential oils, like we did with this rosemary peppermint shampoo. Your hair will thank you for taking the time to make your own shampoo and conditioner!
Massage oils – Lotions and massage oils can be used for dry skin, pain relief, and more. To relieve muscle aches, try this After Sports Blend recipe:
4 drops mandarin
3 drops lemongrass
5 drops bergamot
4 drops lavender
4 oz carrier oil
Mix all ingredients together. Use a carrier oil such as almond oil, avocado oil, or grape seed oil.
Antibacterial and Antiviral – Did you know that adding essential oils to your room-freshening sprays can help keep the flu (and other icky germs) away? Cinnamon, clove, and even basil all have anti-viral properties.
Perfumes – Anything from roll-on perfumes to perfume solids, the possibilities are endless! You can just use one oil, or several… it's totally up to you, based on your preferences. The best part about making your own perfume? Nobody will be able to copy your unique blend!
Healing salves – From bee stings to insect bites, from burns to poison ivy, this all purpose healing salve has you covered!
Floor and furniture cleaners – I used this wood furniture polish last week, and it worked just as well as Pledge – but smells way better! You can also use this recipe as floor polish.
Homemade cough drops – When it comes to avoiding colds, essential oils have you covered. However, if you do end up feeling a little under the weather, make some cough drops to help your itchy throat feel a little better.
Essential oils are used for many things, what's your favorite way to use them?
Find out more about Essential Oils on my Getting Started With Essential Oils post and be sure to check back as I share more awesome uses for the Essential Oils that are included in the Young Living Premium Starter Kit! Don't forget that you can get a free Essential Oils Reference Book when you purchase a Premium Starter Kit!
Disclaimer:
These statements have not been evaluated by the Food and Drug Administration. The information on this site is not intended or implied to be a substitute for professional medical advice, diagnosis or treatment. Please confirm any information obtained from or through this web site with other sources, and review all information regarding any medical condition or treatment with your physician. Never disregard professional medical advice or delay seeking medical treatment because of something you have read on this website. This information is not intended to diagnose, treat, or cure any disease.