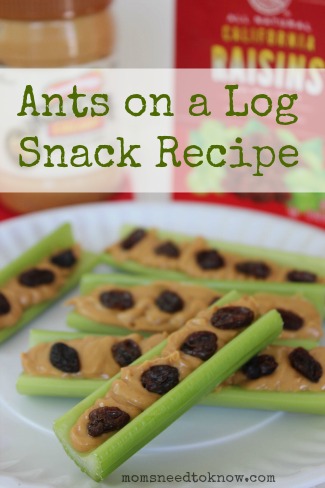 Like many moms these days, I worry about the things that my kids eat. After all, it seems like you can hardly pick up any premade snacks at the store without being greeted with an insanely long list of preservatives, additives and artificial ingredients. I don't want to deprive my kids of fun snacks and just make my kale chips recipe every day, but I also don't want them eating nothing but junk foods every day either. So what's a mom to do?
Thankfully, it is possible to get snacks and lunches that are both fun and healthy. In fact, Pinterest is full of healthy lunch ideas that both kids and moms alike will love (oh - and are you following me on Pinterest yet?). One healthy snack that my family personally loves is this Ants on a Log snack. This snack has everything that moms and kids look for in a snack. It contains healthy, filling ingredients, it's really cute and fun, and it's really tasty too. My kids love lining up the little raisins for the ants. We have a lot of fun with it.
Kids' lunches and snacks can be healthy, fun and delicious.  Sure, they may not always get all those processed, sugar laden foods some of their friends eat every day, but they love our homemade fruit rolls ups and this Ants on a Log Snack, and your kids will too. If they haven't ever tried it yet, make it today! It's easy and fun, and your kids are sure to love it.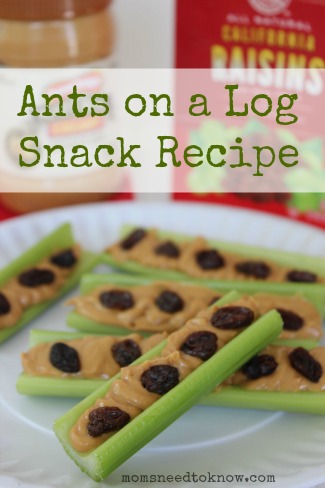 Ingredients
Celery

Peanut Butter (try my homemade peanut butter

Raisins
Instructions
Wash, trim and cut your celery into serving size pieces.

Spread peanut butter in the recessed side of the celery (I like to use a zipper bag and pipe it in).

Decorate top of peanut butter with raisins (ants).