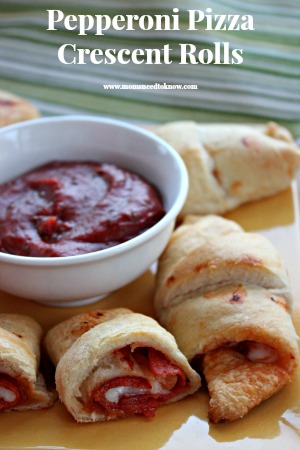 Sometimes you just have to go back to the most basic of recipes! A nice baked brie with apricot jam is fun, but sometimes (and especially for football parties), you just want simple "guy food".
These pepperoni pizza crescent rolls fit that requirement quite well! Not only does it make a great appetizer recipe, it would even make a nice quick dinner recipe for the kids!
You can use just pasta sauce or jarred pizza sauce, but I find that those tend to be too "runny". I like just doctoring up a can of tomato paste. You get plenty of flavor without the cooked pepperoni pizza crescent rolls being a gloppy mess! HOWEVER, when it comes time to dip them, I prefer to use my homemade pizza sauce recipe!
To make them, you will need: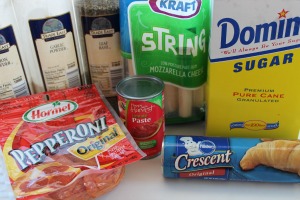 1 can Crescent Rolls
24 slices pepperoni
2 Mozzarella String Cheese
1 6oz can Tomato Paste
4 oz Water
2 tsp Sugar
1 tbsp Garlic Powder
1/2 tbsp Onion Powder
1 tbsp Basil
Scroll down for complete directions!
You might want to try these other appetizer recipes, perfect for game day!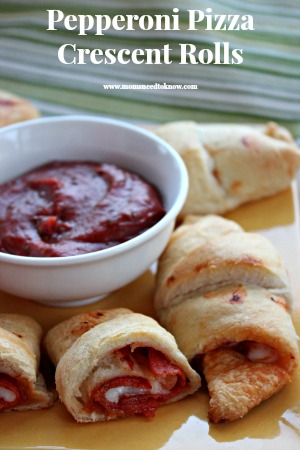 Ingredients
1

can Crescent Rolls

24

slices

pepperoni

2

Mozzarella String Cheese

1 6

oz

can Tomato Paste

4

oz

Water

2

tsp

Sugar

1

tbsp

Garlic Powder

1/2

tbsp

Onion Powder

1

T

dried Basil
Instructions
Preheat oven to 375.

Combine tomato paste, water, onion powder, garlic powder, sugar and basil in a small saucepan.

Heat over medium heat until well blended and warm.

Cut each string cheese in half lengthwise and then in half the other way (you want it half as wide and half as thick).

Open crescent roll can and separate out the triangles and place them on a cutting board

Spread small amount sauce near wide end of crescent.

Place 3 slices of pepperoni on top of the sauce. Top with 1 piece of the cheese stick.

Carefully roll the crescent roll like you normally would and place, seam side down on a cookie sheet

Bake for about 12 minutes.

Remove from heat and serve immediately