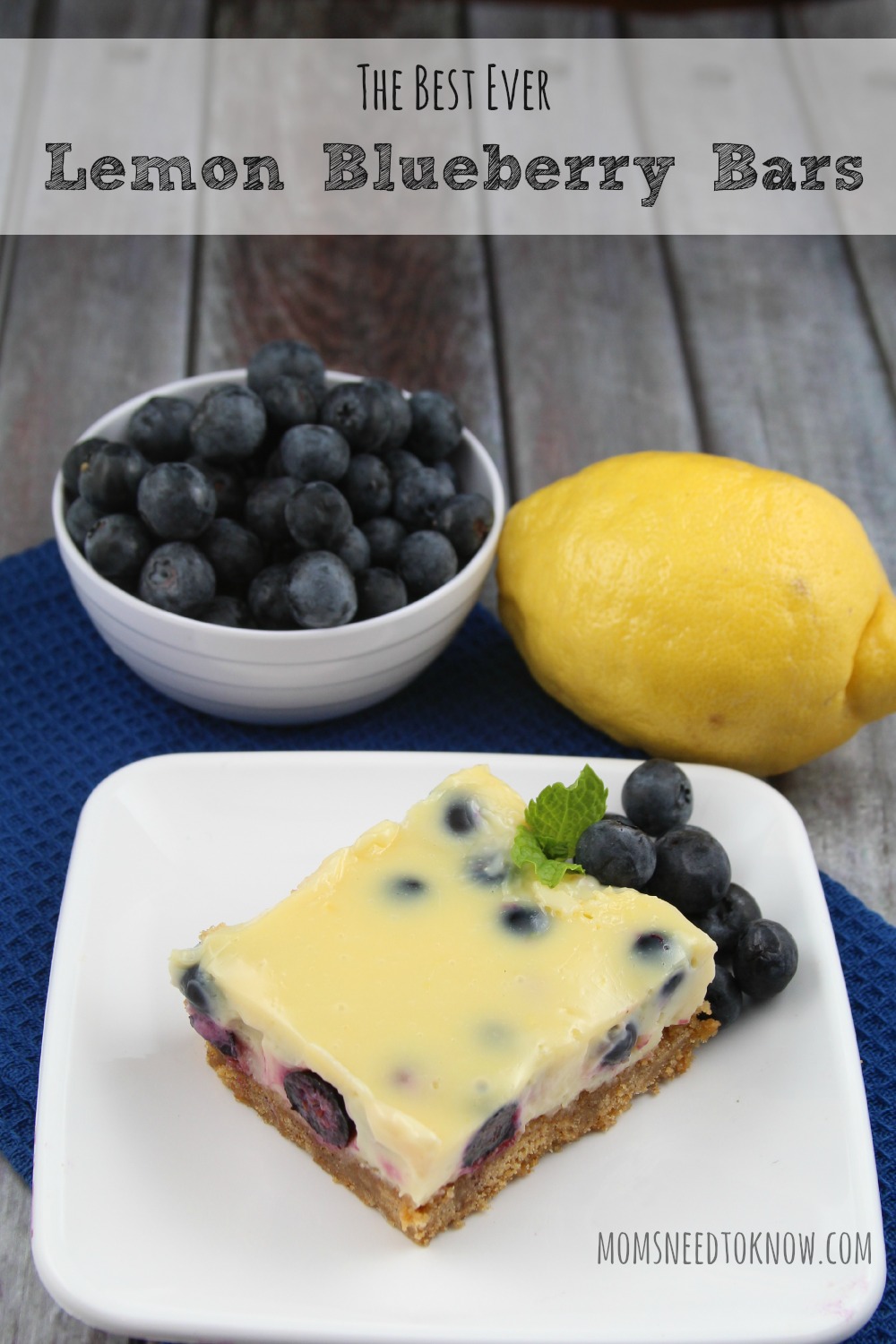 If you are looking for the best blueberry lemon bars recipe ever - then you have come to the right place! I made these the other day and I had to end up giving most of them away to resist the temptation to eat the entire pan myself!
I love lemon.  I love everything about lemons.  I love the taste of lemons.  I love the smell of lemons when I am cooking - I love the smell of lemon rinds being ground up in the garbage disposal.  I even love everything that you can do with lemon essential oils.
And then there are blueberries....chock-full of sweetness and antioxidents, they are the perfect counterbalance to the wonderful sourness of the lemons. Mmmmm....blueberries!
Ok - I may need a moment. (tick tock, tick tock).  Alrighty...moment over!
With summer here, these 2 of my favorite fruits are at their peak of flavor and incredibly cheap.  I just love making lemon bars and my mother has a great recipe for them that is just so stinkin' easy....so I just added some blueberries to her recipe and they turned out fabulous! My mother usually dusts the top of her lemon bars with some powdered sugar but I found that, with the addition of the blueberries, this lemon blueberry bars recipe doesn't need any powdered sugar.  They have enough sweetness all on their own!
To make these Lemon Blueberry Bars, you will need:
For the crust:
1 1/2 cups graham cracker crumbs
8 tablespoons butter, melted
1/4 cup granulated sugar
3 tsp lemon zest
For the filling:
2 large egg yolks
1 14 oz can sweetened condensed milk
1/2 cup fresh lemon juice (about 6-7 medium lemons, juiced)
1 tsp lemon zest
1 cup fresh blueberries
Scroll down for the complete directions!
You might also like these lemon recipes: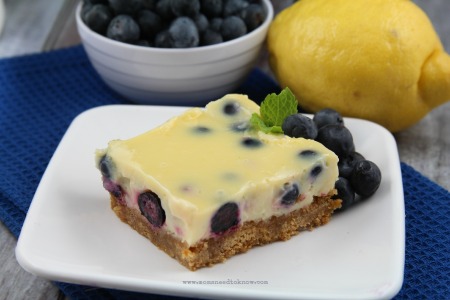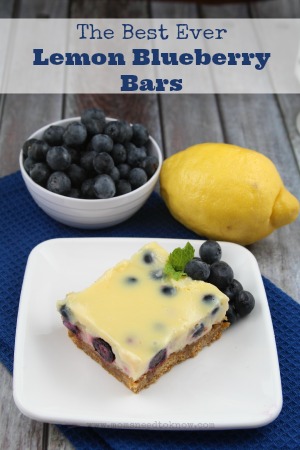 Ingredients
For the crust:
1 1/2

cups

graham cracker crumbs

8

tablespoons

butter

melted

1/4

cup

granulated sugar

3

tsp

lemon zest
For the filling:
2

large egg yolks

1 14

oz

can sweetened condensed milk

1/2

cup

fresh lemon juice

about 6-7 medium lemons, juiced

1

tsp

lemon zest

1

cup

fresh blueberries
Instructions
Preheat oven to 350 F.

Spray an 8"x8" with non-stick spray.

In a bowl, combine all crust ingredients. Using a fork, stir all ingredients until graham cracker crumbs are moist.

Press crumb mixture in to the prepared pan and bake crust for about 12 minutes.

Remove crust from oven and allow to cool to room temperature.

To make the filling, beat the egg yolks and sweetened condensed milk together with a wire whisk.

Add the lemon zest and lemon juice and stir until all the juice is mixed and and the filling is smooth.

Gently fold in the blueberries.

Pour the filling over the graham cracker crust and bake for about 15 minutes or until the filling is set. Do not overcook!

Remove pan from oven and allow to cool for about an hour (until the bars are at room temperature).

Chill bars in the refrigerator for about 2 hours before serving.

Enjoy!
Nutrition