My cherry tomatoes were out of control and this cherry tomato sauce with pasta, basil, spinach and Parmesan was the perfect way to use them in a light meal!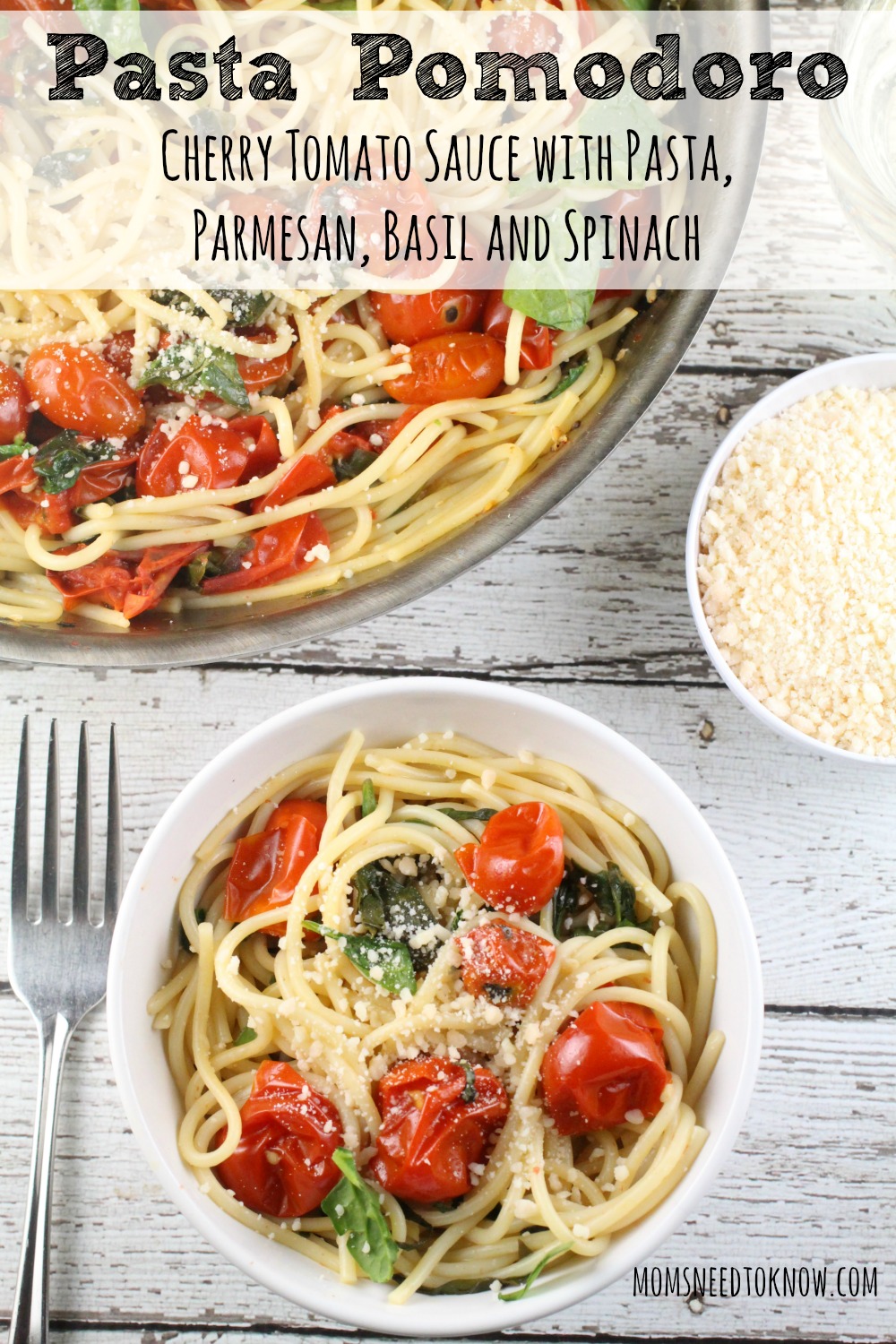 So about a week ago, I went out to grab a few tomatoes from my garden and couldn't believe my eyes. I had about 100 cherry tomatoes that had gone from a light pink to a bright vibrant red practically overnight! It was time to get them harvested and use them.
While I am happy to just sit at my desk with a bowl of cherry tomatoes and pop them in my mouth like grapes, there are only so many I could use and most of my neighbors were on vacation, so I couldn't start passing them out to them.
What to do...what to do...?
I remembered a long time ago that my mom was in a similar situation and she just threw the tomatoes in a skillet with some salt, olive oil and garlic and let them simmer for a while. She then spent the time to remove out the skins and run the sauce through a kitchen mill, but that seemed like a lot of work to me.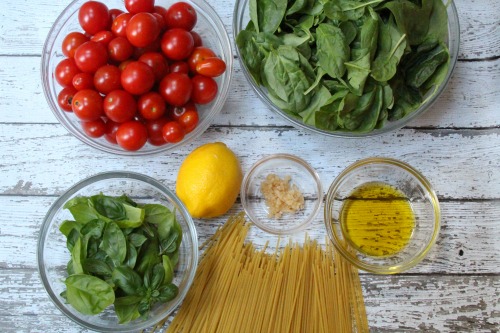 And so, with that in mind, I found myself scrounging through my garden and pantry to see what I could use. My spinach was doing well, so I picked a few handfuls of that and I always have fresh basil growing.
Time to eat from my garden!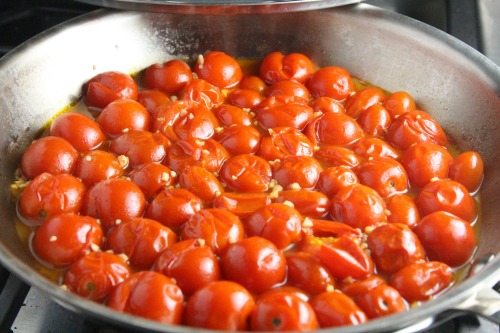 This cherry tomato sauce couldn't have been simpler....the trick is to not cook the tomatoes too quickly or they will start to burn. You need to let them cook (covered) for a good 20-25 minutes on low until the tomatoes start to burst and release their juices. See all that juice in the photo above? That is all from the tomatoes!
And hey - I don't care if you are trying to cut down on salt....if you aren't going to use the sea salt in the recipe, then don't even bother trying to make it. Without the salt, you won't be able to pull out nearly enough juice from the tomatoes to flavor the pasta.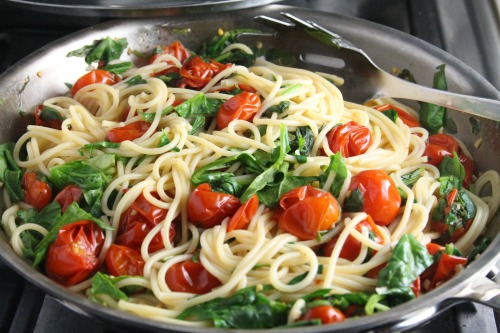 This cherry tomato sauce is best served straight from the stove, so don't add the basil and spinach until you are a few minutes away from meal time. They will wilt very quickly, but if you let them stay in the hot pasta and sauce for too long, they will wilt a little too much and look yucky (it's a cooking term!)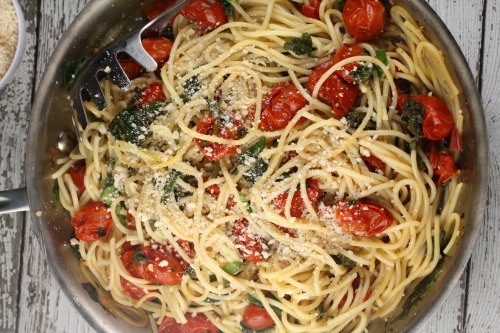 Finally - make sure to use good-quality Parmesan cheese...none of the pre-grated stuff in a can. It really makes a difference in flavor! I buy the large blocks of Parmesan at Costco (it's one of the better deals at Costco) and always grate it fresh using my microplane. If you don't want to do that, you can always buy the fresh-grated from the deli counter at your supermarket!
Oh - and funny story: when my one neighbor returned from vacation I was telling him my tale of woe with having too many tomatoes and when I told him about my cherry tomato sauce, he said "Congratulations Min - you made Pasta Pomodoro!". But I guess if, it was new to me - it might be new to some of you as well...so enjoy!
Scroll down for the recipe!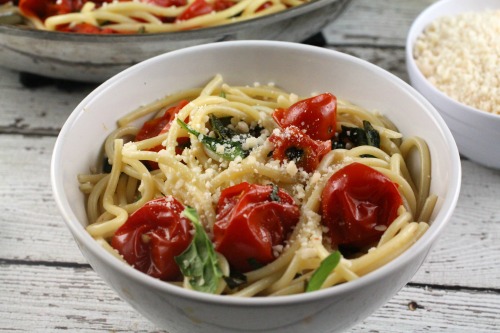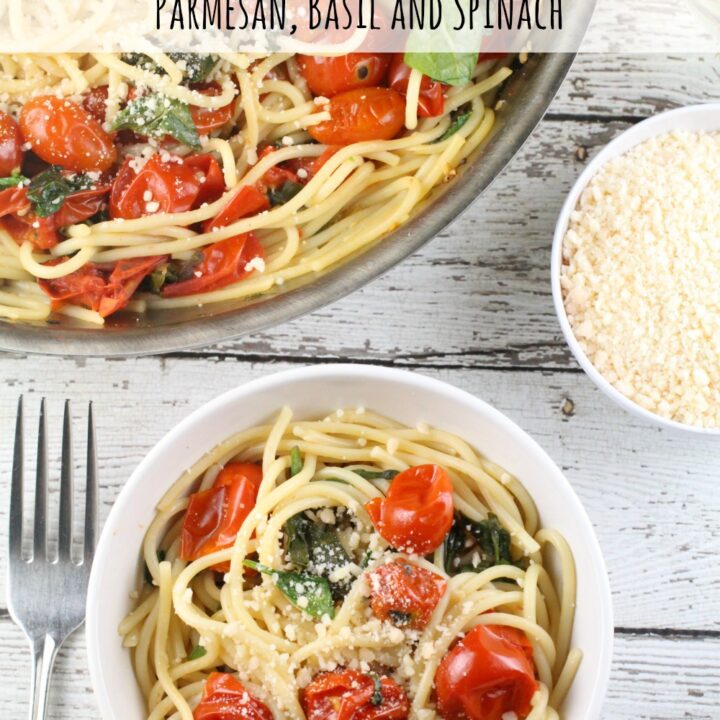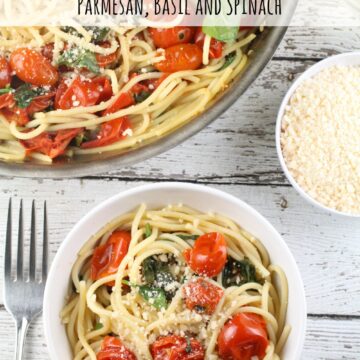 Cherry Tomato Sauce with Pasta, Parmesan, Basil and Spinach
My cherry tomatoes were out of control and this Cherry Tomato Sauce with pasta, basil, spinach and Parmesan was the perfect way to use them in a light meal!
Print
Pin
Ingredients
8

oz

thin spaghetti

or pasta of your choice

2

pints

about 3 - 4 cups cherry tomatoes

1 1/2

Tbsp

olive oil

5

garlic cloves

run through a garlic press (more or less to taste)

3

cups

baby spinach

stems removed and roughly chopped

12 - 15

large basil leaves

roughly chopped

zest of 1 lemon

1/2

tsp

sea salt

1/2

tsp

black pepper

1/2

cup

grated parmesan + additional for garnish
Instructions
Heat the olive oil in a large frying pan (large enough to hold the tomatoes and cooked pasta) over medium heat.

Add garlic and saute for about a minute

Add the tomatoes, salt and pepper.

Cover and let cook over low heat for about 20 minutes, stirring occasionally until the tomatoes start to burst and release their juices.

While the tomatoes are cooking, bring a large pot of salted water to boiling and cook the pasta to al dente. Drain pasta, reserving 1 cup of the pasta cooking water.

Add the pasta to the tomatoes along with the basil, spinach, lemon zest and 1/2 cup of the pasta cooking water.

Stir to coat pasta until the basil and spinach begin to wilt.

Add the Parmesan cheese and stir again to coat.

Taste the pasta and add more salt & pepper if needed.

If the pasta sauce seems too thick, add more pasta water, a little at a time to "loosen it up a bit"

Garnish with additional Parmesan cheese just before serving
Cherry Tomato Sauce with Pasta, Parmesan, Basil and Spinach