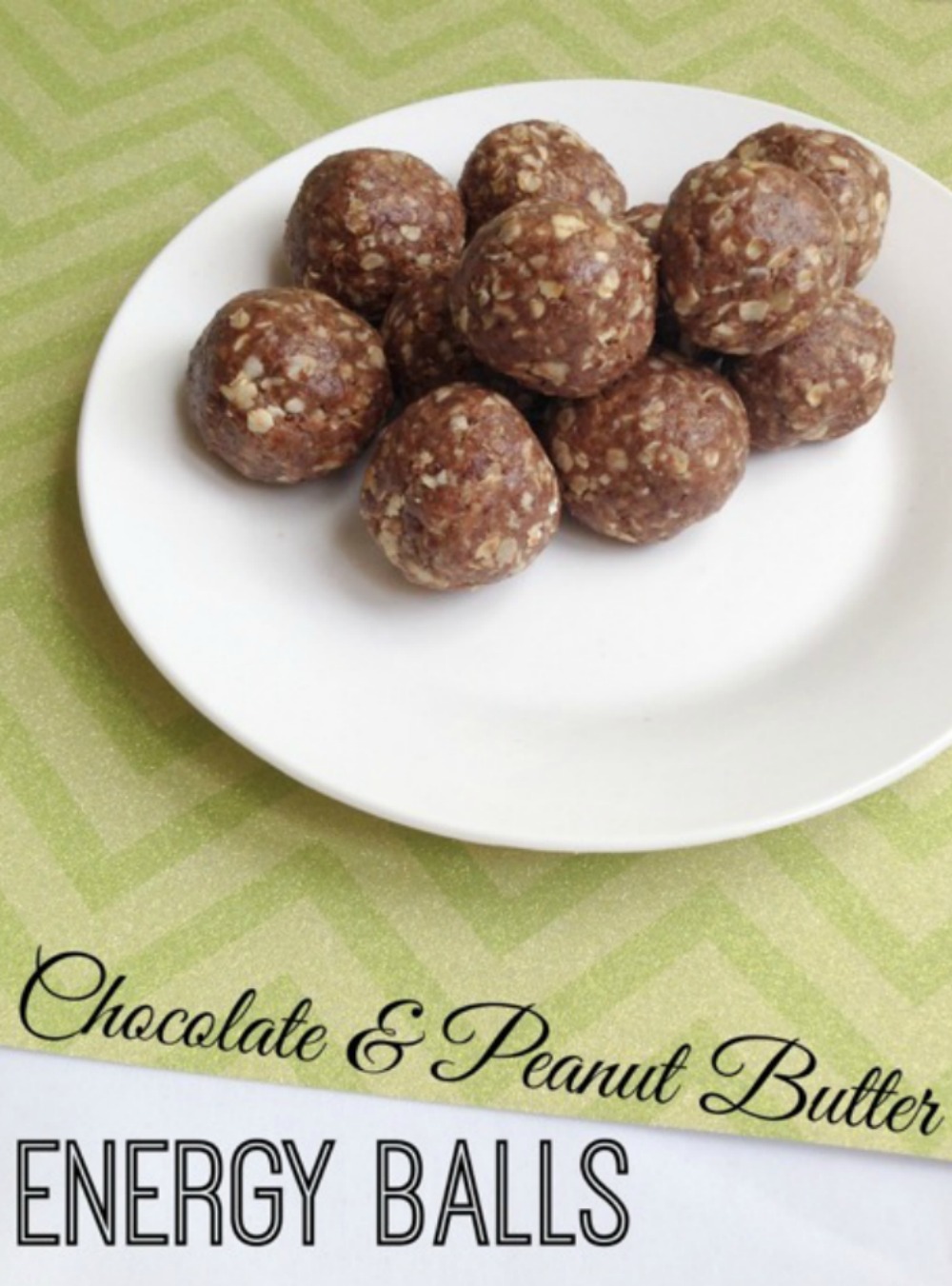 I think that I have mentioned a few times that my children are really picky eaters.  My boys are getting better as they age (they are 12 and 14…so there is hope for you moms yet!), but my daughter makes me want to pull my hair out of my scalp!
So when I find a snack that all 3 of them really like, I just go with it – and these Chocolate & Peanut Butter Energy Balls are a big hit with them!  Of course, they would much prefer that I serve them my baked S'mores cups and I would really like it if they would fall in love with my Baked Parmesan Zucchini Crisps…..but you take what you can get when it comes to getting nutrition in to your children!)
Now that they are out of the school for the summer, I have a feeling that we will be making these quite often!
This recipe is packed with goodness….
Oatmeal:  Boots energy and heart health, reduces colon cancer and is low glycemic.
Flaxseed:  a fabulous source of micronutrients, dietary fiber, manganese, vitamin B1, and the essential fatty acid alpha-linolenic acid, also known as ALA or omega-3
Honey:  considered "nature's energy booster" and claims to have equal level of antioxidents as sugar (source)
Peanut Butter:  a good source of protein and is a healthy fat.  If your family will tolerate it use all-natural no-sugar added organic peanut butter!
Carnation Breakfast Essentials:  I really tried to make these Chocolate & Peanut Butter Energy Balls without using a pre-packaged drink mix….but it is something that we keep in the house (my boys love it) and I like all the vitamins and nutrients it contains.  My boys actually prefer the traditional flavor (the "no-sugar added" version contains sucralose, which my boys don't like), but I have made these with both and the taste is almost the same.
Anyway – these energy balls will keep for up to 5 days in the refrigerator in an air-tight container, but they usually don't last that long in our house anyway!
Scroll down for the recipe!

Chocolate and Peanut Butter Energy Balls With Flaxseed
Ingredients
1 cup rolled oats (not instant)
½ cup flaxseed
½ cup peanut butter (creamy or crunchy - your choice)
¼ cup raw unfiltered honey
1 tsp. vanilla
1 Tbsp cocoa powder (optional)
2 tsp organic sugar (optional or to taste)
Instructions
Combine all ingredients in a bowl and mix until thoroughly combined
Roll in to 2" balls
Keep refrigerated for up to 5 days in an air-tight container.