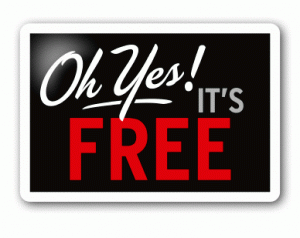 Where Are My Free Samples?
There was a high-value freebie that became available a few weeks ago.  There was advance notice of this freebie and it was posted on many of the "Deal Blogs" (like mine) as early as 3 days in advance.
And I purposely didn't post it.
Wanna know why (and even if you don't, I'm going to tell you!)? Because this freebie was available to the first 2000 people who requested it.
2000 samples.  For.the.entire.country.  I knew it would be a major headache and that it would be gone in a matter of seconds, if not seconds.  I stopped posting these kinds of free samples a LONG time ago. I got tired of the angry emails and negative comments from people who were mad that they didn't get the freebie.
Companies offer free samples all the time, but like us, they don't have an unlimited budget.  They simply can't afford to give one to every single person who requests it.
Do I find it annoying when companies don't anticipate the volume of requests that they will get and continue to collect email addresses and mailing addresses without writing a simple script that would change the site to say "Offer Ended" as soon as they reach their maximum?  Yes I do.
But you know what I find even more annoying?
When people who didn't get a freebie (or they miss out on a coupon) write to the blogger who posted the deal, or to the company themselves and accuse them of running a "scam" to collect information.....as someone who signs up for many freebies on Facebook, I get embarrassed for my fellow "Freebie Hunters".
I have seen some of the most horrible comments left on the Facebook Fan pages of legitimate companies because the person missed out on a single dose of pain reliever, or even just a high-value coupon.  You are afraid that your email address will be inundated with spam by signing up for a freebie?  Then use a special email address, separate from your regular one, just for signing up for freebies.  But please don't start yelling at companies that refuse to give you something for nothing.
Yes - it's nice to get those little "prizes" in your mailbox to break up the monotony of the bills and junk mail. But I can't count the number of free samples that I have signed up for and never received. Do I get upset? Nope - I just tap my toes and keep dancing.
Is it really worth calling a company (or a blogger) a "scam artist" because you missed out on a free tablespoon of shampoo?