This creamy asparagus and pea soup is so easy to make and delicious served hot or cold! The seasoned baked asparagus gives this soup an incredible depth of flavor!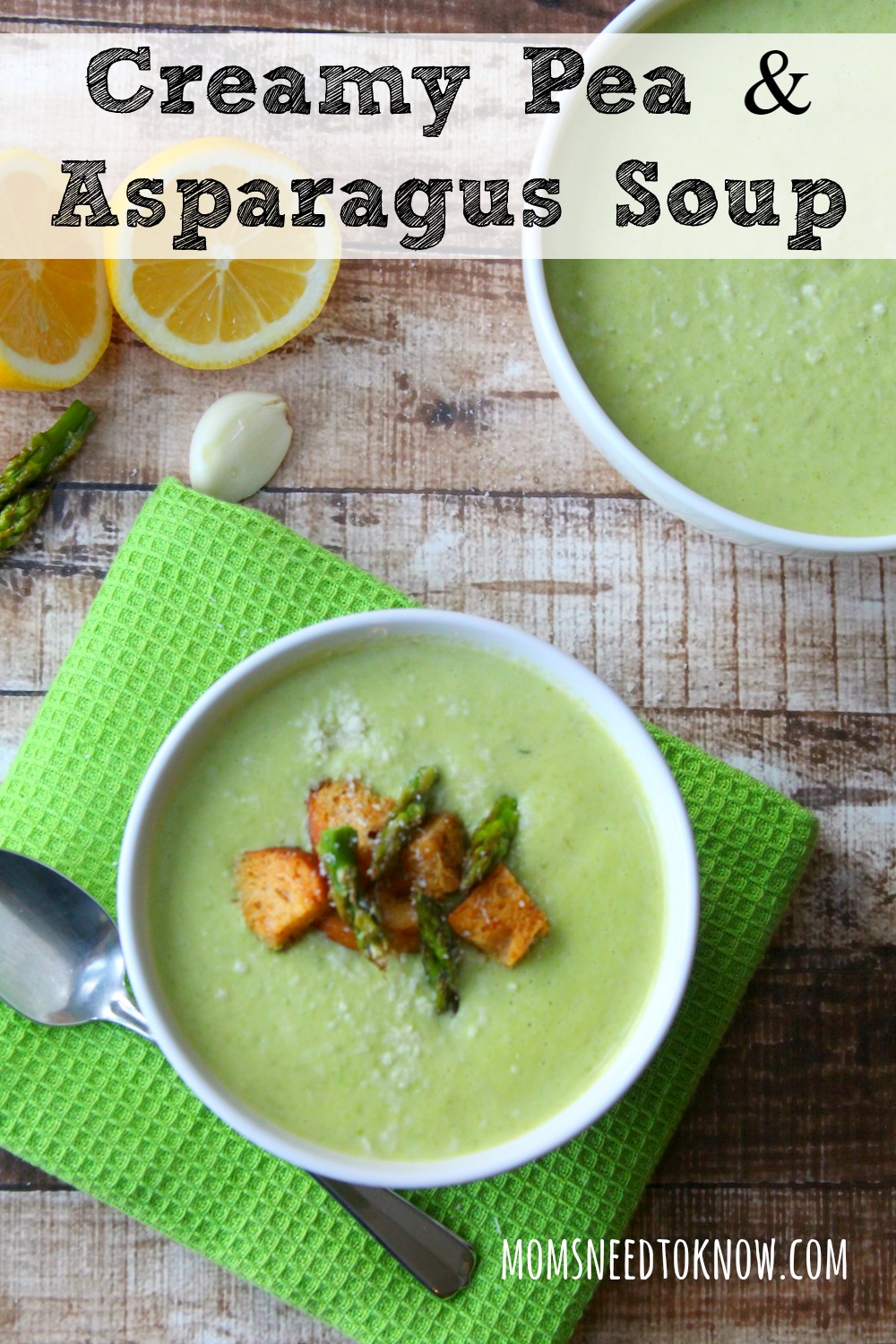 Spring is in the air and I have to say that it is my favorite season of the year. The crocuses starting to poke through the ground, the milder weather, being able to get started on my garden and yes - the price of some of my favorite produce (especially asparagus) starting to fall.
I love asparagus. It is seriously one of my favorite vegetables, no matter what...ahem..."after effects" it might have on your bodily functions.
Typically, I just make a baked asparagus with by sprinkling some olive oil and salt and pepper, but when I saw this recipe, I knew that I wanted to tweak it (mainly because I am not a vegan and REALLY don't like almond milk).
Let me tell you - this asparagus and pea soup is so stinkin' delicious and I would probably be making it every week if it wasn't so decadent. While the asparagus and peas are certainly good for you, the half & half & Parmesan cheese won't be that good for your waistline!
Funny thing happened...I made this, ate a bowl of it and set aside the rest to cool before putting it in the refrigerator. When I went to transfer the cooled soup to a storage container, I ended up licking the spoon and this asparagus and pea soup is just as delicious cold as it is hot! That makes this a perfect soup to enjoy even in summer!
I used my Blendtec to puree the soup, but that was mainly because I didn't own an immersion blender (although I actually purchased one in the last week). You could also use your food processor to puree your soup. The asparagus gets pretty soft and breaks down pretty easily!
As for the croutons, I am a big fan of "use what you have".  I happen to love using Herbs de Provence, but you can easily substitute garlic powder, Italian seasoning, ranch dressing mix or whatever strikes your fancy!
Scroll down for the recipe!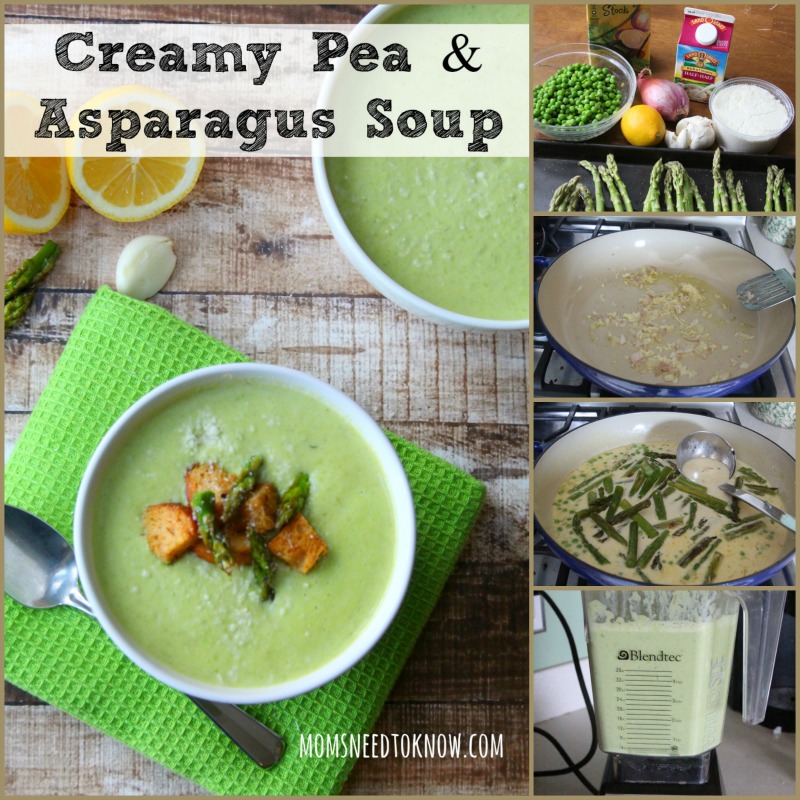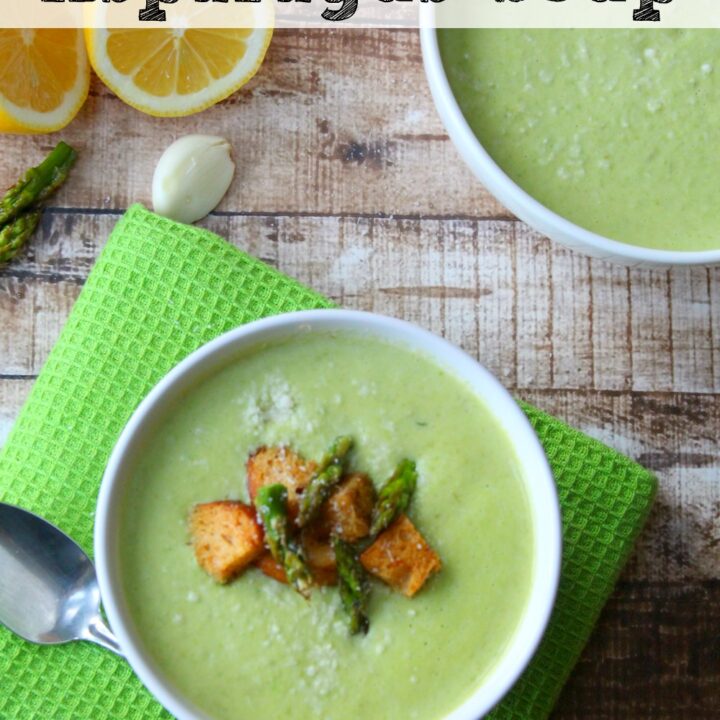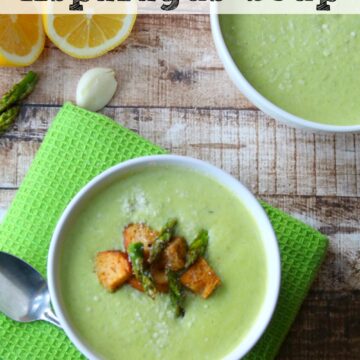 Creamy Asparagus and Pea Soup with Herbed Croutons
This creamy asparagus and pea soup is so easy to make and delicious served hot or cold! The baked asparagus gives this soup an incredible depth of flavor!
Print
Pin
Ingredients
For The Soup
3

tsp

olive oil + additional olive oil for drizzling

1

lb

asparagus

trimmed

1

Tbsp

sea salt

1

tsp

fresh-cracked pepper

2

cups

fresh or frozen peas

1

medium shallot

thinly sliced

4

cloves

garlic

minced

1 1/2

cup

half & half

1 1/2

cups

chicken stock

1/4

cup

Parmesan cheese + additional for topping

optional, but highly recommended

juice from 1/2 lemon
For the Croutons
2

cups

crusty bread

cubed

1/4

cup

olive oil

2 - 3

Tbsp

Herbs de Provence or spices of your choice
Instructions
Preheat oven to 400F

Line a baking sheet with foil (to make cleanup easier). Spread the asparagus in a single layer. Drizzle lightly with olive oil and season with salt & pepper. Toss to coat and then return to a single layer.

Bake the asparagus for about 12 minutes.

Remove from the oven and set aside.

In a medium saucepan or pot, heat the 3 tsp of olive oil.

Add the garlic and shallots and saute until the shallots are translucent. Do not allow the garlic to brown or it will be bitter.

Add peas, chicken stock and half & half and heat for about 5 minutes.

Transfer the soup and the asparagus to a high-powered blender and puree until smooth (or you could add the asparagus to the soup and use an immersion blender to puree it right in your pot)

Return the soup to the pot and heat over medium-low heat just until it starts to simmer (do not let it come to a boil)

Add Parmesan cheese and whisk until blended.

Remove from heat and add the lemon juice.

Top with herbed croutons and additional Parmesan cheese (if desired)
To Make the Croutons
Preheat your oven to 325F

Toss the bread cubes with the oil and seasonings. If they look too dry, add some additional oil and spices and toss again.

Spread the cubes on a baking sheet in a single layer

Bake for 7 minutes

Remove from the oven, toss the cubes a bit and return to the oven for another 10 minutes until crispy.

Remove from oven to cool.
Creamy Asparagus and Pea Soup with Herbed Croutons