This chicken tenders recipe packs plenty of flavor, thanks to Parmesan and hot sauce, but won't weigh you down like fried chicken strips will!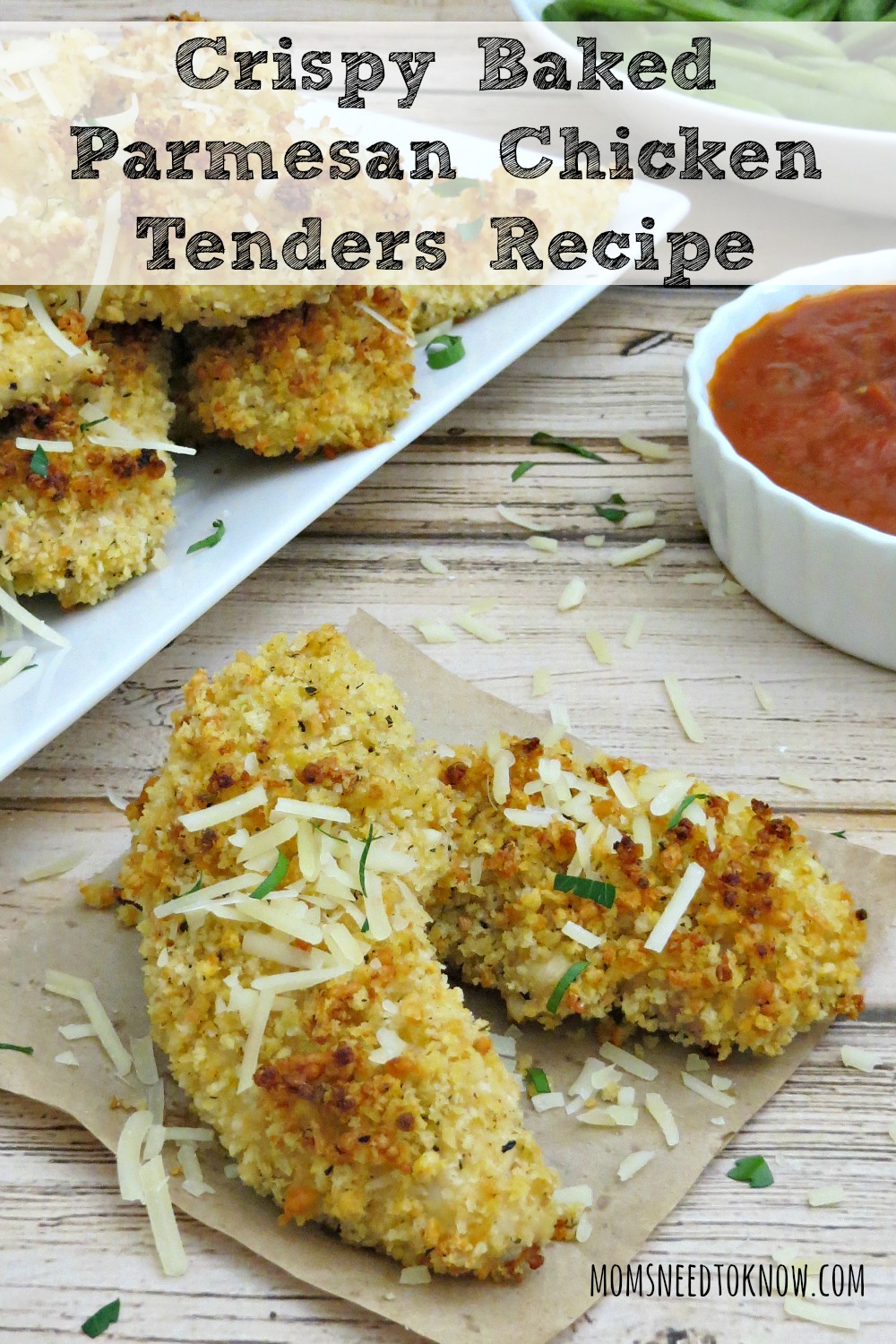 My children love chicken fingers and nuggets, but long-ago stopped buying the frozen ones in the store. I like knowing exactly what I am putting in to my family!
My children really love my copycat Chick Fil'A chicken nuggets recipe, but I prefer to stay away from frying as much as possible.  The problem is, if I am going to make something without frying, it had better be something that they will enjoy!
With this chicken tenders recipe? Problem solved! Both the oil and the Parmesan in the coating help these get nice and crispy without having to deep fry them.
Panko is my favorite thing to use as breading, but it can be tricky to work with as the crumbs are very large and often fall off. I was about to stop using them, even though I love them, because I could never get an even breading on anything.
And then I had a "light bulb moment". I found that adding them to a food processor makes them a little finer and solves this issue!
For additional flavor, you could add dried herbs to the food processor with the panko and cheese. A little dried basil or oregano would be perfect! Using tongs for dredging in the flour and the egg helps prevent your hands from getting gummed up with the coating.
Oh - and since I use Parmesan and hot sauce, I didn't think salt or pepper were necessary, but you can season these to your liking when they come out of the oven.
Serve these with some homemade pizza sauce for dipping, or you can even try my copycat Chick Fil'A dipping sauce recipe!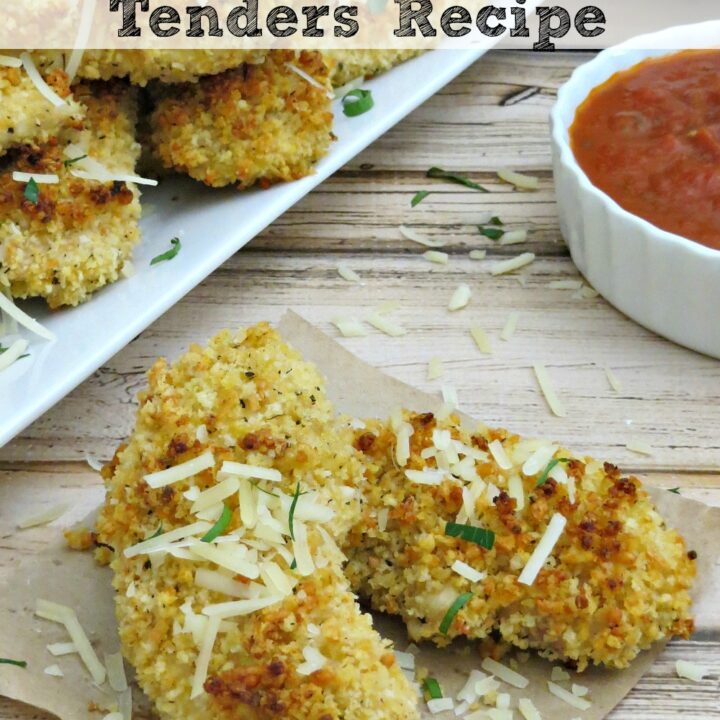 Crispy Baked Parmesan Chicken Tenders Recipe
This chicken tenders recipe packs plenty of flavor, thanks to Parmesan and hot sauce, but won't weigh you down like fried chicken strips will!
Print
Pin
Ingredients
12

chicken breast tenders

2 1/2

cups

Panko breadcrumbs

3/4

cup

freshly grated Parmesan

2

eggs

1/2

cup

flour

1

tablespoon

half and half

2

teaspoons

olive oil

1

teaspoon

hot sauce of your choice

Nonstick cooking spray
Instructions
Preheat the oven to 450 degrees F.

Line a large baking sheet with aluminum full oil and spray the bottom with nonstick cooking spray.

Add the Parmesan cheese to a food processor and pulse until it resembles large crumbs.

Add the panko to the food processor and pulse it while you stream in the olive oil. Continue pulsing until it's thoroughly combine and the mixture resembles small crumbs.

Set up three bowls for dredging the chicken.

Add the eggs, half-and-half, and hot sauce to the first bowl, and whisk to combine.

The second bowl will have the flour and nothing else, spread it out with a fork. A shallow, wide bowl works best.

Pour the panko/Parmesan mixture into the third bowl, which should also be your largest. I like to use a nice, deep bowl for the last step.

Using tongs, lightly coat a chicken tender in the flour, making sure to shake off all the excess.

Transfer the chicken to the egg mixture, making sure it's completely coated. Lift the chicken out of the egg, allowing the excess to drip off.

Place the chicken into the Panko mixture, and use your fingers to gently press the coating into the chicken.

Place the chicken onto your prepared pan and repeat this process until all 12 chicken tenders are coated.

Bake for 15 to 20 minutes or until nicely browned. Test one to make sure it's fully cooked and there is no pink in the center.

Serve with your favorite dipping sauce.
Crispy Baked Parmesan Chicken Tenders Recipe