These homemade peppermint patties are so easy to make and they freeze beautifully (and taste great when they are frozen!)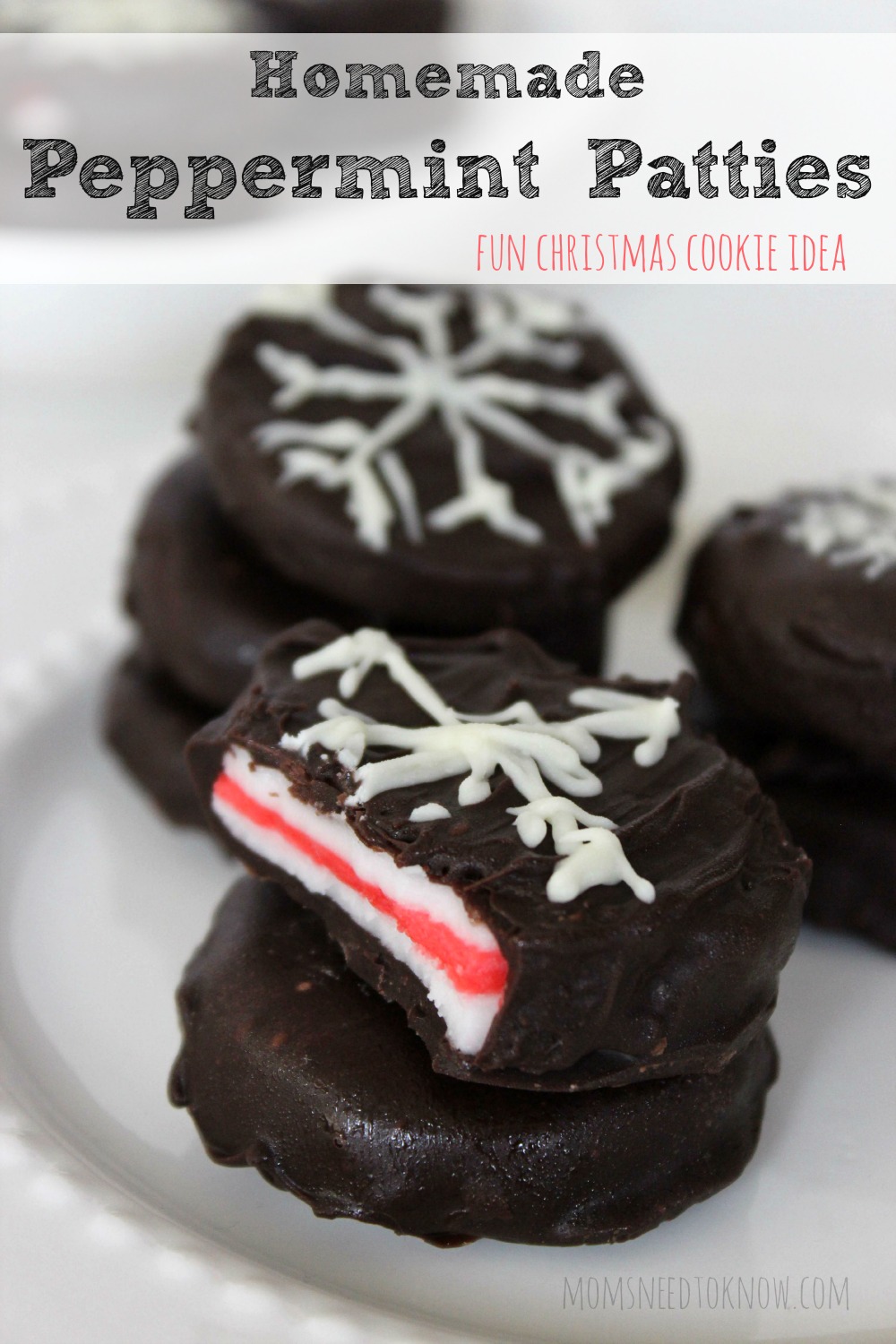 If there is one thing that everyone in this house loves, it's the taste of peppermint! At Halloween, my husband and middle son will "fight" over the peppermint patties that they got. I just went to the supermarket today because peppermint oreos are out and my family has been making me a batch of my Peppermint Oreo Truffles.
I've been "playing" with a bunch of peppermint recipes lately (look for them to be posted soon - in the meantime, make sure to try my Peppermint Cheesecake Santa Hats!) and this homemade Peppermint Patties recipe is one of my new favorites!
A few things that I love about this recipe:
It is a no-bake recipe. So many times I go on a "cookie making binge" and having to wait for each batch to bake can slow down my momentum. Even better, I can be working on these while a completely different batch is baking in the oven.
They freeze beautifully. This means that I can make them weeks in advance and then pull them out when I am ready to assemble cookie trays to pass out to my friends and family. There IS one problem with this though - they also taste fabulous when they are frozen! So the reality is, making them in advance won't do me any good because, between my husband and boys, there won't be any left for when I need them.
Yeah - I know - First World Problems!
Hennyway - these homemade peppermint patties are so stinkin' easy to make and there is a good chance that you already have most, if not all of the ingredients in your pantry!
You will need: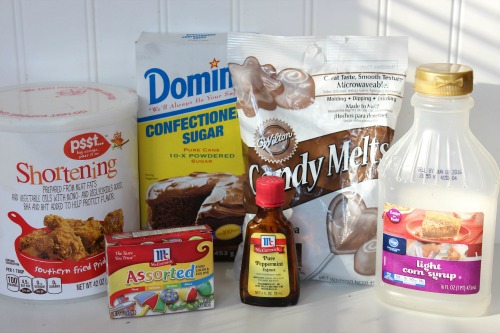 2 1/2 cups Powdered Sugar
2 tbsp Corn Syrup
2 tbsp Water
1 tbsp Vegetable Shortening
1/2 tsp Peppermint Extract
Red Food Coloring
1 cup Dark Chocolate Melting Chips
1/4 cup White Chocolate Chips
I wanted to give you a visual on the assembly process.  You are basically making a "sandwich" with the peppermint mixture.  The reason for doing this is so that it looks pretty when you bite in to it.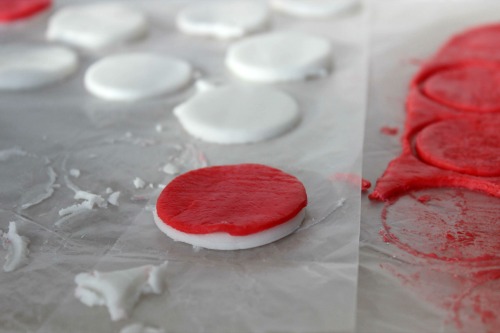 If you don't care about it looking pretty or are pressed for time or just want it to look more like a traditional peppermint patty, you can skip the dividing and dying step and just roll out the dough to about 1/2" thick, cut them and freeze until firm before coating them with chocolate!
Scroll down for the complete directions!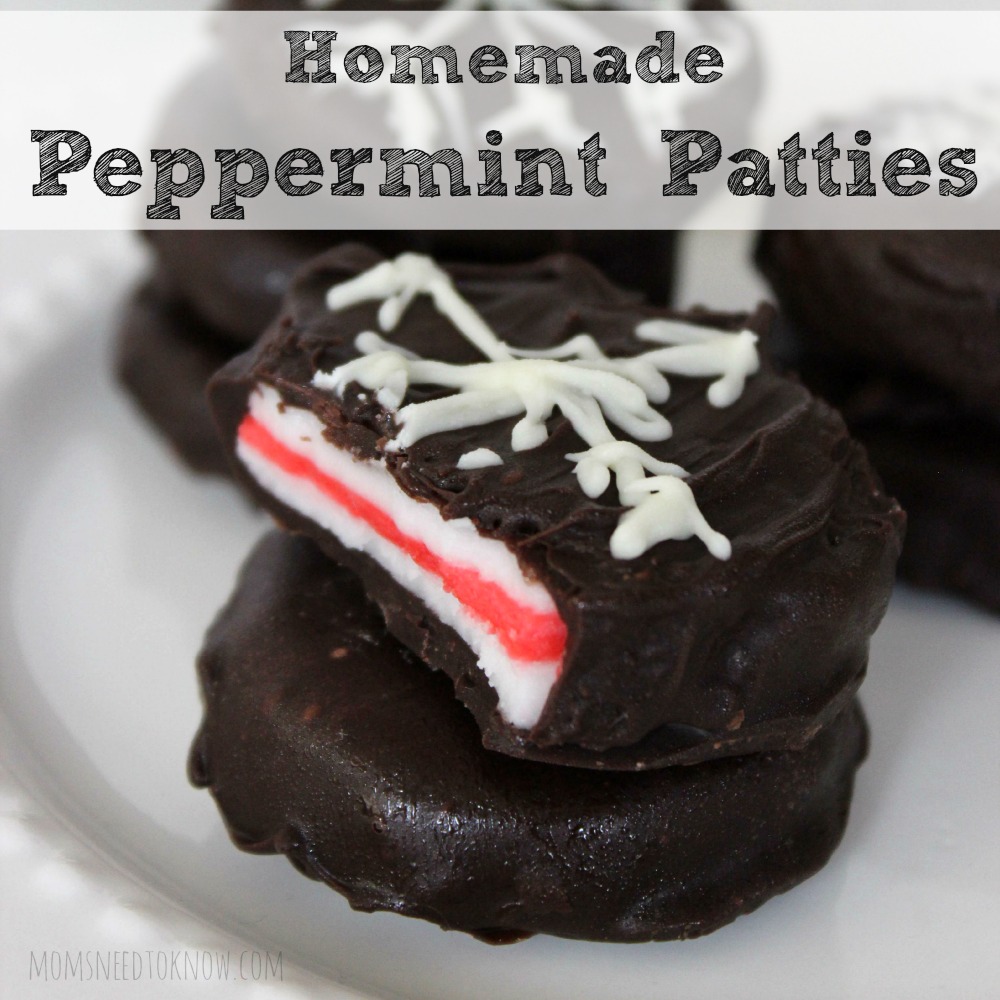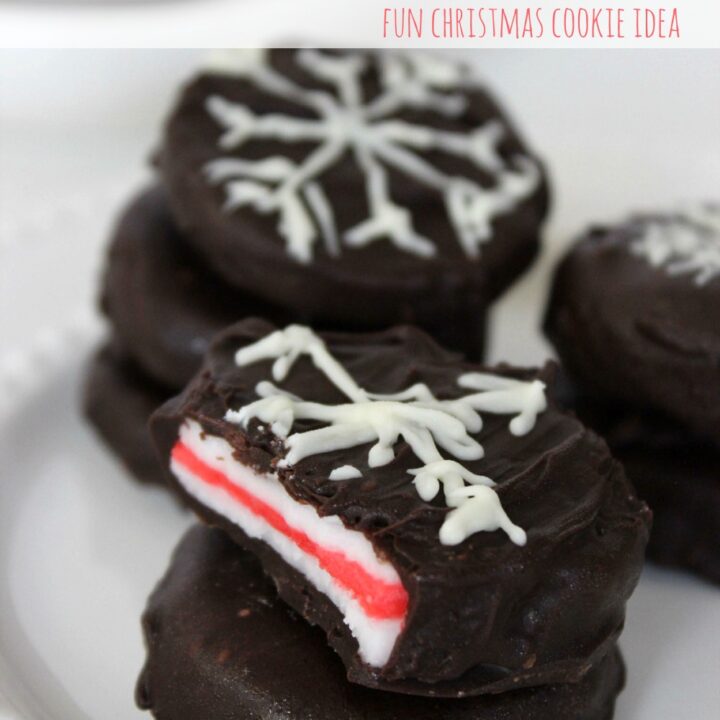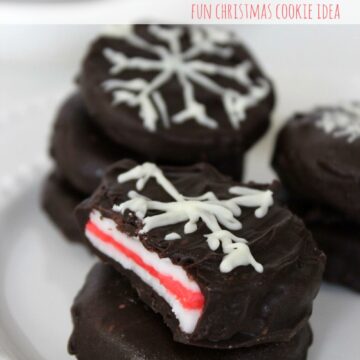 Easy Homemade Peppermint Patties Recipe
These homemade peppermint patties are so easy to make and they freeze beautifully (and taste great when they are frozen!)
Print
Pin
Ingredients
2 1/2

cups

Powdered Sugar

2

Tbsp

Light Corn Syrup

2

Tbsp

Water

1

Tbsp

Vegetable Shortening

1/2

tsp

Peppermint Extrac

10 - 20

drops Red Food Coloring

1

cup

Dark Melting Chips

1/4

cup

White Chocolate Chips
Instructions
Combine 2 cups powdered sugar, corn syrup, water, peppermint and shortening.

Mix at low speed (use the paddle attachment on your mixer) just until the mixture comes together.

Transfer 1/3 of mixture to a separate bowl and add red food coloring and mix until the color is uniform.

Dust work surface with powdered sugar and knead white mixture until smooth.

Roll out white mixture between sheets of parchment or wax paper until 1/8-1/4″ thick.

Knead red mixture on work surface until smooth.

Roll out red between sheets of parchment or wax paper until 1/8″ thick.

Place both rolled peppermints in freezer for 15 minutes.

Using a 1″ cookie cutter, cut out as many white circles as possible and place them on a parchment lined sheet.

Using then same cookie cutter, cut out half as many red circles as you have white circles and place 1 white circle on on top of each white circle. Top with another white circle.

Place in freezer for at least 40 minutes.

Melt chips by microwaving for 45 seconds, stirring and repeating until melted and smooth.

Place each patty on fork and dip in chocolate. Gently tap against side of bowl to let excess drip off.

Place patty back on sheet.

Refrigerate 10 minutes to let chocolate set up.

Place white chocolate in the corner of a zippered sandwich bag and microwave for 45 seconds.

Knead chocolate to make sure it is melted. If not, microwave another 15 seconds.

Clip very tip of corner, and pipe a snowflake design on mints