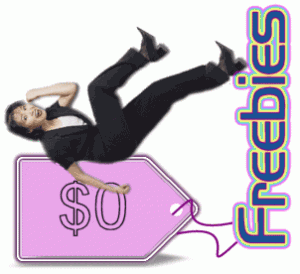 So yesterday I got a little ranty (although for me, that was quite the tame rant, donchathink?) about companies that don't send freebies as promised or send out emails/Facebook statuses that say that a deal was posted "fraudulently".
But see - here's the thing.  While not all companies yet understand the viral nature of The Internets, we as customers and potential recipients of freebies need a little reality check ourselves.
So without further ado (what exactly IS an ado?):
Dear Freebie Lovers:
First of all, I hope that we can all agree that no company owes us free product, right?  If you don't agree with that statement, you may as well stop reading right now.
Onward....
If you have been on this site for more than a week, you know that I often reference my Getting Freebies The Smart Way post.  Most freebies require that you give them an email address to get it and if you are giving them your "regular" email, you are being foolish (unless you reallyreallyreally like/trust that company and want to start receiving daily/weekly/monthly emails from them)
It would be vanity to assume that I am the only "Deal/Frugal Blog" that you read, so this needs to be said.  When I first started this site, I linked to some freebies that I would never consider linking to now.  There are a ton of "freebie offers" that are no more than phishing sites and many sites/blogs continue to link to those so-called "freebies" (not for malicious reasons, but generally because they haven't yet learned to recognize a phishing site).  They want your email so that you can start getting even MORE emails for "male enhancement supplements" and from desperate Nigerian Widows Of Very Wealthy Men.  Setting up an additional/spam account solely for the purpose of freebies is a good idea. I just checked my Spam email for the first time in 2 months and I have 7492 emails in it.  Need I say more?
And onward (starting to feel like Willy Wonka...not the Johnny Depp Willy Wonka - the REAL Willy Wonka - Gene Wilder!)
What do you do when a freebie is cancelled?
Simply put - you move on.  After all, you haven't given them your REAL email address, have you?  And If I really wanted to find out the address of Sally FreebieLover, there is always The Googles
I know that for many people, their first instinct is to cry "SCAM!".  I've seen it so many times and the worst is on Facebook (mainly because of the ability of annoyed Facebook Fans to leave very nasty comments while the owners of the companies are sleeping, eating or just having a life off of Facebook)
But you know what?  There are 4 kinds of Freebie Offers out there:
1.  The ones that are phishing sites and no freebie will be forthcoming.  I make every effort to NOT post those, likely even skipping over legitimate freebies if there is a question in my mind about the validity of the offer.
2.  The very small business who thought it would be cute to offer some freebies and then gets slammed with requests that they cannot fill without pushing themselves in to bankruptcy.  These are not people who were offering a freebie simply to get your precious email address.  These are people who never saw it coming and are deleting requests like crazy and crying to their family over the multiple people who are calling them names.  They simply didn't "get it" before.  Rest assured - they get it now!
3.  The medium-sized company who knows enough to include an "offer good while supplies last" disclaimer.  You will get no email/personal apology from these people  for not sending the freebie.  You just won't get the freebie and you might be added to their email list (which is why you should have a separate email for freebies)
4.  The large company with sophisticated-enough software to pull the freebie as soon as it has hit the limit, or deny you if you have already requested it.  You are getting this freebie, if you are eligible.
But the bottom line? What are we really talking about?  With very few exceptions, we are talking about single-serve or single-use items.  If I don't get a freebie, I don't even really notice.  I only sign up for half the freebies that I post on this site and my mailbox is full almost every day.
Freebie-hunting should be fun.  I really doubt that a single-use packet of expensive face cream is the only thing standing between a person and the poorhouse.  As long as you are using an email designated just for freebies, what is the harm of not getting the freebie?
Unless you think that the site was designed by your own personal stalker solely for the purpose of getting your home address (among the 15,000 other requests that they received), when they could have just used 1 of 20 other sites on The Internets to get your address in 5 minutes.  In which case, that's a WHOLE other issue that I won't touch with a 10-foot strand of free shampoo samples!
Bottom line?  Freebies are a gift, not a right.  If you don't get the freebie, I promise you, there will be a bunch of other offers to replace that one!

Thanks and smooches!
- Mindi
Ok - the last post was critical of companies...something that people always love.  This time it is critical of some (not all) of you!  Please feel free to call me out if you disagree with what I have said!