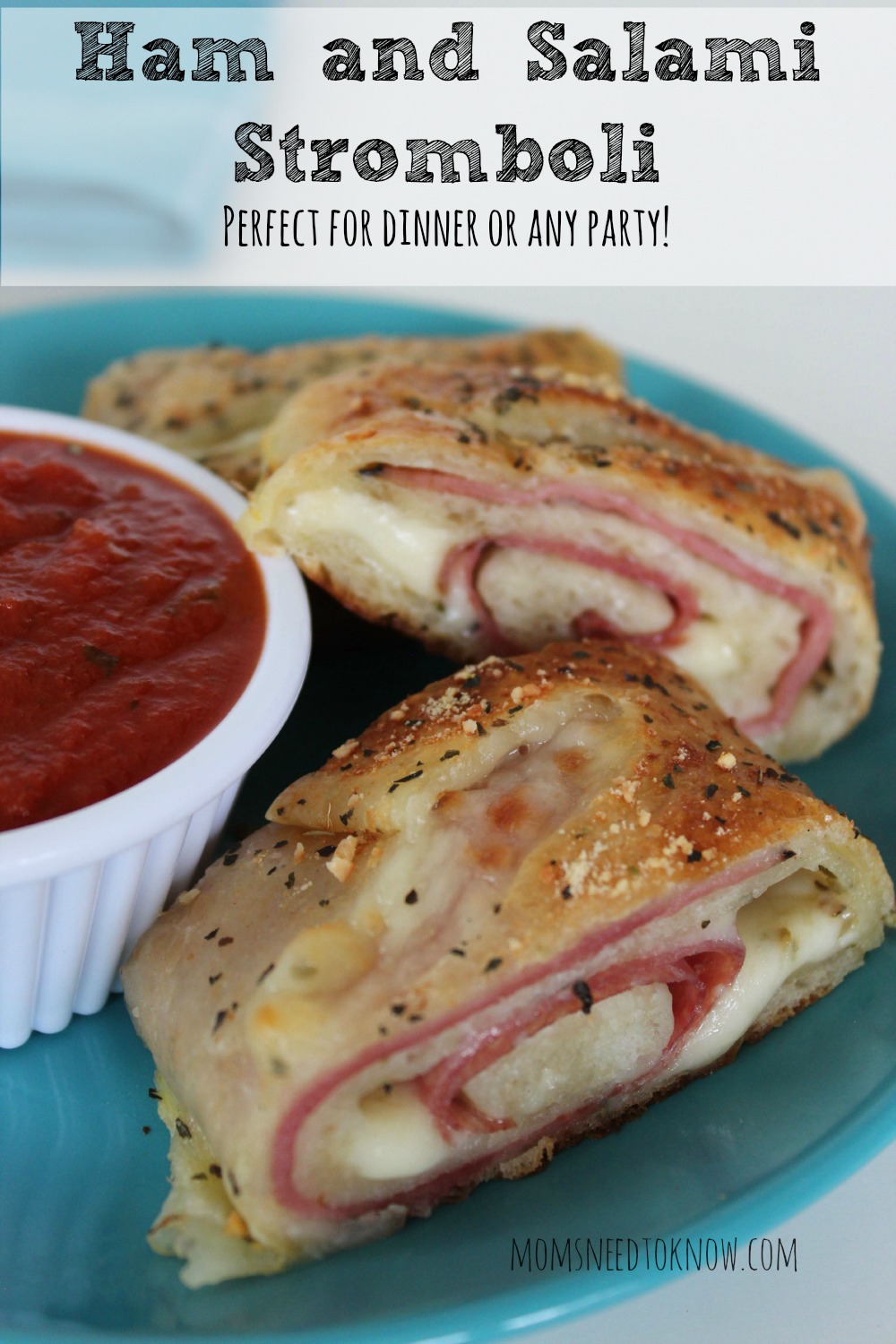 My husband and sons love anything that involves the combination of meat, cheese and bread and in the winter it just seems like we are running around so much during the week with basketball practices, Variety Show practice, Brownie meetings, etc.  This is one of my go-to recipes for a busy weeknight or when we want something "snacky" (it's a word!) to watch the game!
I always have some of my homemade pizza dough (as well as my homemade pizza sauce) in the freezer for when I make something like this, but you can just as easily use store-bought for both.  Just FYI - if you often make pizza or strombolis at home, you really should try my pizza dough recipe and freeze it.  Just wrap the balls individually and when you want to use them, pull as many as you need out of the freezer and allow them to thaw and rise again.  You won't be sorry!
Hennyway, to make this homemade stromboli, you will need:
Ingredients:
1 Refrigerated Pizza Dough or your homemade recipe for pizza dough
1 tbsp Olive Oil
1/2 tsp minced Garlic
1 tsp Oregano
1 tsp Basil
2 oz sliced Provolone
2 oz sliced Mozzarella
2 oz sliced Ham
2 oz silced Genoa Salami
1 Egg
2 tbsp Water
2 tbsp Grated Parmesan
Making it is easy!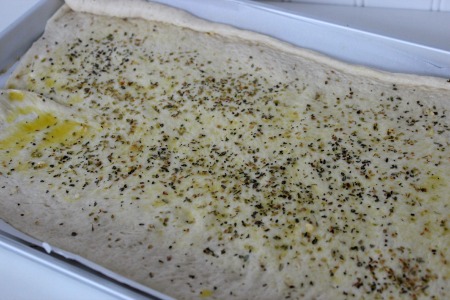 Simply roll out your pizza dough in to a rectangle and brush with the olive oil and garlic and 2/3 of the oregano and basil. Make an egg wash and brush around the edges of the dough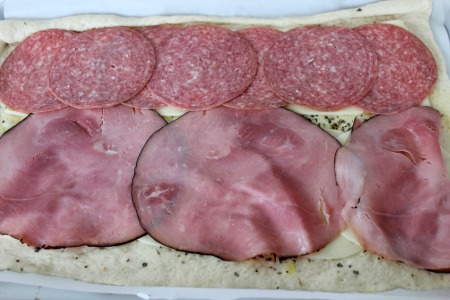 Top with your meats and cheeses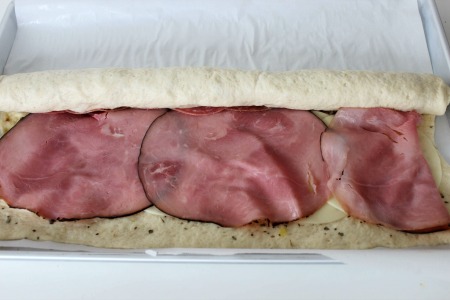 Starting at the long end (and with the edge that has the salami, as that is harder and will be easier to roll in the beginning). When you get to the end, tuck over the edges and seal the dough. Brush with egg wash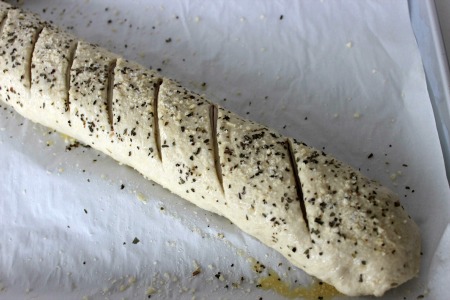 Place a few diagonal slashes in the stromboli. This will release steam and prevent the contents from spilling out while cooking.
Bake for about 17 minutes until your stromboli is golden brown.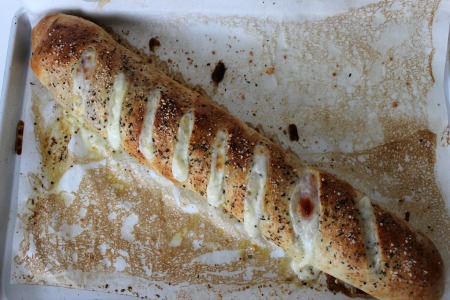 Remove from the oven and let cool a minute. Slice and enjoy with your favorite pasta sauce or my homemade dipping sauce!
Scroll down for the complete directions!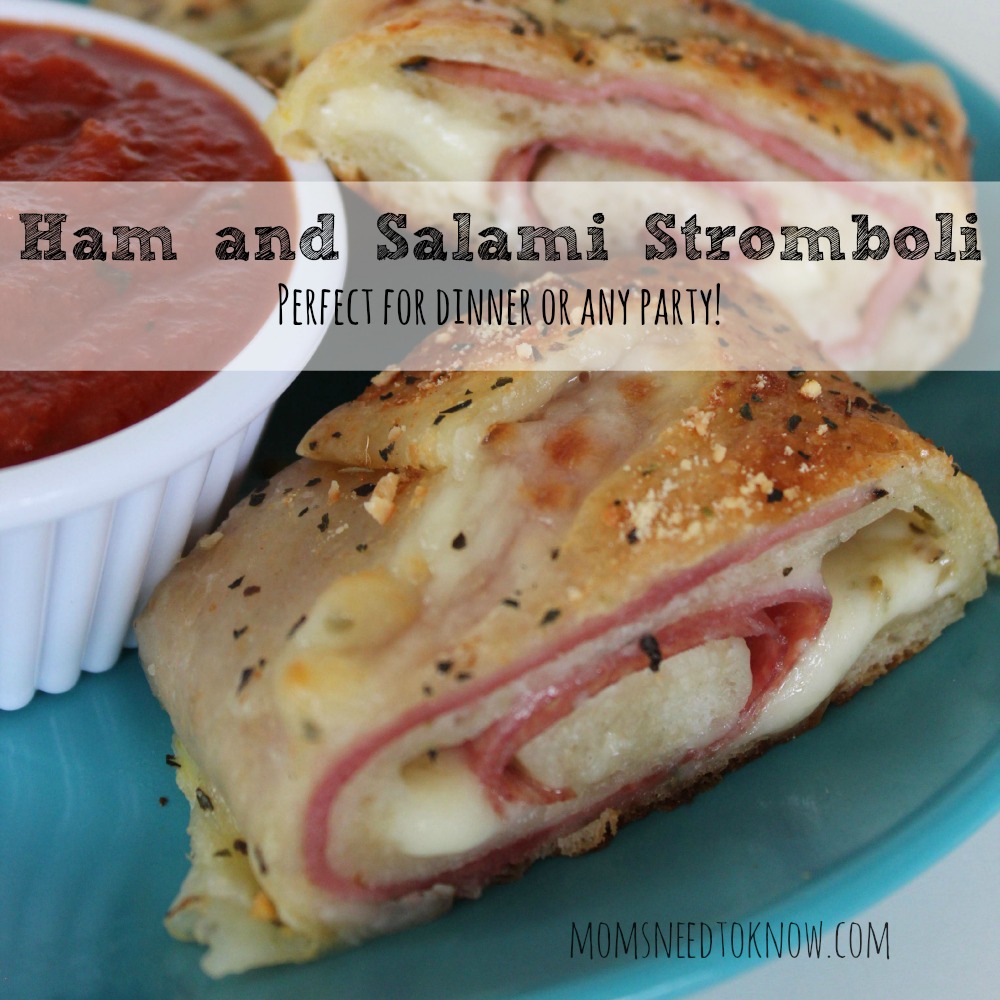 Ham and Salami Stromboli Recipe | Easy Game Day Recipe
By Mindi
Published: Published Date
Summary of the recipe goes here.
Yield - 6 servings
Preparation Time - 15 minutes
Cooking Time - 17 minutes
Ingredients
1 Refrigerated Pizza Dough or your homemade recipe for pizza dough

1 tbsp Olive Oil

1/2 tsp minced Garlic

1 tsp Oregano

1 tsp Basil

2 oz sliced Provolone

2 oz sliced Mozzarella

2 oz sliced Ham

2 oz sliced Genoa Salami

1 Egg, slightly beaten

2 tbsp Water

2 tbsp Grated Parmesan

Marinara or pizza sauce for dipping
Directions
Preheat oven to 400.
Line a baking sheet with parchment paper.
Unroll dough and shape into a rectangle the size of the baking sheet.
Whisk together egg and water to make an egg wash.
Brush 1" around edge with egg wash.
Drizzle olive oil over center and spread up to the edge of egg wash.
Sprinkle the minced garlic over the oil.
Sprinkle with 2/3 of the oregano and basil.
Layer a row of provolone along length of dough.
Layer a row of mozzarella along length of dough next to provolone.
Layer ham over one of the cheeses and a layer of salami over the other.
Start from the side with the salami (since it is firmest) and tightly roll to the other side.
Pinch all lose edges to seal. and roll seam side down to center of parchment paper.
Brush stromboli with egg wash.
Sprinkle top with remaining oregano and basil.
Sprinkle with parmesan.
Mike light diagonal slashes along length of stromboli.
Bake for 17 minutes or until golden brown.
Allow to sit for 5 minutes before cutting.
Serve with marinara sauce.