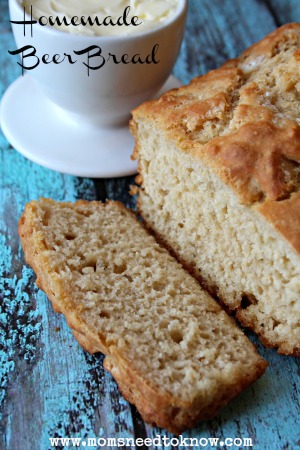 If there is one recipe that I make in this house that I have to practically hide from my family until it is time to eat dinner, it's my homemade beer bread recipe! This bread is so buttery and rich!  My family will have it with dinner, as an after-school snack, for breakfast or really any time it is sitting out on the counter.  I'm not lying when I say that, if I make a loaf of this bread during the day while they are at school, there will be none left by the time everyone goes to bed that night.
Luckily, my homemade beer bread recipe is a very inexpensive bread to make and it is made from ingredients that you likely already have in your house and is so much cheaper than those pre-packaged beer bread mixes that you can buy in the stores or through "home parties"! I also happen to think that it tastes much better than those prepackaged mixes.  A buttery, malty & honey combination of flavors - this will quickly become your go-to recipe when you just want to whip up an easy batch of bread to serve with dinner!
A few tips:
Make sure that you line the bottom of your bread pan with parchment paper and pour the first batch of melted butter on top of the paper. The first few times I made this bread I  skipped the parchment paper.  While it was still delicious, it came out of the pan in 2 parts - a top half and a bottom half.  Finally, I just spent the extra 90 seconds to cut out parchment paper and it comes out perfectly every time since then!
The beer that you choose will change the flavor of the bread.  I am not a big beer drinker (I prefer wine), but my husband always has beer in the house so I use what he drinks - Yeungling Lager.  I have also made this bread with Black & Tan and wasn't crazy about it (too bitter).  I would stick to a nice medium-body Lager and NOT a "regular" beer and certainly not a light beer.
Hennyway - on to the beer bread recipe.  Scroll down for directions!
You might want to also try these recipes: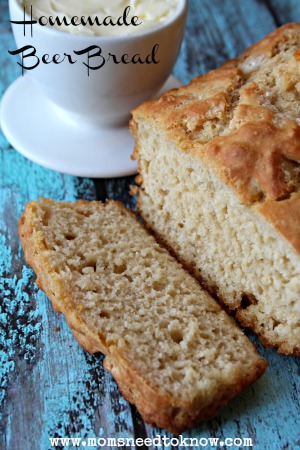 Ingredients
3

cups

all-purpose or white-whole wheat flour

1

T

baking powder

2

T

sugar

1

tsp

salt

2 1/2

T

honey

1

can beer

2

T

+ 3 T unsalted butter

melted
Instructions
Preheat oven to 350F

Butter the sides of a 9"x5"x3" loaf pan. Line the bottom of the pan with parchment paper.

In a medium bowl, combine the flour, sugar, baking powder and salt.

Heat the honey in the microwave for a few seconds until runny.

Add the beer and the honey to the dry ingredients and stir with a wooden spoon until just mixed and most of the big lumps are gone. DO NOT OVERMIX!

Pour 2 T of the melted butter on top of the parchment paper. Tilt the pan slightly to spread the butter (try not to let it go over the sides of the paper)

Spoon the batter in to the pan, getting it as even as possible.

Pour the remaining 3 T melted butter over the batter, using a pastry brush to spread it evenly if needed.

Bake for 50 - 60 minutes until an inserted toothpick comes out clean.

Remove from oven.

Immediately use a sharp knife to ensure that the bread isn't sticking to the sides of the pan.

Let cool for 5 - 10 minutes, then remove bread from pan and let cool on a cooling rack