I started making my own homemade nutella a few years ago and it is so easy to make and much cheaper then buying it in the store!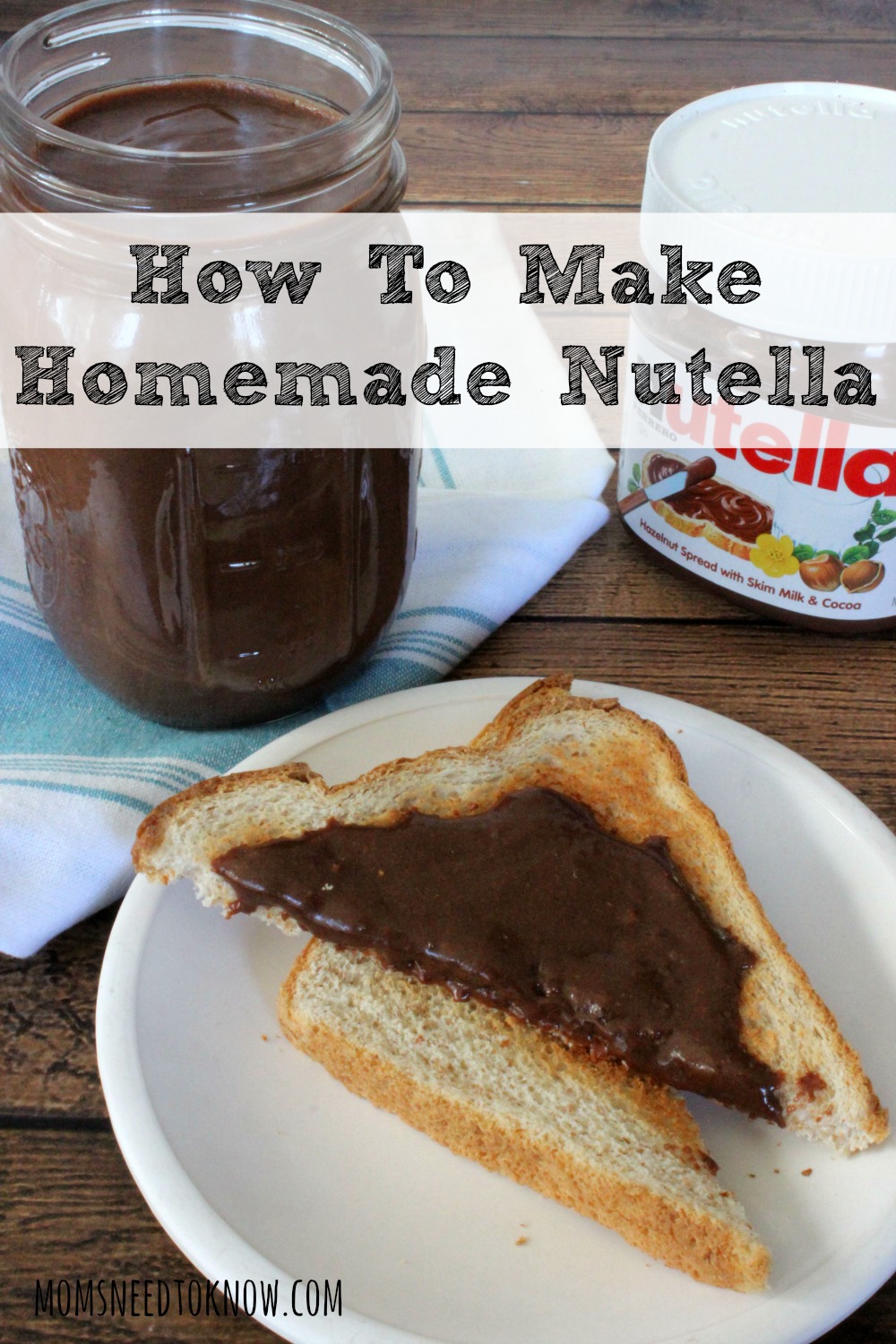 Nutella is one of those funny things. People either love it or hate it. A creamy blend of hazelnut and chocolate, Nutella is a very very popular in the rest of the world, but just becoming more popular in the United States.
I like to spread it on toast in the morning for my breakfast. Another great way to use it was something that I saw on a cooking show: spread some Nutella on slices of pound cake along with some sliced strawberries and make it in to a sandwich. Place sandwich on a buttered panini maker and cook until the Nutella is warm and gooey!
Aside from the hazelnuts, this homemade Nutella recipe includes 1 ingredient that you may not already have in your cupboards - powdered milk. It only requires 3/4 cup of powdered milk, but it is an important part of the recipe and you can't just substitute additional regular milk for it!. Need an idea for the rest of the package of powdered milk? Then maybe it is time for you to start making your own homemade hot chocolate mix!
There are 2 important steps to making sure that this Nutella recipe comes out perfectly:
Make sure to get all the skins off of the hazelnuts after you have toasted them. The skins should just really fall off by rubbing them with a towel or cheesecloth, but you really want to make sure that they are skin-free before you process them!

Make sure to process the hazelnuts in your food processor until they are completely smooth and creamy. Unlike making homemade peanut butter, homemade Nutella just doesn't taste "right" if there are still chunks of hazelnuts in it!
Scroll down for the complete directions!
Homemade Nutella Recipe
I started making my own homemade nutella a few years ago and it is so easy to make and much cheaper then buying it in the store!
Print
Pin
Ingredients
1 1/2

cup

raw Hazelnuts

1 1/2

cup

Milk

3/4

cup

Powdered Milk

1

tbsp

Honey

1

cup

Semi Sweet Chocolate Chips

1

cup

Milk Chocolate Chips

Read more at https://momsneedtoknow.com/homemade-nutella/#b2GkIbq0Vigvr7fE.99
Instructions
Preheat your oven to 400F.

Spread hazelnuts on a cookie sheet and bake for 10 minutes.

While still warm, use a dish towel or cheesecloth to rub off the skins of the nuts

Place nuts in food processor and process until they turn to a smooth paste.

Combine the milk, powdered milk and honey in a pan.

Heat over medium until it begins to boil, stirring frequently.

Remove from the heat.

Melt chocolate chips by microwaving for 30 seconds then stirring and repeating until smooth and melted.

Pour the melted chocolate into the ground hazelnuts and continue processing until blended (scrape down sides periodically).

Add the milk mixture and continue processing until smooth.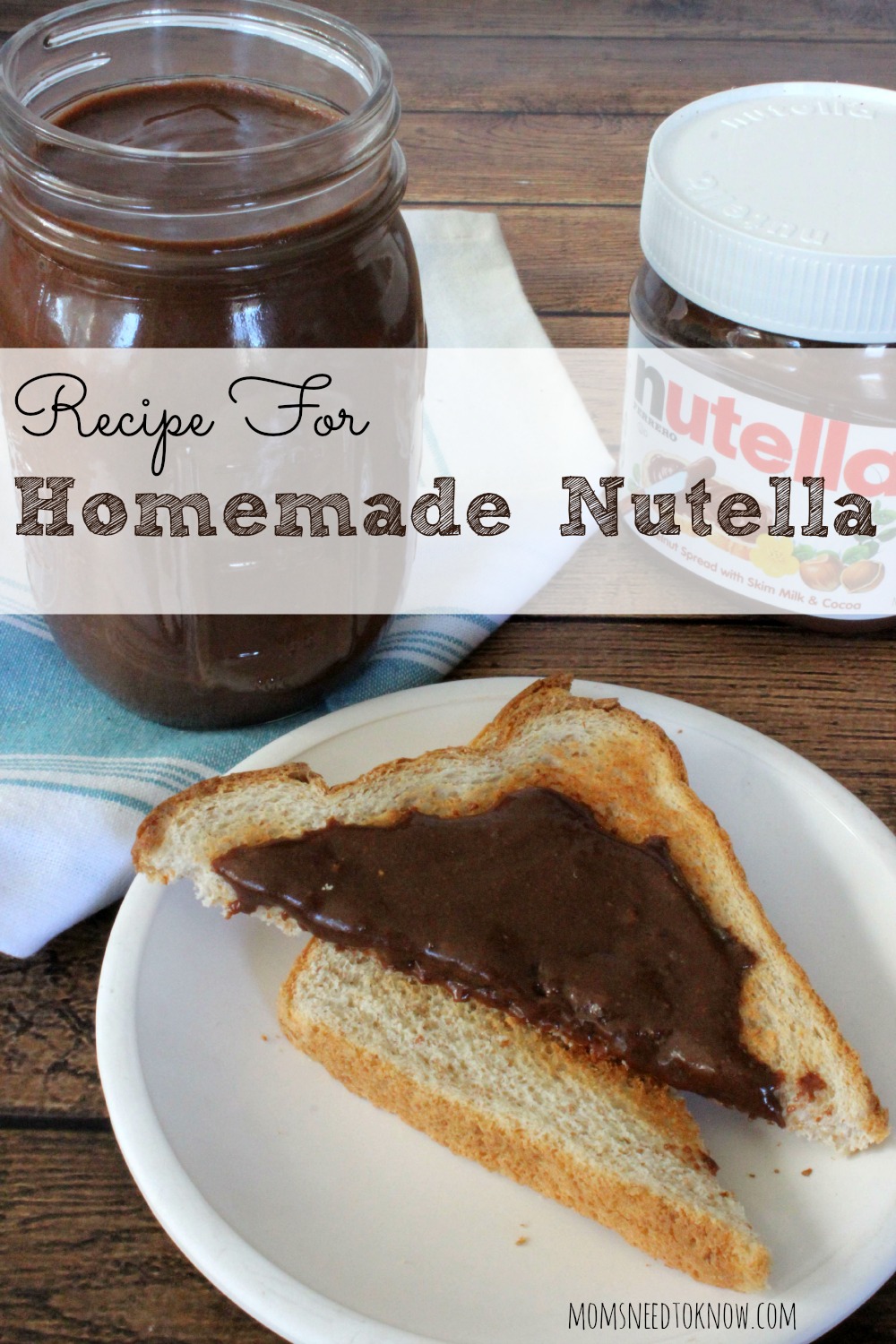 Homemade Nutella Recipe