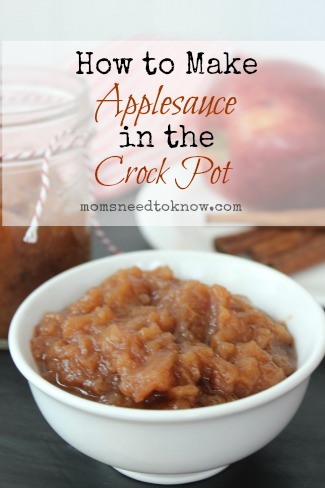 If you haven't yet learned how to make applesauce in the crock pot yet, now is the time to learn. Crock Pot Applesauce is easy, fun and inexpensive, and it's a great way to use up all of those delicious looking apples your kids will be begging you to buy this fall. As a bonus, you control what goes into it, so you can make sure that it doesn't have any artificial colors or sweeteners.
Just like Crock Pot Apple Crisp, Crock Pot Applesauce is a great "set and forget" recipe. It doesn't require you to stand by the stove stirring all day or even to watch the time. You simply throw all of the ingredients in your slow cooker and go about your day. Seven to nine hours later, your house will smell wonderful and you'll have delicious Crock Pot Applesauce you'll be proud to say you made yourself.
Finding quick breakfasts your kids will love can be a challenge. Most good recipes either take a long time to prepare, aren't very nutritious or aren't very tasty. Crock Pot Applesauce is a great addition to any breakfast. Serve it alongside this English Muffin Recipe and a scrambled egg or two for a breakfast that is quick, easy, healthy and delicious.
Are your kids begging for Crock Pot Mac and Cheese again? Make this Crock Pot Applesauce to go with it. They'll get foods they love, and you'll feel good knowing that you got them to eat something healthy as well.
This applesauce is easy, healthy, and super yummy. Once you learn how to make applesauce in the crock pot, you won't want to go back to the store-bought kind!
Note:  this recipe was made using a 4 qt crockpot.  If you make this homemade applesauce in a larger one, your cooking time will be less.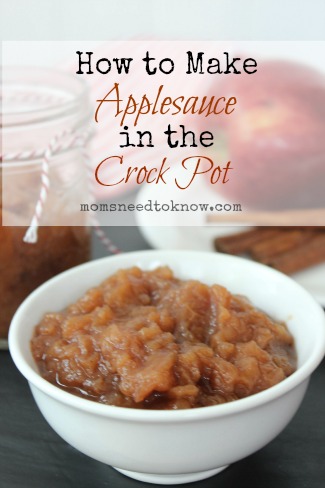 Ingredients
3

lb

Apples

Gala, McIntosh or Granny Smith apples are best

1/3

cup

Brown Sugar

1/3

cup

Water

1

tsp

Lemon Juice

1

tsp

Cinnamon

or more to taste
Instructions
Peel and core apples and cut in to chunks

Add all ingredients to slow cooker and stir to combine.

Cook on Low for 7 to 9 hours.

You can serve the applesauce "as is" or process it in a blender or food processor if you prefer a less chunky applesauce

Store unused portion in an air-tight container in the refrigerator for up to 1 week.
Notes
Omit the sugar if you prefer unsweetened applesauce.