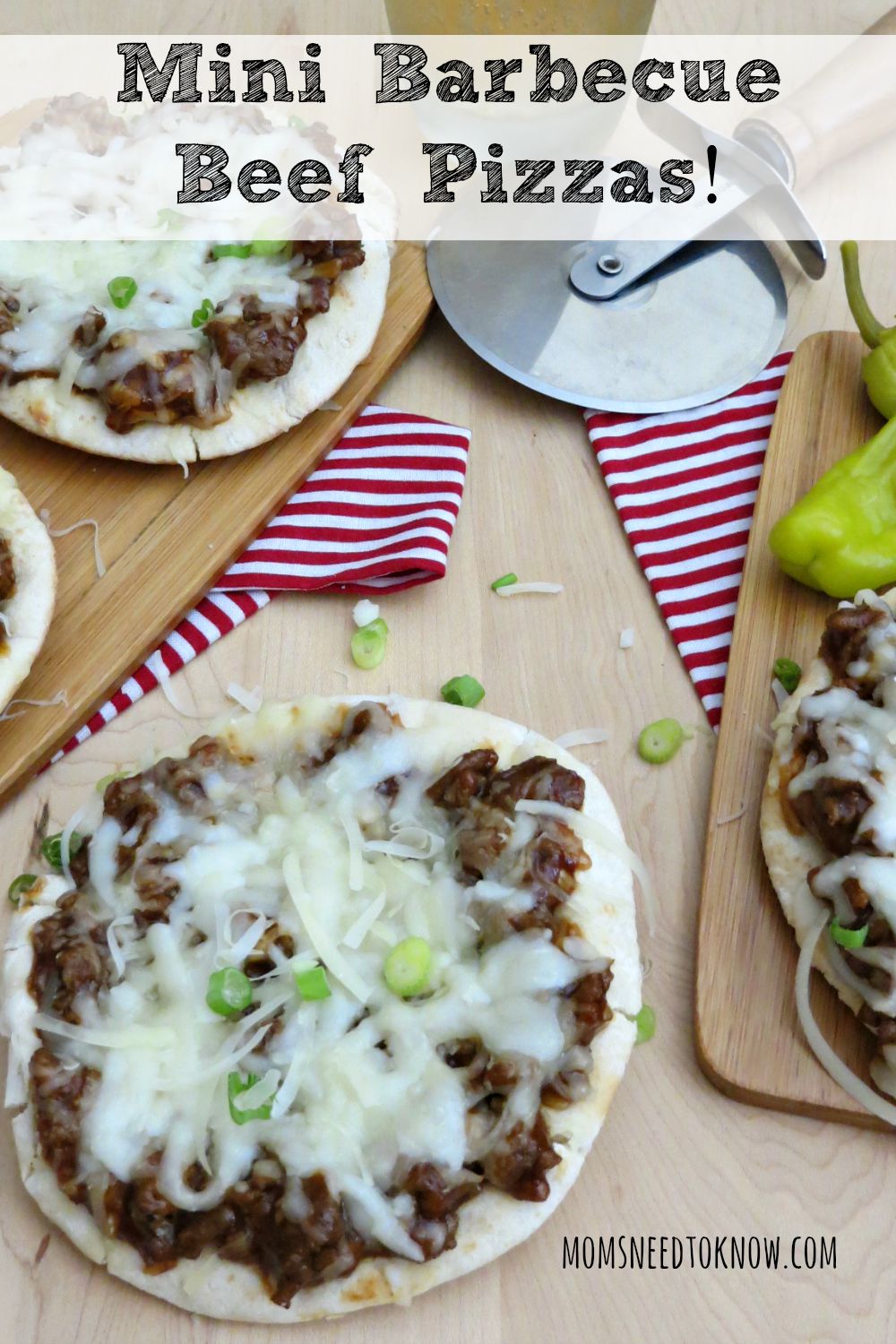 There are some nights that you really want to go "all-out" for dinner….making everything from scratch and really getting involved. And then there are some nights that you just want something that is easy to make, but still tasty and won't have your family rummaging the fridge an hour later.
These mini pizzas are a great way to use up leftover beef or chicken. I've done this with both and it's equally delicious. My kids love mini pizzas (well – they like just about any pizza), and the possibilities are endless!

Anytime beef (or chicken) is at a stock up price, I buy extra to freeze. I freeze half raw and half cooked, so that it's ready to go for quickie meals like this. This I will usually poach and shred the chicken and brown the ground beef….and then store it in freezer bags in about the amount that we would normally use for a meal.
I usually like to use my homemade pizza dough recipe, but we are going for easy and quick with with one. I've tried several different store-bought crusts for quick pizzas and have found pita bread works the best. It's the perfect thickness, crisps up nicely and is healthier than most packaged pizza crusts.
If you aren't a fan of pita bread, there are more and more flatbreads showing up at the grocery store and they are delicious as well – especially the flavored ones! Costco sells one that is just out of this world! As an added bonus, if you use the flatbreads, you can even cook this on the grill over indirect heat (just watch it carefully, because it will burn quickly on the grill!).
To make it even easier, I line my pan with parchment paper and prep the pizzas right on the pan. It makes for quick and easy clean up later (especially if your children are helping you make them – they can be messy sometimes)!
Scroll down for the recipe!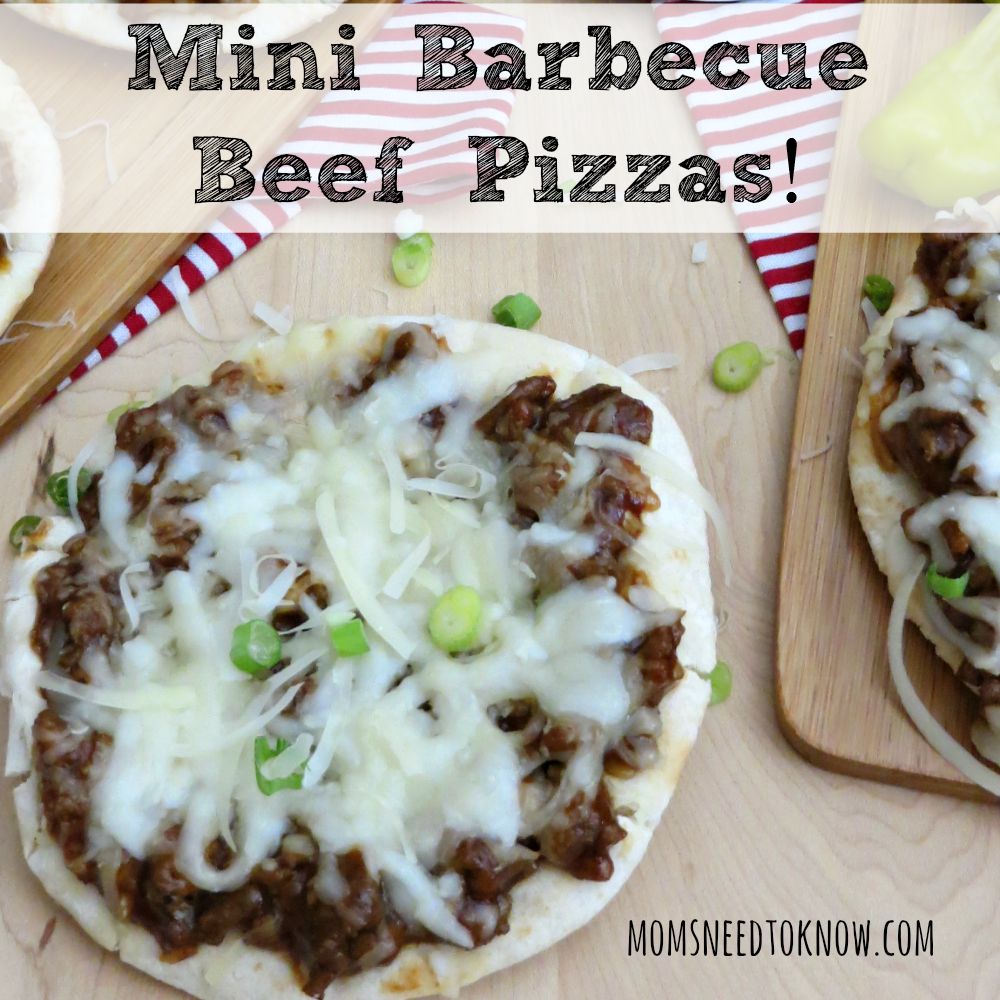 Mini Beef Barbecue Pizzas | Fun To Make With The Kids!
These mini barbecue beef pizzas are so easy to make that your children can help you! It's the perfect recipe for those crazy busy nights!
Ingredients
5 small pita rounds (approx 5" diameter)
1 cup lean ground beef, cooked (approx. 1 cup)
1 cup BBQ sauce (any)
7 tablespoons white cheddar cheese, divided
7 tablespoons mozzarella cheese, divided
1 green onion, finely sliced (optional)
Instructions
Preheat the oven to 400 degrees F.
Line a large baking sheet with aluminum foil or Parchment paper.
Mix the beef, BBQ sauce and two tablespoons of each kind of cheese together.
Place the pita rounds on the pan and spread ¼ cup of the mixture on each pita round.
Sprinkle one tablespoon of cheddar over the meat mixture followed by one tablespoon of the mozzarella.
Bake for 6-8 minutes or until the cheese is thoroughly melted. If you prefer a crispier crust, you can bake them right on the center oven rack. If you do this, check them after 5 minutes to make sure the bottom isn't getting too brown.