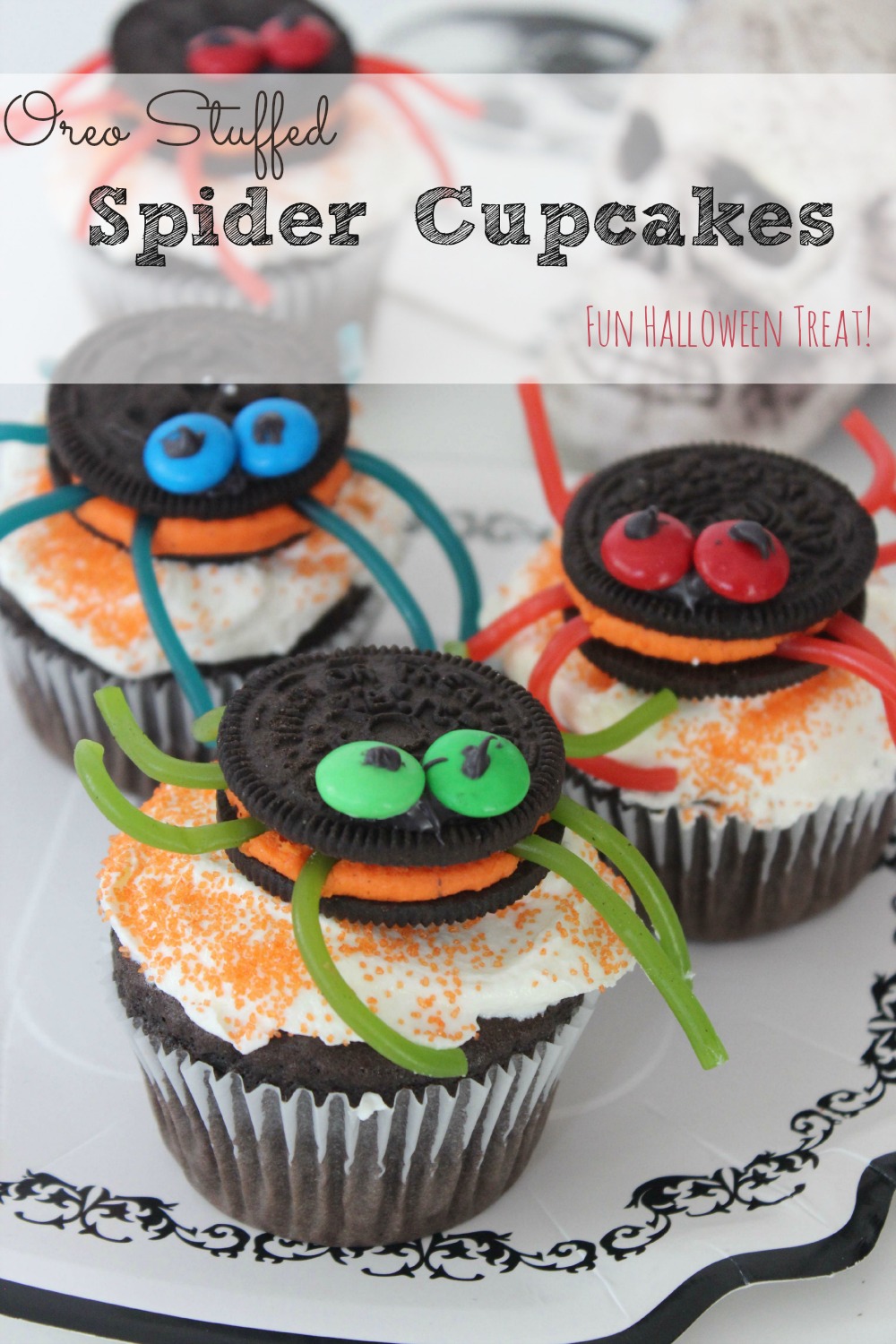 By now you know that I have a serious thing for Oreos, although I rarely eat them plain. I prefer to either make my Oreo Truffles (especially peppermint Oreo Truffles as soon as they peppermint ones come out at Christmas) or coat them in chocolate like for my Oreo Spider Pops. I've even been known to spread some peanut butter on them and stuff them in a cupcake!
Apparently, I have  become "known" for my Oreo recipes. Just yesterday at church when I was working the hospitality area, I had a few people ask me if I brought in any Oreo Truffles for the buffet (which I usually do on the Sundays I work Hospitality). I guess I know what I am making for next week!

Anyway - since the peanut butter & Oreo stuffed cupcakes turned out so well, I figured it was time to make another similar recipe! If you don't want an Oreo Spider on top of the cupcake as well as one baked inside the cupcake (or if, for some strange reason you think it is possible to have too many Oreos), you can just make the cupcakes like normal and then follow the directions to make the Oreo Spiders and use them to decorate!
But seriously - who wouldn't love to bite in to this?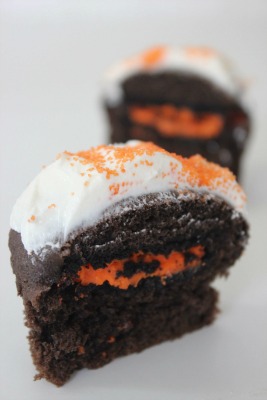 Ok - let's get to making them (full directions below)
First things first - mix up the cake mix according to the package directions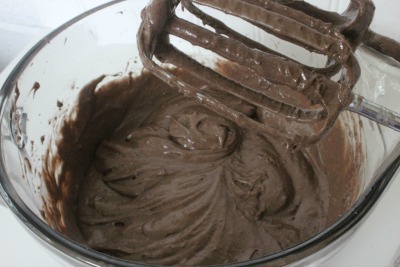 Line your cupcake pan with paper liners and fill them halfway with batter. Place an Oreo in the center of the batter and press down slightly. Spoon more batter over the top of the Oreo to cover it completely. Bake according to package directions and allow to cool.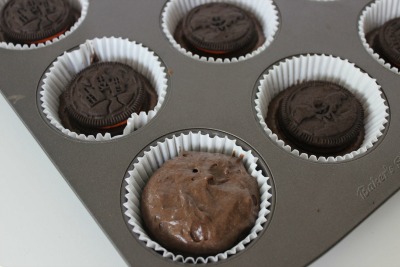 To make the spiders, we are going to use melted chocolate (the kind you buy in the craft stores) as our "glue". Simply twist open the Oreos and cut your licorice strings in equal lengths (about 4") and press them in to the icing inside the cookie. Pipe a little bit of melted chocolate on top of the licorice and place the top of the cookie back on top. Grab some M&M's and attach them (letter side down) on top of your Spider using more melted chocolate to attach them. Use a drop of chocolate to make the center of the eyes.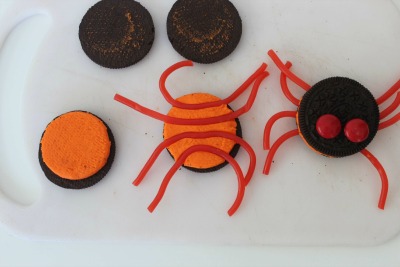 After you have made your spiders, simply whip up your icing, ice the cupcakes and place a spider on top!
Your kids will love them!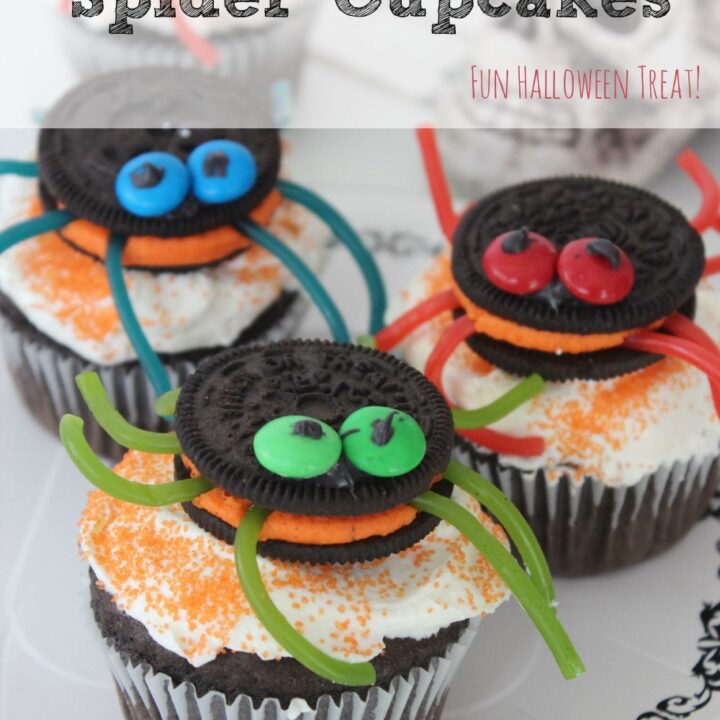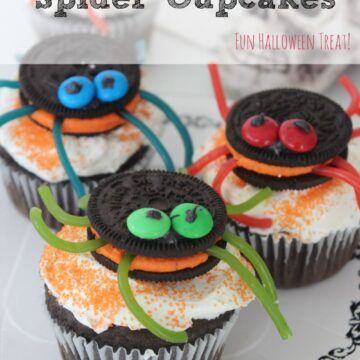 Oreo Stuffed Spider Cupcakes | Fun For Halloween!
These Oreo-Stuffed Spider Cupcakes are so fun to make with your children are are sure to be a hit at your Halloween party or just as a treat for the kids!
Print
Pin
Ingredients
For the Cupcakes
1

box Chocolate Cake Mix + ingredients listed on box to make them

24

Oreo Cookies
For the Icing
1

cup

softened Butter

2

tbsp

Milk

4

cup

Powdered Sugar
For the Spiders
24

Oreo Cookies

24

Rips Whips Candy Strings or other string licorice

48

colored M&M's

1/2

cup

Black Candy Melting Chips
Instructions
To Make the Cupcakes
Prepare cupcakes according to box directions except when filling cupcake liners, fill just halfway with cupcake batter, then place an Oreo in the middle and then fill the rest of the way with the batter.

Bake as directed on the box

Allow to cool.
To Make the Oreo Spiders
Place black candy chips in corner of zippered sandwich bag and heat in microwave for 45 seconds. Gently massage to ensure it is melted and smooth. Clip tiny piece off corner of bag to pipe.

Make a black dot in the center of each M&M to be an eye.

Gently twist apart each Oreo.

Cut each candy string into 4 equal parts.

Press each piece into icing to make 8 legs.

Pipe a little melted candy to act as glue and put top back on cookie.

Pipe a little melted candy on top to glue eyes in place.

Allow to cool and set.
To Make the Icing
Cream butter and vanilla in a large bowl

Slowly add in the powdered sugar, and milk as needed, until everything is incorporated and frosting is right consistency.

Beat for 5 minutes to make sure it is fluffy.
Put It Together
Ice cupcakes then decorate tops with Spiders.