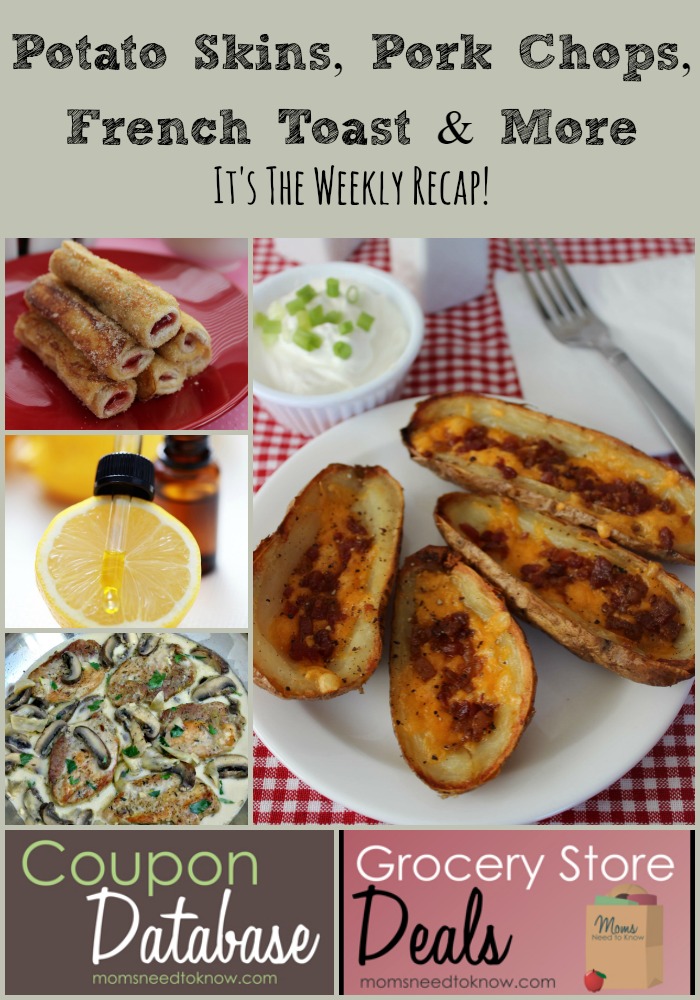 Happy Sunday! For those of you (like me) who are digging out from 3 feet of snow because of Jonas....you have my sympathies. The snow has finally stopped falling, but I don't even want to think about how long it is going to take for it all to melt (and my dog is NOT a fan of snow!)
Welcome to our new Sunday feature a weekly recap of everything that you may have missed on our little corner of the Internets! If you would like to get this weekly recap each Sunday - just subscribe to our weekly email list!
Weekly Recap for January 17 - 23, 2016!
Latest Recipes:
French Toast Roll Ups With Cream Cheese and Strawberries -  Well - they say that everyone buys the making for French Toast when there is a blizzard! If you are still digging out and want a twist to a traditional breakfast, this recipe is for you!
Baked Potato Skins Recipe -  These potato skins cut out some of the fat by baking them instead of frying and can be made (and even frozen) in advance!
Pork Chops Recipe With A Creamy Dijon Mushroom Sauce -  A creamy dijon and mushroom sauce make this my absolute favorite pork chops recipe! Simple to make and you can even substitute chicken for the pork!
Featured Posts
The 10 Gifts You Should Never Buy a Woman For Valentine's Day -  while all gifts should be accepted graciously, sometimes our spouses need a little guidance. I would love for you to add any of your ideas to the list!
23 Ways to Use Lemon Essential Oils -  Lemon oil is one of the most versatile of essential oils and you will love some of these new ways to use it!
Saving Money
Coupon Insert Preview | Week of January 24, 2016 - Find out what coupons will be in the newspaper this Sunday so that you can decide if you will want to purchase additional copies of the paper!
Grocery Deals and Coupon Matchups Updated | January 24, 2016 - find all the best deals for the upcoming week at CVS, Rite Aid, Walgreens, Kroger, Wegmans, Giant of PA and more!
Did you know that you can get the weekly recap by email? This will be great for you current subscribers who get the daily emails because they don't want to miss anything, but would prefer to receive fewer emails. It's really simple! Just head to my subscribe page and complete the form. You will have to confirm your subscription but, once you do, you can expect to get an email with everything you missed every Sunday morning!