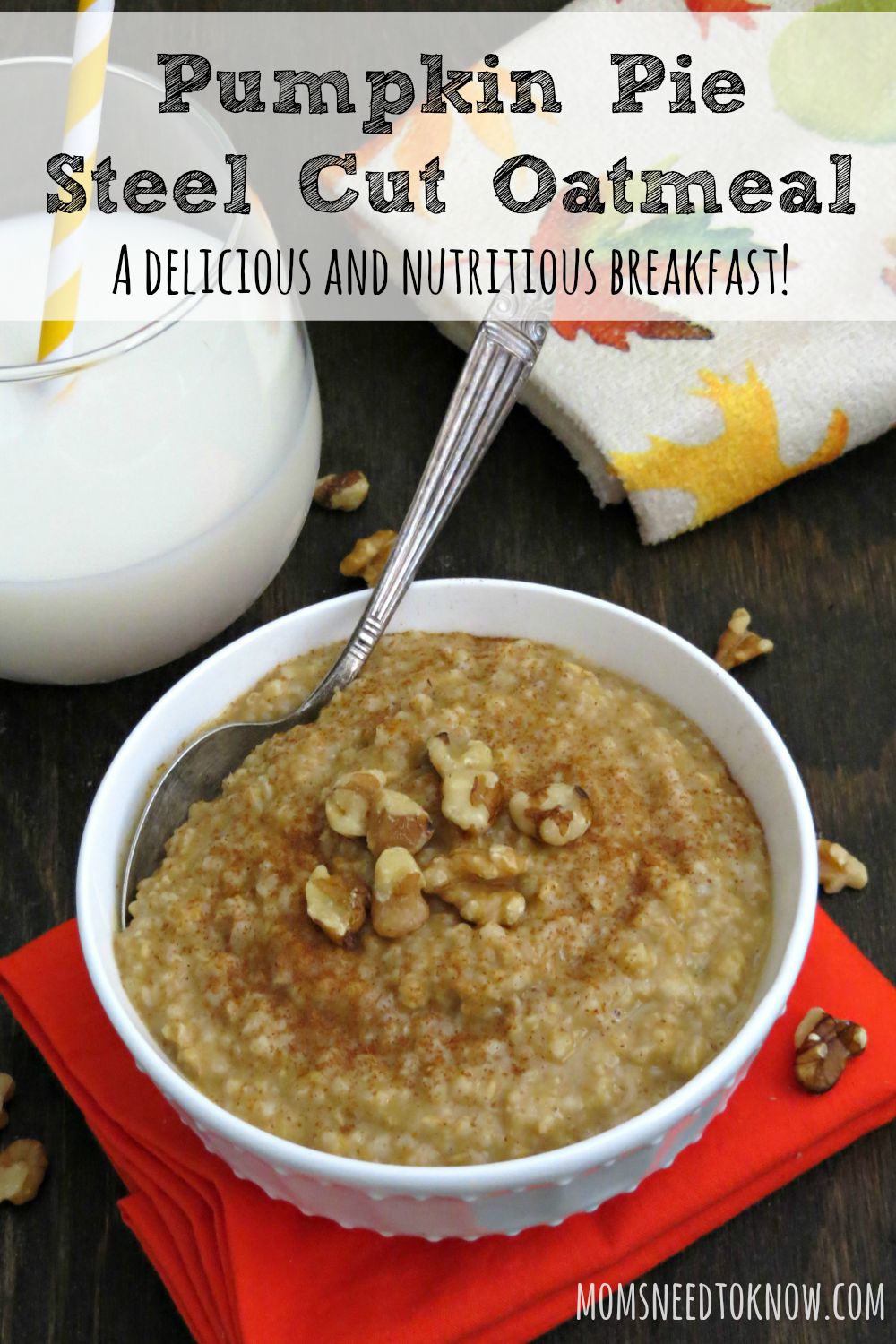 It's that time of the year again - when we seem to add pumpkin to everything!  I don't know why most people don't eat it all year long.  I understand that people think of it as "seasonal" and that made sense when we could only get certain foods at certain times of the year...but those days are long-gone and we now have a steady supply of canned pumpkin all year long!  We always have a batch of my homemade pumpkin muffins on hand, either fresh or in the freezer
Hennyay......

Since it is that time of year and the Fall and Winter are when everything is flavored with pumpkin, why not add it to your oatmeal?  Adding pumpkin to your oatmeal really helps to boost the dietary fiber in the oatmeal and adds a powerful punch of Vitamin A, Vitamin C, Beta-Carotene, Iron, Niacin and much more!
If you like a stronger pumpkin flavor, feel free to add as much as you like. It's so good for you!  I love pumpkin so much that I even make homemade pumpkin soup, so I do add a little more pumpkin than I list in this recipe - just adjust it to your tastes!
I used steel cut oats because I like the thickness and that they are a little more "chewy", but you can easily just make pumpkin pie steel cut oatmeal using regular oatmeal.  If you like a thicker oatmeal, start with less water and ad more as needed. This will also thicken as it sits. I set mine aside to cool while I cleaned the kitchen, and it thicken up nicely (I like mine really thick).
This is already quite high in protein and good for you nutrients, but you could also add flax or chia seeds, more nuts, dried fruit, etc.  I usually end up throwing a handful of raisins in with my oatmeal!
Scroll down for the recipe!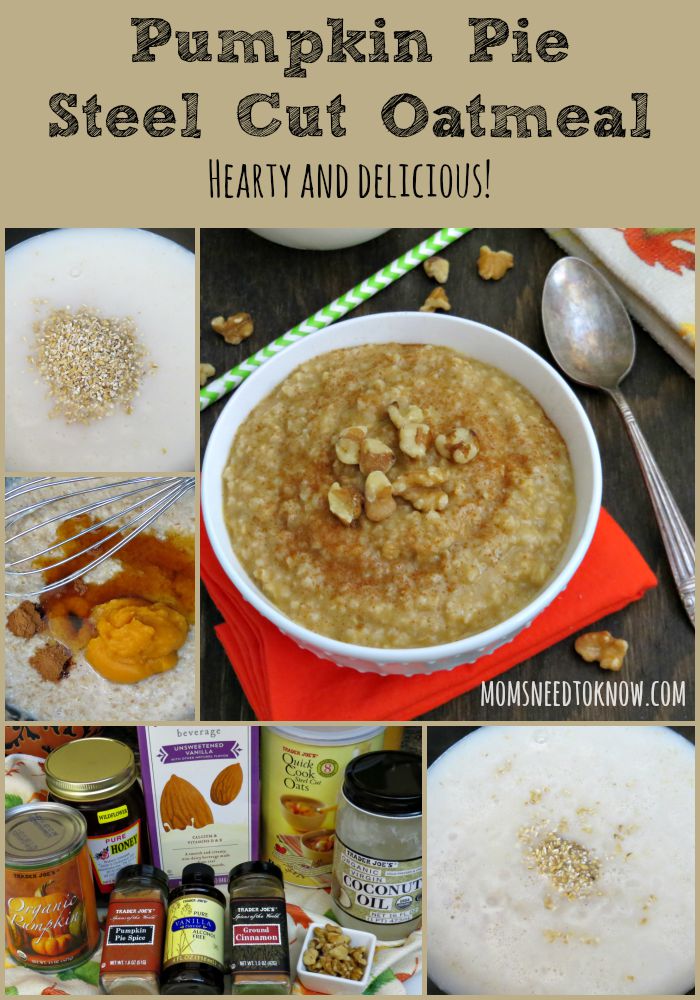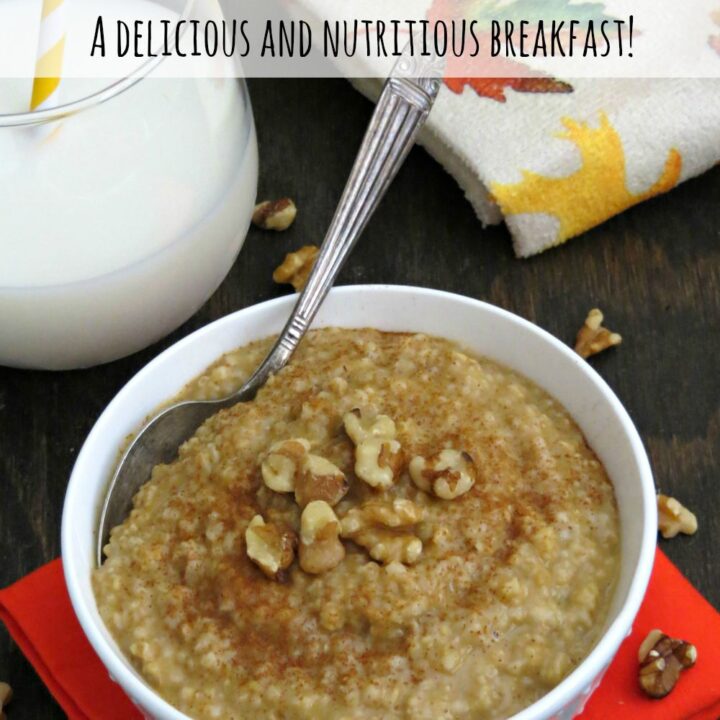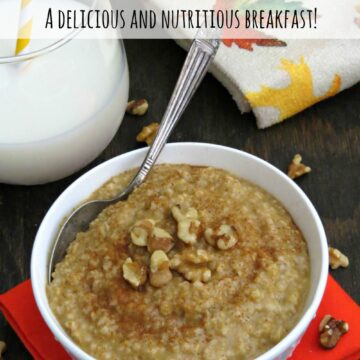 Pumpkin Pie Steel Cut Oatmeal
This pumpkin pie steel cut oatmeal recipe is a wonderful way to start your day, especially in the Fall and Winter (but you really should try it all year long!)
Print
Pin
Ingredients
1

cup

quick cooking steel cut oats

1/2

cup

almond milk

or regular milk

1/2

cup

water

2

tablespoons

pumpkin puree

1

teaspoon

coconut oil or butter

1/2

teaspoon

pumpkin pie spice

1/2

teaspoon

cinnamon

honey to taste

or any natural sweetener

chopped walnuts

if desired
Instructions
Heat the almond milk and water and bring to a simmer.

Add the oats, whisk to combine and cook on medium-low heat for 5-7 minutes, or until the liquid has absorbed and the oats are tender. Add a splash more almond milk if necessary.

Turn the heat down to low and add all the remaining ingredients. Whisk to combine and cook on low for another 1-2 minutes. Add more almond milk or water if necessary.

Taste and adjust spices and sweetness before serving.