Fall is finally upon us, which means that the air is crisper, the temperature is cooler and the leaves will start changing colors soon. It also means that now is the perfect time to make a great Pumpkin Soup recipe! While this yummy Pumpkin Soup recipe is good all year round, it is especially perfect for fall, just like this Pumpkin Parmesan Risotto recipe, this Easy Tomato Soup recipe and this recipe for French Onion Soup in Crock Pot.
If you like a soup that is really rich and delicious, this Pumpkin Soup recipe is the recipe for you! This isn't a wimpy, watery soup that you eat because you know it's good for you. This delicious thick, rich soup is one you will savor down to the last drop. After a day of running errands or watching your child's ball games at the park, there is nothing better than coming in for a big bowl of this warm and comforting soup.
This Pumpkin Soup recipe is really easy to make as well. Other than a little occasional stirring, you don't have to be tied to the stove, constantly chopping and adding more ingredients. Get everything chopped in advance, and then you only have to check on it occasionally to make sure that it doesn't boil over. And if you really wanted a hands-off dinner, I bet it would be really good if you made it in advance, and then just kept it warm in the crock pot too. That way everyone could help themselves to a bowl whenever they were ready.
On a cool, fall day, nothing beats rich, warm soup. And when it comes to comforting soups, this Pumpkin Soup recipe takes the cake!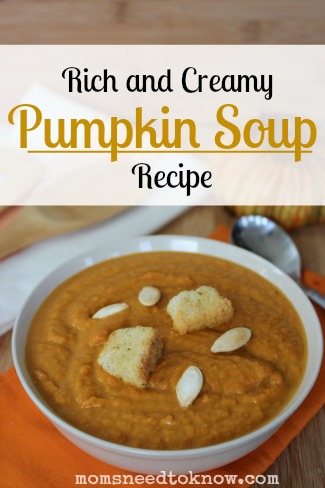 Ingredients
2

tbsp

Butter

1

tbsp

Olive Oil

1

cup

Diced Onion

1

tsp

Minced Garlic

30

oz

Pumpkin Puree

3

cups

Chicken Stock

1

tsp

Kosher Salt

1/2

tsp

Curry Powder

1/4

tsp

Crushed Red Pepper

1/8

tsp

Cayenne Pepper

1

tbsp

Brown Sugar

1/4

cup

Heavy Cream

Toasted Pumpkin Seeds and/or croutons for garnish
Instructions
In a large pot or stockpot, sautee onions in oil and butter until tender.

Add minced garlic and cook another minute.

Add the pumpkin, chicken stock, brown sugar, salt and spices.

Cover and simmer 20-25 minutes.

Blend the soup using an immersion blender or in batches in a regular blender.

Return the mixture to the pot and add the heavy cream.

Cook for 5-10 minutes.

Garnish with toasted pumpkin seeds, croutons and/or a drizzle of heavy cream.