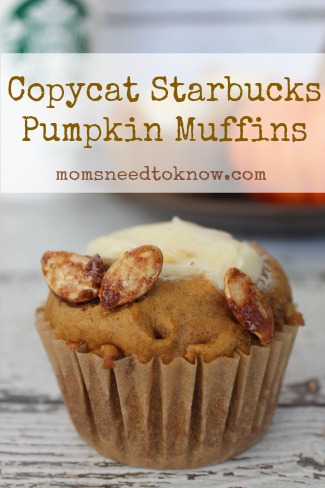 It's almost October, and you know what that means! It's time for pumpkin recipes galore! After all, pumpkin is one yummy seasonal vegetable that most of us just can't get enough of -especially with Halloween right around the corner. We make our favorite Pumpkin Pancakes recipe and we drink our favorite Pumpkin Spice Latte...It's a great time of year!
This morning I was in the mood for a pumpkin recipe that would be perfect for a crisp and cool fall morning, and I think I found the perfect one: this Copycat Starbucks Pumpkin Muffin recipe. I don't know if you know this or not, but Starbucks doesn't just make great coffee. They also make fantastic muffins as well. But really, who has the time or the money to hit the Starbucks drive-thru every time they want a pumpkin muffin? I know I don't. And furthermore - who knows what they put in those muffins to make them so yummy? Lots of additives and preservatives I'm sure! Beyond that, they don't have the muffins all year long. If you want one in the summer, you are just out of luck!
With these Copycat Starbucks Pumpkin Muffins, you don't have to worry about what you are getting or what you are spending or even that they will have them. They are made with common kitchen staple ingredients that you know and love, such as flour, sugar, milk, pumpkin, cinnamon and ginger. As a bonus, you can make these for just a fraction of the cost.
The next time you're at home on a cool autumn morning and you're looking for something yummy to make, give this Starbucks Pumpkin Muffin recipe a try!

Ingredients
For the Cream Cheese Filling:
8

oz

softened Cream Cheese

1/2

cup

Sugar

1

tsp

Vanilla
For the Candied Pumpkin Seeds:
1/2

cup

Pumpkin Seeds

3

tbsp

Sugar

1/4

tsp

Cinnamon
For the Muffins:
2

cup

Flour

1

tsp

Baking Soda

1/4

tsp

Salt

1/2

cup

Sugar

1/2

cup

Brown Sugar

1/3

cup

vegetable oil

1

cup

Pumpkin Puree

2

Eggs

1/4

cup

Milk

1 1/2

tsp

Cinnamon

1

tsp

Ground Ginger

1/2

tsp

Ground Cloves

1/2

tsp

Ground Allspice
Instructions
Make the Cream Cheese Filling
Combine cream cheese, sugar and vanilla extract until smooth.

Cover and chill until firm.
Make the Candied Pumpkin Seeds
Line cookie sheet with parchment paper.

Put seeds, sugar and cinnamon in a medium saucepan over medium heat, stirring constantly until sugar begins to caramelize.

Spread seeds on prepared sheet, separating any that are stuck together, and allow to cool
Make the Muffins
Preheat oven to 350. Line a muffin tin with cupcake liners

Stir pumpkin, oil, brown sugar and sugar together in a large bowl just until mixed.

Add in eggs, spices, salt, baking soda and half of the flour. Mix until combined.

Add milk and remaining flour. Mix until combined.

Fill each liner about 2/3 full.

Spoon one tablespoon of cream cheese mixture into the middle of each muffin.

Sprinkle with 4-5 pumpkin seeds.

Bake for about 15 minutes, until a toothpick inserted in the muffin portion comes out mostly clean.

Cool before serving.