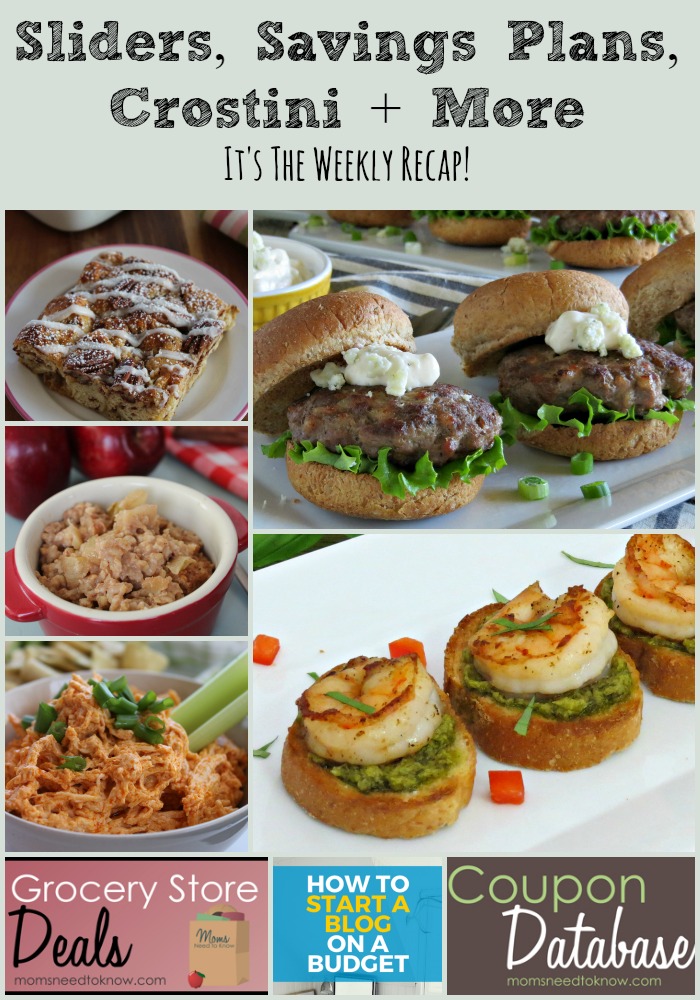 Welcome to our new Sunday feature a weekly recap of everything that you may have missed on our little corner of the Internets! If you would like to get this weekly recap each Sunday - just subscribe to our weekly email list!
Weekly Recap for January 3 - 9, 2016!
Latest Recipes:
Beef and Bacon Sliders with Blue Cheese Sauce recipe -  I don't know which is better - the smoky taste of these beef and bacon burgers or the blue cheese sauce that tops them! Serve them at your next party!
Shrimp and Pesto Crostini Recipe - This shrimp and pesto crostini recipe is full of flavor and can be made fairly quickly. It is sure to be a hit at your next party!
Buffalo Chicken Dip Recipe -  This Buffalo Chicken Dip is so easy to make and sure to be a hit at your next party! Serve it with celery sticks (with some ranch on the side) or crackers!
Crockpot Steel Cut Oats Recipe with Apples and Cinnamon -  Put this crockpot steel cut oats recipe together at night before bed and wake up to the wonderful smells of apple & cinnamon and a hearty hot breakfast!
Cinnamon Roll French Toast Bake | Easy Weekend Breakfast! -  This quick breakfast uses canned cinnamon rolls to create a warm and gooey breakfast that your children will love!
Featured Posts
52 Week Savings Plan to Save $1378 -  With this 52 Week Saving Plan, you can painlessly save $1378 per year! Includes printables for both the original and the reverse saving plan
How To Start A Blog On A Budget -  Think it is expensive to get started blogging? The truth is, it can be done fairly cheaply!
Saving Money
Coupon Insert Preview | Week of January 10, 2016 - Find out what coupons will be in the newspaper this Sunday so that you can decide if you will want to purchase additional copies of the paper!
Grocery Deals and Coupon Matchups Updated | January 10, 2016 - find all the best deals for the upcoming week at CVS, Rite Aid, Walgreens, Kroger, Wegmans, Giant of PA and more!
Did you know that you can get the weekly recap by email? This will be great for you current subscribers who get the daily emails because they don't want to miss anything, but would prefer to receive fewer emails. It's really simple! Just head to my subscribe page and complete the form. You will have to confirm your subscription but, once you do, you can expect to get an email with everything you missed every Sunday morning!