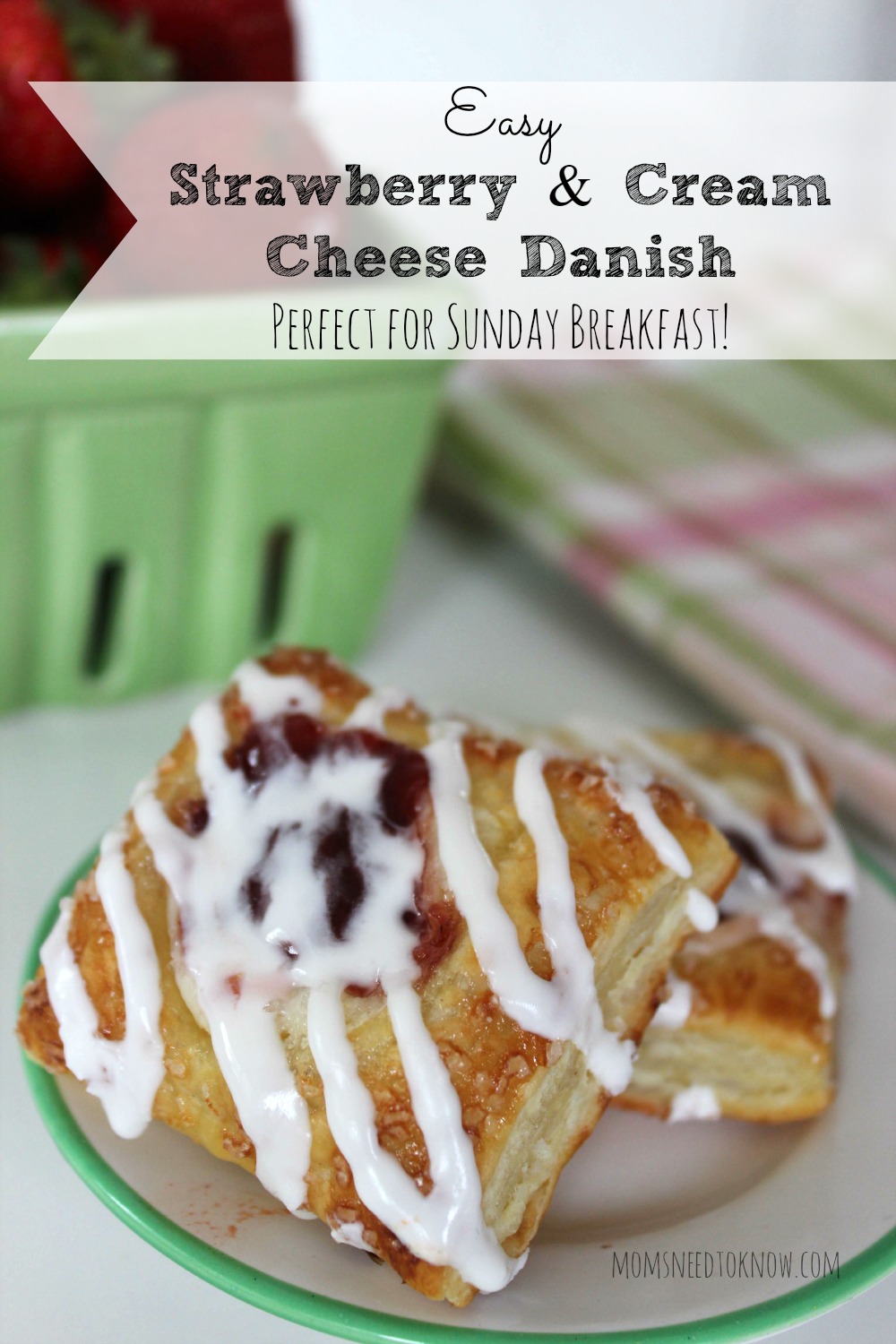 Like most families with school-age children, weekday breakfasts can be pretty boring. My husband often leaves for work by 5:00am, my boys are up and out the door to middle school by 7:00am and my daughter is the one who gets to "sleep in" because she doesn't need to catch the school bus until 8:10am!
So eating breakfast together during the week simply isn't "done" in our family.
That is why, on the weekends, I always like to make something special for my family. I am sure that there have been times that they would still rather just pour a bowl of cereal, but I like to make sure that they have something a little different.
Over the years, I have come up with some family favorites....everything from fun-to-make french toast roll-ups, to my oven baked omelet or even (especially this time of year), a nice stack of pumpkin pancakes (topped with homemade whipped cream, of course). I made this Strawberry Cream Cheese Danish the other day and this is another one to put in our regular weekend rotation!
The puff pastry gives you a light and airy danish - just like the ones that you buy at the bakery and is something that you really should keep in your freezer at all times. Puff pastry is so easy to work with (don't confuse it with phyllo dough - many people do! Puff pastry is a cinch.) and can be used for so many things (try my baked brie with apricots and cranberries at your next party).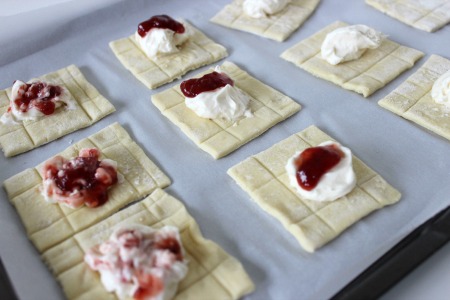 These don't take long to make and what I usually do is assemble them and then pop them in the oven while I take a quick shower. They only take 15 minutes to bake and you need to let them cool completely before glazing them, so that is my "blow drying" time. See! Not only are you getting a delicious recipe, you get time management tips for your mornings!
Even better - this recipe can be frozen! Make a big batch of the danishes and then lay them on a parchment-lined baking sheet to freeze. One they are frozen, just toss them in a zip-top bag and in the freezer. When you are ready to bake them, just pull out as many as you want, allow them to thaw and bake them according to the directions!
If you don't keep heavy cream in your house and don't want to buy a pint in order to get 1 tablespoon, you CAN substitute half & half or even milk.
Lastly, make sure that you scope the puff pastry (don't cut all the way through) and you can even turn up the edges a bit. This will help ensure that the pastry puffs up around the filling, effectively "closing it in"!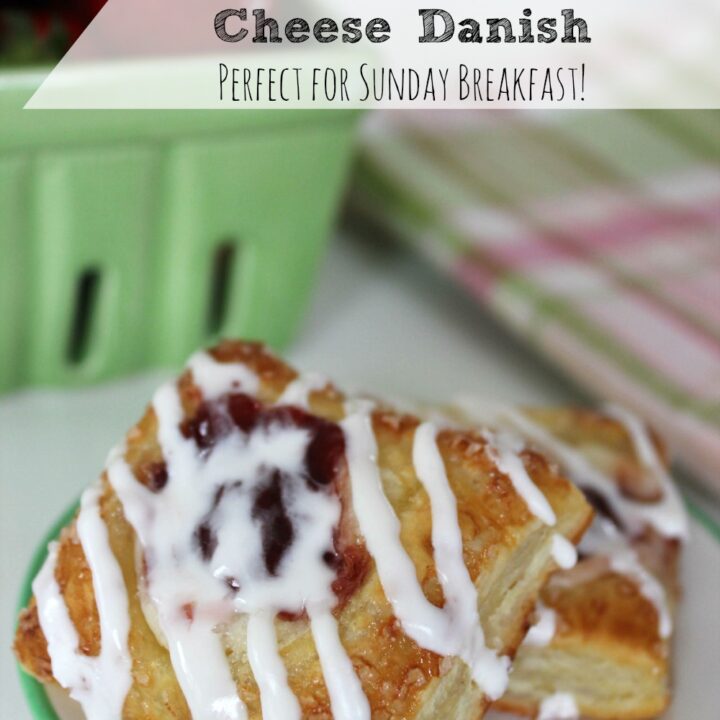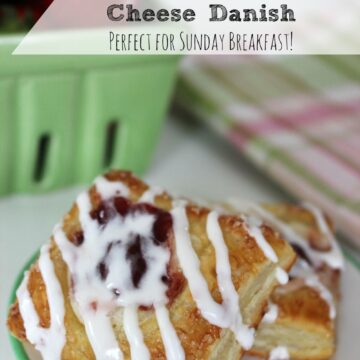 Ingredients
For the Pastry:
1

Frozen Puff Pastry Sheet

4

tsp

Strawberry Fruit Spread

4

oz

softened Cream Cheese

1/4

cup

Sugar

1/2

tsp

Vanilla

1

tbsp

Heavy Cream

1

Egg
For the Glaze:
3/4

cup

Powdered Sugar

1

tbsp

Water

1/8

tsp

Vanilla
Instructions
Allow one sheet of frozen puff pastry sheet to sit and thaw for 15 minutes.

Preheat oven to 400. Line a baking sheet with parchment paper.

Cream together the sugar, cream cheese, heavy cream and vanilla until smooth.

Cut puff pastry into 16 rectangles.

Score the edges of each rectangle without cutting all the way through.

Place about a teaspoon of the cream cheese mixture into the center of each.

Top with a little of the strawberry spread and swirl to combine.

Make an egg wash by mixing the egg with 1 tablespoon of water and brush the edges of each.

Bake for 13 minutes or until edges are puffed up and golden.

Transfer to a cooling rack and allow to cool completely.

Stir together powdered sugar with 1 tablespoon of water and vanilla.

If too thick add additional water slowly until you reach desired consistency.

Transfer the icing to a zippered sandwich bag and clip off the corner to pipe.

Drizzle over the danishes.