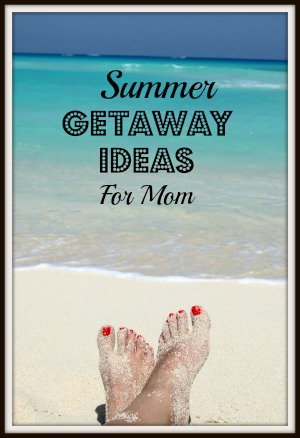 Mothers often do most of the heavy lifting in the parenting world in general and are rarely afforded the luxury of taking a vacation. Although there are certainly Fathers out there that do their fair share and more, the Mothers of the world never seem to stop. Finding new and refreshing ways to recharge those batteries is vital to being a good parent. An energized Mom is a Mom that can take on the world!
*The following ideas are dependent upon finding suitable childcare for the kiddos. Bringing them along would completely discount any benefits.*
Here are three summer getaway ideas for Moms that won't break the bank, but will do the trick nicely:
Go home secretly
If you were raised in a place other than where you are now, return home for a few days of rest and remembrance. Tell no one there that you are coming and simply book a nice little place to enjoy your stay solo. Being close to home can conjure up all kinds of great feelings and excitement. Revisit your high school or elementary school. Visit with old friends or relatives if you choose. Most of all...remember what it was like to be a kid again. You will gain great insights about how to relate to your own kids when you get back home.
Go on a wine tasting trip with your besties
If you enjoy wine, this can be a ton of great fun. The best kinds will allow you to tour the grounds and take in the grandeur of the winemaking process. Make sure you go either early in the season or late in the season to avoid the oppressive heat. Wine tastings are a wonderful way to enjoy time with friends that is long overdue. Nothing brings old friends together like a nice glass of Merlot and good company. Leave the husband and kids behind and take in the comfort of freedom. Wine tastings are available in most parts of the world for a very reasonable price. Get online and see what is out there!
Road Trip Baby!
Every single Mother out there had some sliver of a wild side. If they didn't, they probably wanted to. What location have you always dreamed of loading up and driving to? Did you once take that trip and want to revisit it one more time? There are few things more exhilarating than a road trip with someone you enjoy spending time with. In fact, if you are careful and take safety precautions, solo road trips are pretty incredible as well. Rent a nice vehicle and map out your route for some incredibly good times on the open road. Make sure you pack up the perfect soundtrack as well. A road trip without tunes will not be the same.
Although being a Mom is a very rewarding experience, it does require a ton of responsibility. Take a bit of time every year to spend with yourself or your friends and let your hair down. Your kids will benefit as much as you do!
Do you have any other ideas for an inexpensive getaway for Moms?
You might like these other posts about travel: