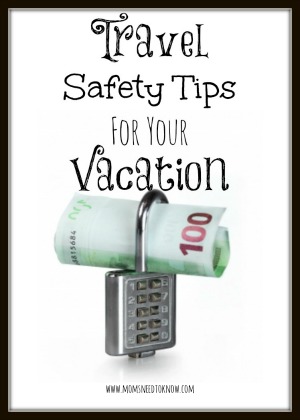 As summer approaches and you begin planning your vacation, it is also time to think about proper travel safety. It may not seem important, but if you have ever had a bag stolen or a vehicle broken into, you know full well how important it is to be prepared and safe at all times. Here is our list of Travel Safety Tips For Your Vacation that will help you to keep your valuables and yourself safe no matter where your travels take you.
Travel Safety Tips For Your Vacation
Invest in Travel Insurance: It may seem like a waste of money, but if something happens while you are on the road, not all home owners insurance or vehicle insurance will cover the costs of your possessions being replaced. Check with your personal insurance agent or a reputable travel agency for prices on travel insurance that will cover you for accidents and theft while on the road.  Additionally, travel insurance will often cover you if you have to cancel your plans due to an emergency.  I am not a fan of buying insurance plans for electronics, furniture or any other purchase where they try to sell you a plan...but when it comes to pre-paid vacation plans, I WILL buy the insurance!
Know Your Surroundings: If you are going to a new area, do your research on the area and what are considered the risky areas. Read hotel and motel reviews on line in depth to see what other patrons mention about the safety of the area and if it is family friendly. You can also contact the local police department or chamber of commerce for heads up on areas to avoid going after dark or staying in.
Always have an Emergency Plan for your family: This is especially important if traveling with younger children. Make sure everyone in the family knows each others telephone numbers, and if you have small kids make sure they always have an emergency contact list or list of any allergies, etc. on their person while out and about. While you don't expect to become separated, it can happen and it is best to be fully prepared. Packing your own list of emergency contacts, insurance information and copies of photo ID's for everyone in your family is a great place to start. Talk to your kids and spouse about where to meet in a theme park or hotel should you get separated.
Leave the valuables at home: While we don't leave home without our smart phones, gGPS systems and laptops very often, it is a great idea to minimize what you do take along with you on vacation. Expensive jewelry can be left at home and cheap substitutes can be worn instead. If you must take your electronics with you, make sure to take proper precautions to keep them safe while on the road.
Which brings us to.....
If you have to bring them, secure your valuables: If you are staying in a hotel and don't want to take your phones, laptop, etc. to the beach or attraction with you, check with the hotel for an optional safe to store your items in. Many hotels now have in room safes for this purpose. Others have safes in their main office in which you can store items. If you must take expensive items with you, do not leave them in plain site. Secure items in your trunk well before you arrive at your destination. While it is safest there instead of in the front seat, if you open your trunk in view of a potential thief you are inviting them in to steal. Store valuable items in your trunk (or even are where spare tire fits) before leaving for your destination.
Use your car alarm and buy locks for your luggage: If your vehicle offers an alarm system, make sure to have it armed when leaving your car parked. Pick up locks for luggage and laptops to keep them more secure if and when they are stored in your hotel room.
Take different types of payment/money and store in different places while you are on vacation: While I typically wouldn't tell you to leave money in a piece of luggage, you never want to keep all of your forms of payment or money in one place while on vacation. Should someone take your bag or purse while you are out and about, and everything is in it, you would lose it all and have no means of even getting replacements while there. Keep a copy of your ID in your luggage separate from your wallet for emergency cases. Travel with at least a little cash that is stored in luggage, glove box of car or trunk of car for an emergency. If traveling with your spouse, make sure you each carry different types of credit or debit cards so you are sure to have at least one account available. Set up a Paypal account that can be linked to a bank account for money transfers if needed. Pick up a prepaid credit card instead of your bank card so you don't give anyone access directly to your bank account - you can always go online and load that card daily as needed. There are dozens of ways to keep money with you without having all of your "eggs in one basket" which would leave you penniless in seconds should something happen.
No matter what your travel itinerary is, these travel safety tips for your vacation will help to protect what you love. Your own personal well being is of utmost importance. No belongings are important enough to put yourself or your family in jeopardy.
Do you have any travel safety tips to add?
You might want to check out these other travel tips: