Saving money can be all about timing and March always has better deals on some things than others. Here are the best things to buy in March!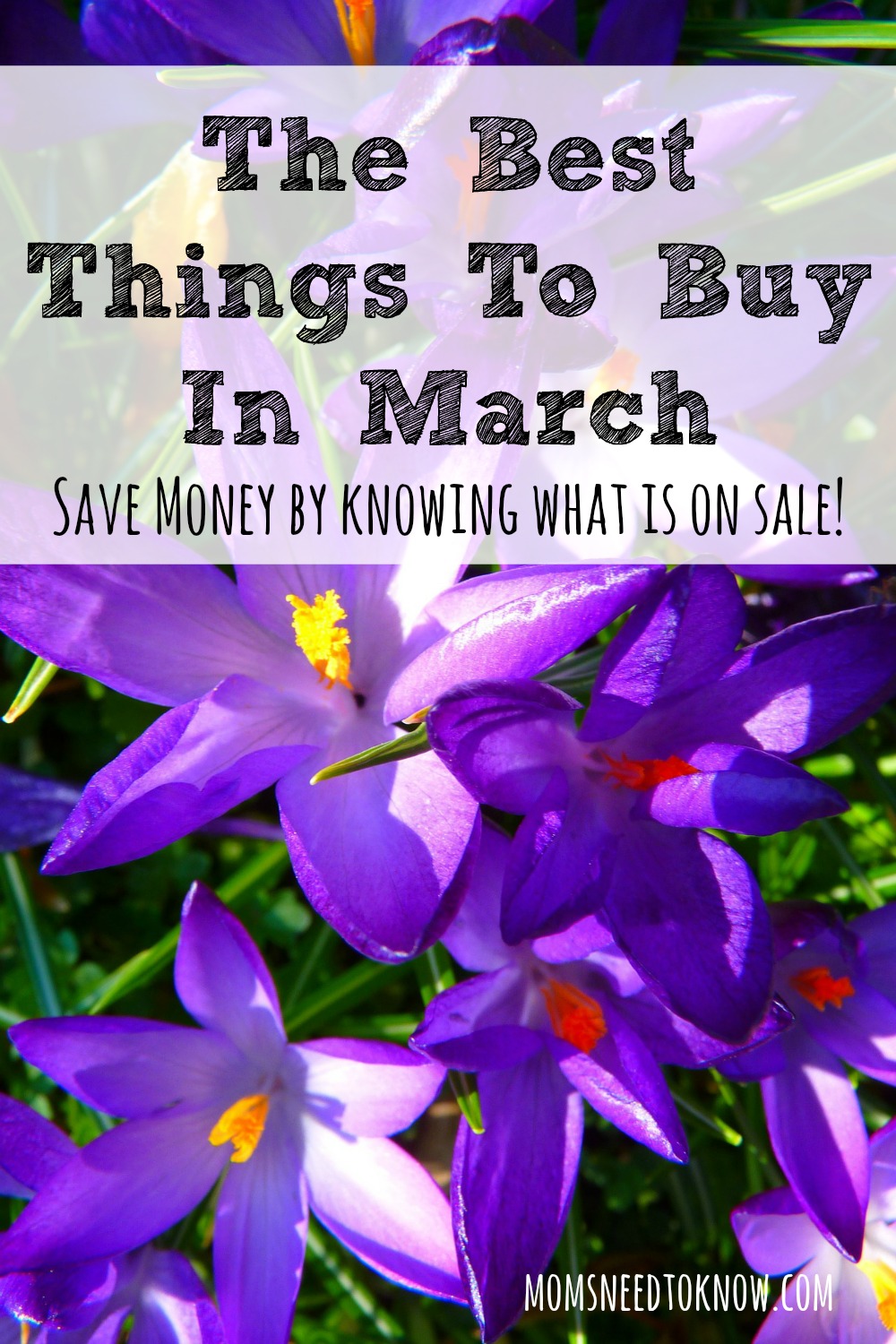 It's time to start thinking about warm weather, flowers, and Easter. With that said, you also want to think a bit more about winter. There are so many awesome deals you can find that will save you so much money.
Here's what to buy in March.
Grocery and Household Items
You always want to buy what's in season because that is not only when it is cheapest, but also tastes the best.
When it comes to produce, here's what to buy in March: artichoke, asparagus, avocado, beets, berries, broccoli, cabbage, carrots, cauliflower, celery, grapefruit, grapes, lemon, lime, mushrooms, onions, peas, radishes, rhubarb, spinach, and strawberries.
You will also find great deals on cabbage and corned beef around St. Patrick's Day.  You can also get great deals on hams for Easter.
There are also tons of great deals on chips, soda, and other game day foods for March Madness.
March is also National Frozen Foods Month and there are so many great deals and coupons to be found.
When it comes to household items, now's the time to stock up on cleaning supplies for spring cleaning. Look for sales, special promotions, and coupons.
Easter and St. Patrick's Day Items
March is also the best time to buy St. Patrick's Day items. You'll find great sales, especially after the holiday. You can also find many great deals on Easter items including candy, decorations, and more.
Winter Clearance
Now's the time to get all your winter supplies for next winter. You can get snow shovels, scrapers, gloves, and winter gear at huge discounts.
Televisions and Digital Cameras
At this point, stores are desperate to get rid of last year's TV models. This means you'll be able to get some awesome deals. Don't be afraid to haggle for an even better price. Also, March is a slow time of the year for selling digital cameras. This means that you can score great deals.
Travel, Relaxation, and Fitness
Most people aren't thinking about travel during the month of March. This means that luggage isn't selling and you can find awesome deals. You may not need the luggage for a few more months, but why pay full price when you do need it? If you'd like to spend a bit of time relaxing during the month of March, visit your local spa. You can get amazing deals during Wellness Week. Wellness Week is also a great time to shop for services at fitness centers, yoga studios, and more.
When you know what to buy in March, you're able to save big on items you'll need now and later. Stock your kitchen and cleaning closet, upgrade your TV and digital camera, and get ready for the holidays this year and next.
The Best Things To Buy In March