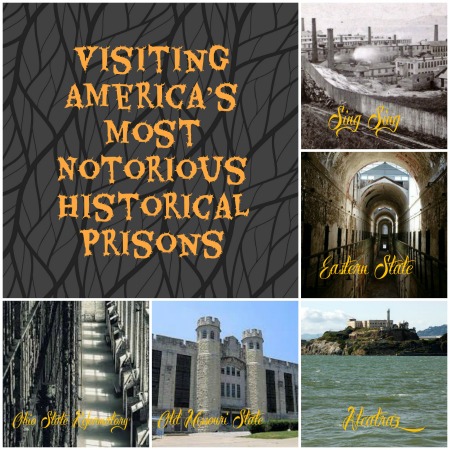 I have to admit, I have a fascination with prisons. It may seem silly, but that is me. And so, whenever we travel, I like to see of there are any interesting local/famous prisons!
Visiting America's Most Notorious Historical Prisons
The prison in the hit Netflix series Orange is the New Black was modeled after Danbury Connecticut minimum security prison. The only way to get in is to be sent there or to be visiting a prisoner. But a new tourist industry has popped up around the prison experience. Shuttered prisons have become museums and are making their way onto the tourist track around the world. Those interested in history, ghost hunters, and simply curious people make up the tours. If your next destination brings you near any of these sites, consider making a stop.
Alcatraz – San Francisco, California
There may not be a more well-known prison in the world. In the 1860's the island began serving as a prison. The current structure of the prison of Alcatraz was originally built in 1909 by the U.S. Army to serve as a military prison because of a large influx of U.S. soldiers convicted of crimes in the -Phillipines. In 1934 it transitioned from military to civilian prison. While originally it was a minimal security facility, when it became a civilian prison, it became a maximum security facility. It's location in San Francisco Bay made it nearly escape proof (no prisoner ever escaped). Today tours are run by Alcatraz Cruises and depart from Pier 33. Reservations should be made as soon as possible as tickets do sell out in advance.
Eastern State Penitentiary
This prison became well known to the general public after it appeared on the television show Ghost Hunters. The prison is located in Philadelphia and has an interesting, and somewhat gruesome history. In 1787, at the home of Benjamin Franklin a group of concerned Philadelphians gathered to discuss the conditions of prisons in the new country. It took until 1829 for Eastern State (ESP) to open and it was a completely new concept; abandoning corporal punishment and ill treatment and instead aiming to create genuine regret and repentence from the criminal. Isolation was one of the concepts generated in the design of the building. The prison was updated over time and by 1971 it's doors were closed for good. Visitors today can not only see the different sections of the prison but engage in hands-on activities like locking cell doors and descending into the solitary confinement cells. ESP has capitalized on it's ghostly fame and offers "the scariest" haunted attraction in September, October, and November. So is it really haunted? You'll have to visit yourself to find out!
Old Missouri State Penitentiary – Jefferson City, MO
This prison was modeled in the same manner as Eastern State. It was a state run prison and one of the only that held women prisoners in the 19th century. Missouri State Prisoners worked in factories and also built many of the upper class homes in Jefferson City during the mid-1800s fueling the areas' economy. By 1932 it was the largest prison in the country holding 5,200 inmates. Today historical tours and specialty ghost hunting tours are offered to visitors.
Ohio State Reformatory – Mansfield, Ohio
Shawshank Redemption fans will immediately recognize this prison that was the backdrop to the classic film. Ohio State Reformatory was open from 1886 until 1990 with a focus on education and reforming criminals. Daily self guided tours are available, as well as guided tours on Sundays, and a Shawshank Redemption filming sites tour. There are also ghost walks and hunts for those who hope to experience the paranormal side of the prison.
Sing Sing – Ossining, New York
You've heard the expression "up the river without a paddle"? Rumor has it that the phrase was coined in reference to prisoners going to Sing Sing prison - and often not coming back. The line "going up the river" is also often referred in crime dramas referring to going to Sing Sing from New York City. The name itself is a variation of the Native American people, Sint Sinck who called the area home. It also is one of the most notorious prisons in the country and has served as a backdrop to dozens of films and crime dramas. Sing Sing is an operating maximum security prison, though it does permit some visitors (as many as 5,000 a month), permission needs to be obtained ahead of time. In Ossining, the city that the prison calls home, the Joseph G Caputo Community Center has a collection of artifacts including a replica of an 1825 cell, and two cells dating to 1929.The Ossining Historical Society Museum also has artifacts and images of the city and prison.
You might want to check out these other travel tips: