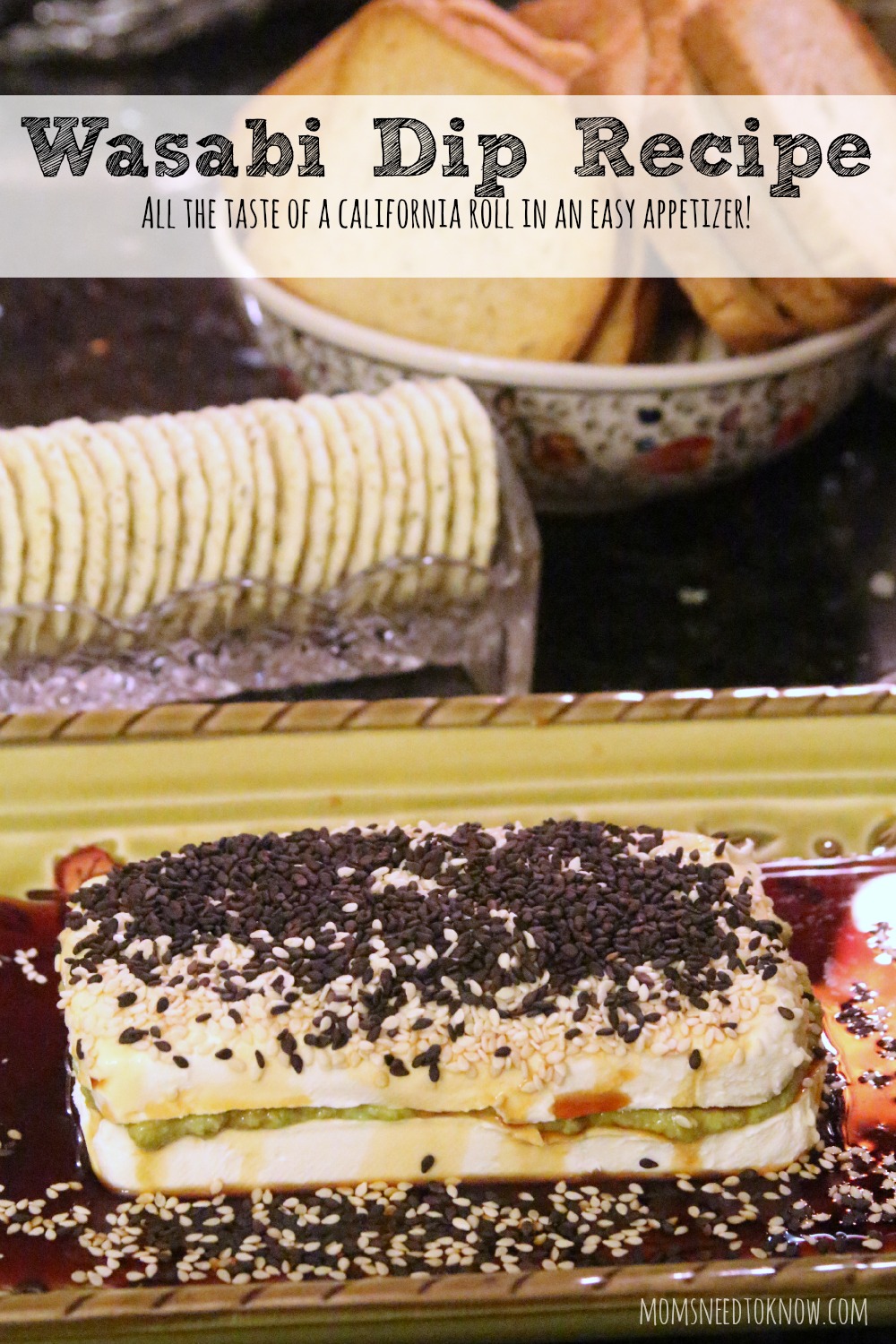 Ok - you really are going to need to trust me on this one, because I know that it is going to look and sound strange, but believe me when I say that this recipe just WORKS and is absolutely fabulous! If you make it, please come back and let me know what you think - because I absolutely ADORE this recipe!
My mom started making this wasabi dip recipe a few years ago and now it is a "must-serve" any time my family gets together (she is also my source for my Baked Brie with Apricot Jam & Cranberries recipe as well as my Szechuan Chicken Noodles!).. The woman can COOK!)
My mom calls it her "vegetarian sushi dip", but I think it is more like a wasabi dip. It does contain all the flavor of a California Roll (without the crab).  We did talk about the next time we make it, chopping up some crab and adding that...I will let you know if we do!
If you are unfamiliar with wasbai, it is basically "Japanese horseradish" and it carries quite a kick! Luckily, with the cream cheese, it cuts down on some of the "horseradishey-ness" (it's a word!).  If you are new to wasabi all I can tell you is "take it slow".  I can eat it by the teaspoon-full, but many people can't handle more than the size of a pea! Either way - if you have any kind of a cold, I can almost guarantee you that it will clear out your sinuses!
You should be able to find all of the ingredients in the Asian section of your grocery stores (my stores carry both regular AND organic wasabi - made by Eden). If your store doesn't carry the wasabi powder, but they make sushi on site, see if you can buy the wasabi from the guy making the sushi (I know that Wegmans just sells containers of it right next to the sushi).

I do want to say one thing about the crackers.  The Ka-Me Wasabi Rice Crackers are just the only ones that we will use ever since we found them in the store one time.  Before that, we were using "regular" rice crackers and they were fine, but the wasabi crackers just make this wasabi dip perfect!  We usually have no problem finding them in the grocery store (although if you shop at Walmart or Target Super Centers, they may not carry it...but as long as you have a grocery store with a decent "international selection", you should be fine).
If you are using wasabi powder (and have used it before), you know that you just mix it up with water to your desired consistency. You want it "spreadable", so really the consistency of peanut butter.  If you end up buying pre-made wasabi, you may want to dilute with a little water to make it more spreadable (sushi bar wasabi tends to be really thick)
If you can't find black sesame seeds - don't worry about it. The main reason that I use a combination of black & white on top of the cream cheese is that it just gives the wasabi dip some more color.  Otherwise, you have cream cheese that is slightly colored by soy sauce and topped with white sesame seeds.  The addition of the black ones just makes it look less "blah".
The next time I make it, I will be sure to take a few "process" pictures (I actually took this picture on Christmas because my mom made it and I thought to myself "WHY haven't I posted this yet?") so you can see how it is made step-by-step, but you really shouldn't need them - it is just so easy to make!
Ingredients:
1 pkg cream cheese
1/4 - 1/3 cup wasabi paste, prepared to a "peanut butter/spreadable" consistency (made from powder or buy it where you buy sushi and dilute it)
3 T white sesame seeds
3 T black sesame seeds
soy sauce (about 1/3 - 1/2 cup, depending on the size of your serving dish)
Ka-Me Wasabi Rice crackers (or Seaweed flavor or regular rice crackers if you can't find them)
Scroll down for the complete directions!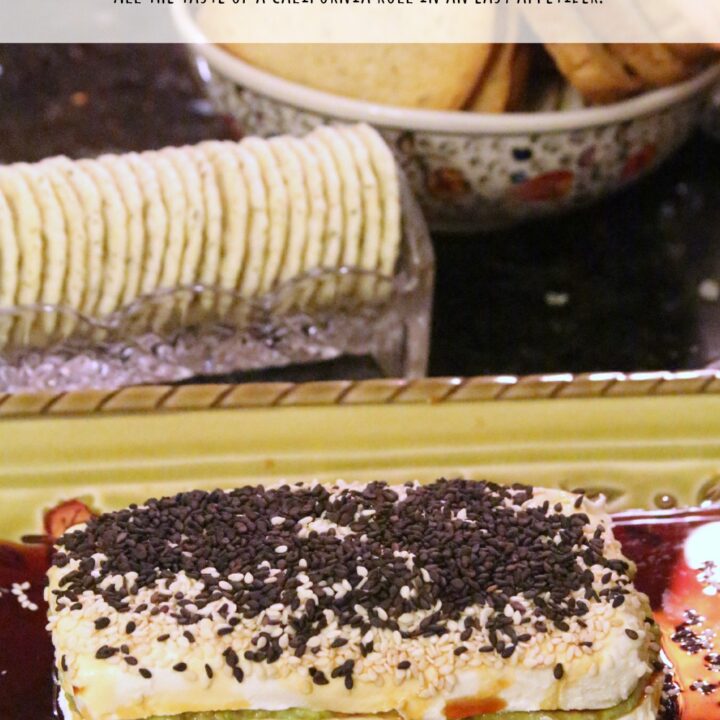 Wasabi Dip Recipe | Crowd-Pleasing Appetizer!
This wasabi dip is always a HUGE hit whenever I make it and couldn't be simpler. It has all the taste of a California Roll and can be assembled in about 5 minutes!
Print
Pin
Ingredients
1

pkg cream cheese

1/4

– 1/3 cup wasabi paste

prepared to a "peanut butter/spreadable" consistency (made from powder or buy it where you buy sushi and dilute it)

3

T

white sesame seeds

3

T

black sesame seeds

soy sauce

about 1/3 – 1/2 cup, depending on the size of your serving dish

Ka-Me Wasabi Rice crackers

or Seaweed flavor or regular rice crackers if you can't find them
Instructions
Unwrap the cream cheese and cut it in half horizontally

Mix up your wasabi powder to a "peanut butter consistency" and spread the wasabi on top of 1/2 of the cream cheese

Place the other half of the cream cheese on top of the wasabi. Press down lightly to make your "sandwich" blend together.

Place your "wasabi sandwich" on a serving dish that has a lip and pour soy sauce over the cream cheese/wasabi, allowing it to puddle in the dish.

Top with sesame seeds and serve with Ka-Me Wasabi Rice Crackers